Overview
The Inca Trail is one of the most famous hikes in the world. It will take you along ancient narrow paths deep into the Peruvian countryside and high into the Andean mountains, where you will see ancient Incan ruins, cloud forest, and majestic valley views. Ultimately, leading to perhaps the greatest end-point of any multi-day hike on earth, the iconic Machu Picchu Citadel, one of the New 7 Wonders of the World!
The Classic Inca Trail is a well-established and iconic 4-day, 3-night hike which leads travellers from km82 (the start point) all the way to Machu Picchu via its exclusive Sun Gate (also called Inti Punku). Only Inca Trail hikers have the privilege of hiking to the famous Sun Gate. The sunrise views from the Sun Gate over Machu Picchu Citadel makes this a "must" on most people´s bucket lists.  
The total journey being around 40 km (25 miles) is not as long as people typically expect. However, a good portion of this includes steep and narrow Andean Mountain paths and is at relatively high altitudes. So by no means is it easy, but it´s definitely worth it! If you think you will struggle with the 4 day classic Trail, there are different versions of the Inca Trail that are less intense and strenuous (for example a 1 day or 2 day trek).
THE WEATHER
As with all outdoor hikes, we'd recommend you spend some time researching weather conditions for the dates you are interested in visiting so that you are well prepared.
DRY SEASON
May through November is dry season. That doesn't mean it won't ever rain, but you'll find it should be mostly dry with an occasional light shower.
RAINY SEASON
The rainy season usually starts from December and lasts until April. During these months you may experience heavy tropical showers frequently.
Average Temperatures
Daytime: 68°F – 80°F (20°C – 27°C) Night time: 50°F – 64°F (10°C – 18°C)
Best Time to Visit
The peak season for Machu Picchu is during the region's dry season, when sunny conditions are most likely. However, this also comes with a greater number of tourists visiting.
The low season for Machu Picchu is during the rainy season. There are fewer tourists and less crowding during this time, but there's also a much higher probability of heavy rain so you'll need to make sure you pack your rain gear.
Inca Trail to Machu Picchu MAP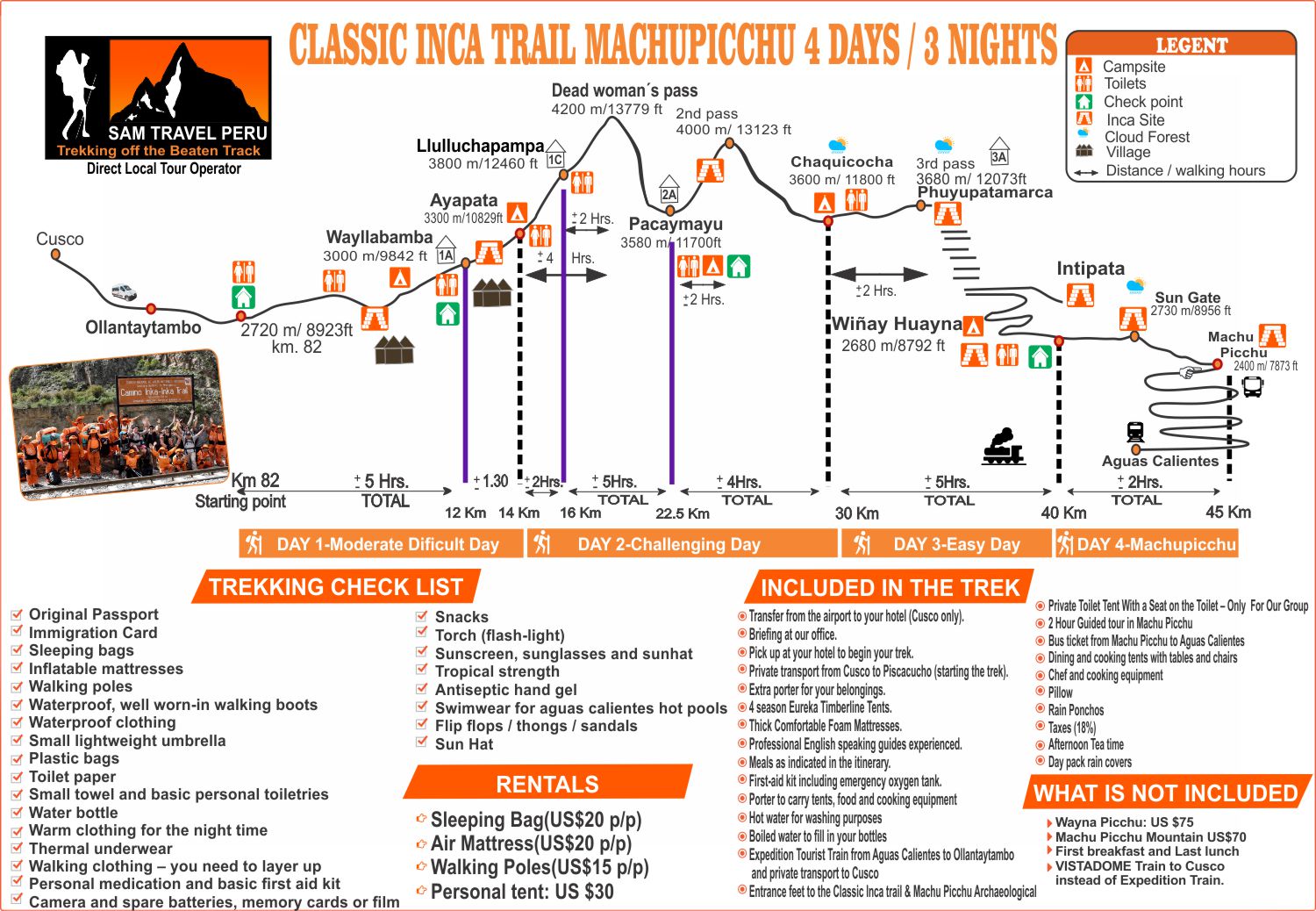 Machu Picchu is located 50 miles (80 kilometers) northwest of Cusco in the Urubamba Province of Peru, where the eastern slopes of the Andes meet the Amazon Rainforest. The Inca built their city on a high mountain ridge overlooking the lush cloud forest surroundings. Far below, Urubamba River flows along the valley floor, past Aguas Calientes.
Itinerary for the 4 days Inca Trail Machu Picchu
If you think you might struggle with the Classic Trail, there are different versions of the Inca Trail that are less intense and strenuous Inca Trail options of 1 day or 2 day treks. They cover the last one third of the Inca Trail, pass through the Sun Gate directly into Machu Picchu Citadel.   For the purposes of this blog, we will provide you with a general overview using the 'Classic Inca Trail' itinerary as an example. Use this link to the 2 day Inca Trail to explore it. 
Day 1: CUSCO – KM 82 – HATUNCHACA – WAYLLABAMBA – AYAPATA
Today, begins your adventure of a lifetime with the Classic Inca Trail to Machu Picchu.  We will pick you up from your hotel in our private van around 4:30am.  From there, we travel to Piskacucho, which is known as kilometer 82, where the Classic Inca Trail begins.  Along the way, we stop for breakfast in Ollantaytambo between 6:30-7am to load up on energy to start the trail. Breakfast is not included.
Upon arrival at kilometer 82, we will have some time to freshen up,use the restrooms, apply some sunscreen, insect repellent, etc. Once at the Inca Trail checkpoint, be ready to show your entrance tickets, passport and (if paying a student rate) your student card. Your guide will have all permits and tickets at hand. Here you need to give your duffel bag to the porter. Keep only essential items needed for the hike in your small daypack. Check your packing list for more information.
At the start of the trail (2,720m/8,923ft) we will cross the majestic Vilcanota River with its spectacular views and follow its route towards the right. The first day is relatively easy, a warm-up along the Inca flat terrain.  There are great views of the Inca Fortress (Huillca Raccay), the vast and incredible Inca site of Llactapata, (officially called Patallacta), the Urubamba Mountain range that divides the jungle, the Andes Mountains, and the beautiful snow-capped peak of W'akay Willca (5,860m/19,225ft) commonly known as Veronica. You will enjoy your first gourmet lunch at Hutunchaca before walking for about 3 hours to camp.
Our first campsite is in Ayapata, an hour and a half up towards the small village of Wayllabamba (3,000m/9,842ft) located in the temperate green valley of the same name. Temperatures at night are around 5ºC depending on the month. It can get colder during the dry season (May to September).
Enjoy spectacular views of the snow-capped mountains of Veronica, (5,860m/19,337ft), the lush green valley around us and a myriad of flora and fauna, while sipping on a hot cup of tea and enjoying some appetizers which the guide will have already set up for you. 
Meals included: Lunch, snacks, afternoon tea and dinner
Accommodation: Camping facilities
Distance: 12kms/7.5mls (about 6 hours hiking)
Difficulty: Easy/Moderate

Day 2:WAYLLABAMBA – DEAD WOMAN'S PASS – PACAYMAYU – CH'AQUI QQOCHA
How about a hot cup of tea or coffee in bed? Don´t say more. Your guide will wake you up with a hot cup of tea or coffee at 5:00am, which you can enjoy in your sleeping bag before getting up for a hot and hearty breakfast. The trek starts with a steep ascent towards the highest pass, Abra de Warrmihuañusca or Dead Woman's Pass at (4,200m/13,779ft).Ensure your daypack is as light as possible, its a steep climb. On this day, you will feel a real sense of achievement upon reaching the top! After a well-deserved rest and tons of photos to document your achievement, we begin the descent towards our lunch spot, located at Pacaymayu (3,550m/11,646ft).
As you make your way towards the pass, you will be able to see an array of hummingbirds and a combination of other species of birds. There will be plenty of time to appreciate the incredible variety of native plants and the Polylepis or Q'ueuña trees, which grow in the astonishing cloud forest located at (3,650m/11,972ft)!
After lunch, the second two-hour steep climb towards Runkuraqay pass (almost 4,000m/13,123ft) begins. We arrive at our campsite by 5pm for afternoon tea and appertizers. Temperatures at this campsite are around 4ºC during the night.
Meals included: Breakfast, lunch, snacks, afternoon tea and dinner
Accommodation: Camping facilities
Distance: 16kms/10mls (about 9 hours hiking)
Difficulty: Moderate/challenging
Day 3: CH'AQUI QQOCHA – PHUYUPATAMARCA  – WIÑAY WAYNA
This is the most impressive day by far so keep this in mind as you ascend on day three! Your guide will wake you up with a hot cup of tea or coffee at 6am before getting up for breakfast.The day starts with a gentle climb towards the archaeological site of 'Phuyupatamarca' (meaning 'Town in the Clouds').  Here, we reach the third highest point along the Inca trail (3,680m/12,073ft). The views of the mountains, canyons and surrounding areas are spectacular!
The extensive Inca site of Phuyupatamarca, is located a few minutes' walk from the third pass. After visiting this site, we continue walking down 3,000 stairs through the cloud forest to the impressive agricultural Incan site of Intipata. As you descend from the mountains, you will feel the temperature rise. You are approaching not only Machu Picchu, but also the beginning of the Amazon jungle! Next, we continue until we arrive at our third campsite Wiñay Wayna (2,680m/8,792ft). On this day you only walk for about 4 to 5 hours.  We arrive at camp by lunchtime! Temperatures during the night are around 12º C
A short walk from your campsite is the famous Inca site of Wiñay Wayna which means "Forever Young" in Quechua. It is named after a special orchid which grows abundantly in the area.
Meals included: Breakfast, lunch, snacks, afternoon tea and dinner
Accommodation: Camping facilities
Distance: 10kms/6.2mls (about 5 hours hiking)
Difficulty: Moderate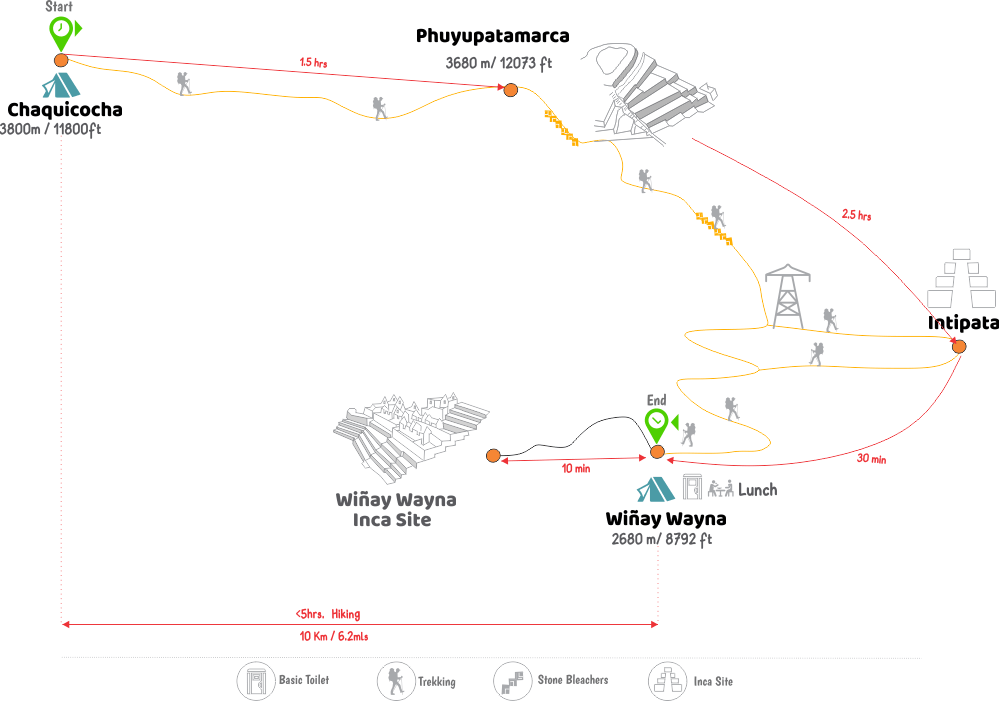 Day 4: WIÑAY WAYNA – MACHU PICCHU – CUSCO
Today is the day you have been working towards! Wake up time is at 3:30 AM. We'll eat breakfast at 4:00 AM. We will hurry to the checkpoint to be one of the first to start trekking when they open the gates at 5:30 AM. This is the final leg of your journey with only one more incline to conquer. By 6:00am you'll reach the iconic Sun Gate, also known as Inti Punku. At this very moment, the awe-inspiring Machu Picchu Citadel will unfold before your eyes, exuding its mystical beauty. Take this opportunity to stop for photos and capture this once in a lifetime moment. From there you start your descent down to Machu Picchu Citadel 2,400m/7,872 ft. On the way you will encounter a few important Inca sites between the Sun Gate and Machu Picchu. After walking for 40 minutes, we enter the citadel from the top through the "House of the Guardians". Here you will have the opportunity to take those famous postcard perfect photos of Machu Picchu. From there, we proceed towards the control point, where we register and leave our belongings. Your professional guide will direct you throughout the astounding ruins and its main streets for your guided 2 hour tour.
You will also have time to indulge in a few of the following activities on your own if you choose (not included in the price)
Climb up Huayna Picchu and appreciate the beauty and magnificence of Machu Picchu from there. (only if booked in advance)
Other optional activities in Aguas Calientes include a visit to the local museum or bathe in the hot springs. (when time permits)
Once you've taken in the remarkable vistas of Machu Picchu to your heart's content, we'll take a bus back down to beautiful Aguas Calientes for lunch (not included). This is a great time to reflect on your journey and share pictures and memories with your guide and group. Depending on your train departure time
You board The Expedition Train at 2:55 or 3:20pm which will take you back to Ollantaytambo, following the spectacular Urubamba River. Keep an eye on the hill and you may get one final glimpse of Wiñay Wayna! Our private van will be waiting for your arrival and from here you will be transferred to your hotel in Cusco.  You can expect to arrive at your hotel arouond 7:00pm.
Meals included: Breakfast
Distance : 6kms/3.7mls
Difficulty: Easy

Trip Highlights
Patallacta
Only a few hours of hiking on your first day will lead you to the first superb Inca site. Patallacta (also called Llactapata) sits on the far left bank of the Cusicancha River, a tributary of the river Urubamba. This archaeological complex was first noticed by the Western world in 1912 when famous Yale University archeologist Hiram Bingham stumbled  upon it. (He´s known for discovering Machu Picchu the year before) 
Llactapata means "high town" or "town on the hill" in Quechua, which is the Incan language still spoken in some parts of the Andes today. The complex sits at an altitude of 9,318 feet (2,840 meters) and contains massive terraces and hundreds of housing structures. It is believed this was a common stopping point for Incas traveling from Cusco to Machu Picchu. From your vantage point across the valley, you'll be able to fully appreciate the site's beauty and expanse.
Rucurakay
In the late afternoon of the second day on your Inca Trail trek, you'll huff and puff your way up the Runkurakay Pass. At the top, this pass is 13,000 feet (3,950 meters) above sea level. About halfway up you will come across the Runkurakay 
These ruins are a small circular complex, a design not common in Incan architecture. Experts believe this site was a tambo, which means it most likely served as an Inn. It is probable that Runkurakay was primarily a resting, refueling, and relay station for messengers. Refueling stations like this were vital for maintaining communication across the Inca Empire. Chasqui messengers were specialized runners who dashed along Inca roads, carrying important messages—such as the encroachment of the Spaniards.  
Sayacmarca
Later on, you will reach Sayacmarca, another impressive site. To enter these ruins, you'll climb up 98 stone steps carved into the side of the mountain. Also called the "Inaccessible Town," this site is barricaded on three sides by steep drop-offs. No one is sure how the Incas used this site, but we know it was originally built by the Colla civilization.
Sayacmarca sits on the edge of a cliff, giving visitors a panoramic view of the scenic Aobamba Valley. The site is divided into two main parts: the Sun Temple and the residential part, consisting of a labyrinth of narrow corridors. The Incas improved upon the Colla construction by building an elaborate water canal to supply the temple and houses with water.
Puyupatamarka
The sites just keep coming! After Sayacmarca, you'll journey through an inclined stone tunnel to reach the third and final mountain pass of your third day on the Inca Trail. Enjoy the spectacular view from the top before descending a steep set of stairs to reach Phuyupatamarca, which means "town in the clouds" in Quechua.
These ruins cling to a ravine overlooking the Urubamba Valley, and are surrounded by large and lush terraces. The site is often half covered in a mist that rises from the forests below, creating the impression that it is floating on top of the clouds. This mystical place is full of ceremonial baths, plazas, buildings, and bridges.
Wiñay Wayna
Wiñay Wayna is like a hike through time itself. Something about it just feels eternal. Named for the delicate orchids that dot the landscape, the name means "forever young" in the native Andean tongue of Quechua—a name perfectly suited to such an ageless site.    
The ruins date to the mid-15th century, constructed during the days of the powerful Incan Empire. They are one of the stops along the Inca Trail, and the exact purpose of the site is tough to say. It may have been a spiritual or religious destination, or just a place for elders or royalty to rest before arriving at the end of the 26-mile journey to Machu Picchu.
The ruins consist of upper and lower collections of Incan architecture, connected by stone steps that are laid out in graceful curves. The upper structures have a unique, circular building, while below there is a collection of linear parapets with sharp peaks, jagged walls, and massive stone slabs with little space between them. The precarious staircase between the two levels hugs a long line of ancient fountains, often referred to as baths.
In addition to the architectural structures, the area is surrounded by an agricultural complex, terraced with extraordinary masonry out of local fieldstones.
Perhaps the most remarkable thing about the site is how limited the Inca were in terms of available construction tools. With nothing more than implements made from bronze or stone, the amount of human labor required for such a massive production is almost impossible to imagine.  
Machu Picchu Citadel
Upon arriving to the Sun Gate, we have spectacular views of the mountains and Machu Picchu in all its glory.  We will reach the Sun Gate by early morning, and then it's just an hour trek down to reach the Lost City of the Incas. As we hike and get closer to Machu Picchu, the views of the city get even better!
Let's hope you haven't grown tired of ruins, because the most impressive site of all awaits. On your fourth and final day on the Inca Trail you will finally reach the magnificent Machu Picchu Citadel. Words are not sufficient to express the extreme beauty of this site, so you'll just have to experience a Machu Picchu tour for yourself!
Planning Your Trip?
Permits Are Required To Trek The Inca Trail And They Sell Out Months In Advance!
It's been said many times, and we'll repeat it. Inca Trail cannot be walked independently, so step number one is choosing a travel company like SAM Travel Peru
Permits issued by the Government of Peru are required for each person trekking the Inca Trail. 500 people can start trekking the Inca Trail each day, including trekkers, guides, cooks, porters, and other staff, meaning that about 200 trekkers can begin the trek each day. Permits are issued to a traveler's actual passport, and are not exchangeable or refundable. This means that spaces cannot be held on speculation, and when a certain date is sold out, there is no chance to get a permit for that date. 
Permits for popular dates, such as April, May and June, July and August sell out as soon as permits go on sale. April, July, and August, can sell out 6 months in advance. The permits go on sale for the entire year sometime in December (of the previous year) or in early January.
The Inca Trail is closed every year for the month of February.​
​Can you hike the Inca Trail without a guide?
NO! Only certain companies are issued permits to lead treks on the Inca Trail, and you must travel with one of these companies. It is not possible to trek the Inca Trail independently without a licensed tour operator and licensed guide. ​This policy was put in place to make sure regulations along the trail are followed to preserve the sites and to keep the experience pleasant for all. Licensed operators are required to carry out all trash and to make sure human waste is disposed of properly among other rules.
Getting Your Inca Trail Permit
As stated previously, you can't trek the Inca Trail without a licensed Inca Trail tour operator. Likewise you can't purchase your own permit for the trek. To get the permit you will need to pay a non-refundable fee to your licensed tour operator and supply them with some personal details, including passport number and full name, and the tour operator will then buy the permit for you​. The fee is non-refundable as it has to be paid to the government office that issues the permits. Because the permits are non-refundable, the fee will not be refunded if you cancel your trip.
​Inca Trail permits for a given year usually go on sale in October the prior year, and popular dates in May will sell out on that first day. You shouldn't consider your trek confirmed until the Inca Trail permits have been purchased for you. 
Packing List For Inca Trail
During the Inca Trail Trek to Machu Picchu, usually your main luggage can be stored in your hotel for free or your tour operator can store it for you. You will receive a small duffel bag at your briefing in which you can pack your clothes and sleeping bag for 3-4 days. Your team of porters or horses (depending on which trek you are on) will carry these bags together with the food and equipment for the trek. Please note: you will not have access to these items until the end of each day as the porters will always be ahead of the group. Please plan to carry your day backpack containing your personal belongings such as your camera, water and sunscreen, etc. Please Note: This packing list is only for overnight treks.
PASSPORT: You MUST take your original passport, a photocopy is not acceptable. (Keep it in a plastic bag, in case of rain).
SLEEPING BAGS: You will need a good warm sleeping bag for the Inca Trail trek. We recommend you bring your own sleeping bag. However, if needed you can rent one from SAM Travel for $20 USD per person, that is guaranteed to be warm and professionally cleaned. If you are planning to purchase a sleeping bag, it´s a good idea to purchase a four season (or -10 C) sleeping bag during the winter months. For other months, you will probably be fine in a 3 season (or -4/-5 C) sleeping bag. The  type  of  sleeping bag  you  purchase depends on  how  much you  feel  the  cold,  all  information  is given as recommendations. 
INFLATABLE MATTRESSES: It is recommended to have an inflatable mattress for comfort but not required. SAM Travel Peru foam mattresses are included within the package price. If you would like to rent an inflatable high quality Thermarest mattress, we have them available to rent for $20 USD per person. If you rent the air mattress, you still get the foam mattress to put under it.
WALKING POLES: It is highly recommended that you have walking poles for your trek. SAM Travel Peru has professional extendable poles available to rent for $15 USD a pair, per person.
WATERPROOF, WELL WORN IN WALKING BOOTS: Good quality, comfortable footwear is essential. Whatever you wear on your feet, the most important thing is comfort. It is vital to ensure your boots are well worn in and lightweight. Ankle support and waterproofing is recommended but if you already have something comfortable with good grip, then don't go rushing out to buy new boots – you are better off with your well worn in pair!
WATERPROOF CLOTHING: A plastic poncho is recommended. Some trekkers also like to bring waterproof trousers, however, a poncho will be sufficient if it covers your bag, body and most of your legs.
PLASTIC BAGS: Keep your belongings and clothes dry inside the duffel bag. Two plastic  trash bags are included in your duffel bag, which you receive during your briefing. We recommend that you wrap everything in the plastic bags first because the duffels are not waterproof.
TOILET PAPER:  This is an important item to bring during the trek! Bring small plastic bags for rubbish, which can be thrown in the main rubbish bag provided by the porters at camp.
SMALL TOWEL AND BASIC PERSONAL TOILETRIES: There are showers available at the campsite on the third night. Bring travel size shampoo and shower gel, if you would like to use it, plus wet wipes for the rest of the trek.
WATER BOTTLE: Bring one large (1.5 liter) or two or three small reusable water bottles that can be refilled on the trail with boiled water, which will be supplied when possible, usually after meal times. Please do not bring disposable bottles!
WARM CLOTHING FOR THE NIGHT TIME: Fleece, long pants, woolen hat, gloves.
THERMAL UNDERWEAR: If trekking in winter or if you tend to get cold easily.
WALKING CLOTHING – YOU NEED TO LAYER UP: e.g. zip off trousers, fleece, T-shirts.
PERSONAL MEDICATION AND BASIC FIRST AID KIT: Band aids, blister kit, Imodium, Panadol, rehydration salts, and any other medication prescribed by your doctor.
CAMERA AND EXTRA BATTERIES, MEMORY CARDS: Please note: there are no electrical outlets on the Inca Trail so make sure you fully charge up/or have spare batteries!
SNACKS: Chocolates, chips, crackers, granola bars, or energy bars etc. Additional snacks are provided during the trek, but you may like to bring some extras, just in case.
 FLASHLIGHT: This is very important! (and extra batteries)
FOR THE SUN: Sunscreen, sunglasses and sunhat
INSECT REPELLENT: Tropical strength
ANTISEPTIC HAND GEL
SWIMWEAR FOR AGUAS CALIENTES HOT SPRINGS: Towels can be rented for 5 soles.
FLIP FLOPS / SANDALS: If you wish to have a shower on the third night.
EXTRA MONEY: For tips, extra drinks and souvenirs.
Please visit the Inca Trail Trek or Alternative trek to Machu Picchu page for more information about each trek and if you are looking for the Classic Inca Trail to Machu Picchu, visit this page for information on securing Inca Trail Permits.
Can I get US dollars out of ATMs in Cusco?
Yes, most ATMs in Cusco give you the choice of withdrawing cash in US dollars or Peruvian soles. Banks in Cusco take VISA cards in their ATMs but only a couple banks will accept Mastercard for an extra fee. Depending on which country your card is from, the limit on how many dollars you can withdraw per day may be as low as $200.