Highlights of the 2 day Short Inca Trail to Machu Picchu?
Hike the last 1/3 of the famous Classic Inca Trail, that is on bucket lists worldwide.
Explore Winay Wayna, an amazing and unique Inca archeological site.
Trek the actual trail that the Ancient Incas hiked more than 600 years ago.
Hike through the Sun Gate (Inti Punku) all the way to the famous Machu Picchu Citadel.
Experience the spectacular views of Machu Picchu from the Sun Gate.
Visit Machu Picchu Citadel twice, the 1st and 2nd days of the trek.
The 2 Day Inca Trail trek was designed for those who do not have the time or ability to hike the Classic Inca Trail but wish to experience a part of the historic Inca Trail to Machu Picchu, one of the 7 Wonders of the World. You will get to walk in the footsteps of the Inca and visit marvelous Inca constructions along the trail. It offers impressive Inca ruins, expansive mountain views, lush subtropical vegetation and extraordinary ecological varieties. The Short Inca Trail route winds upward and enters directly into Machu Picchu through the Sun Gate, just like the Classic Inca Trail. From the Sun Gate the views of Machu Picchu Citadel are spectacular.After a short hike down from the Sun Gate you will arrive at the Guards Gate at Machu Picchu where you´ll get to take the picture-perfect postcard photos of Machu Picchu Citadel.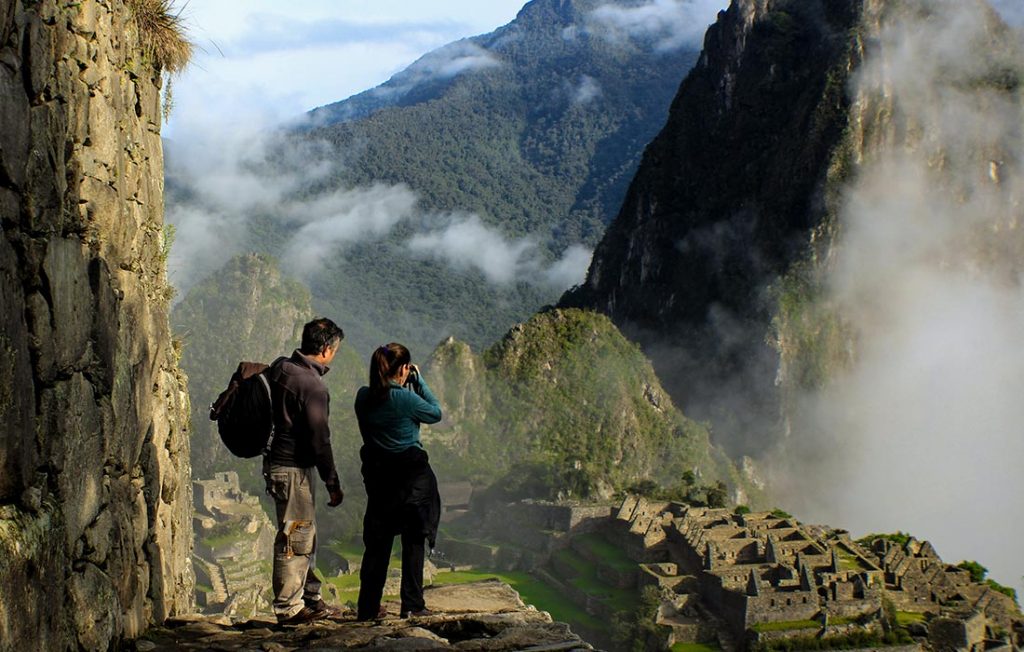 Trekkers on the Short Inca Trail to Machu Picchu have the privilege of seeing the Ancient Machu Picchu City two times, in the afternoon on the 1st day, with fewer tourists around and the second day when they take a tour with their guide in the morning. The second day, they will be transported by shuttle bus from the town of Aguas Calientes, also called Machu Picchu Pueblo, just in time for the sunrise over the mountains and Machu Picchu (2,400m/7,907ft). From there, they begin their exploration of the natural world and ancient culture of the Citadel of Machu Picchu, catching themselves traveling back in time to this magical, sacred and mysterious place known as Machu Picchu "The Old Sacred Mountain." They must take their time to explore the majestic Machu Picchu with its Inca ruins rich in its past history and thriving culture of the people who once lived there.
Short Inca Trail Map
Times are approximately and depends on your fitness. Permits need to be booked way in advance!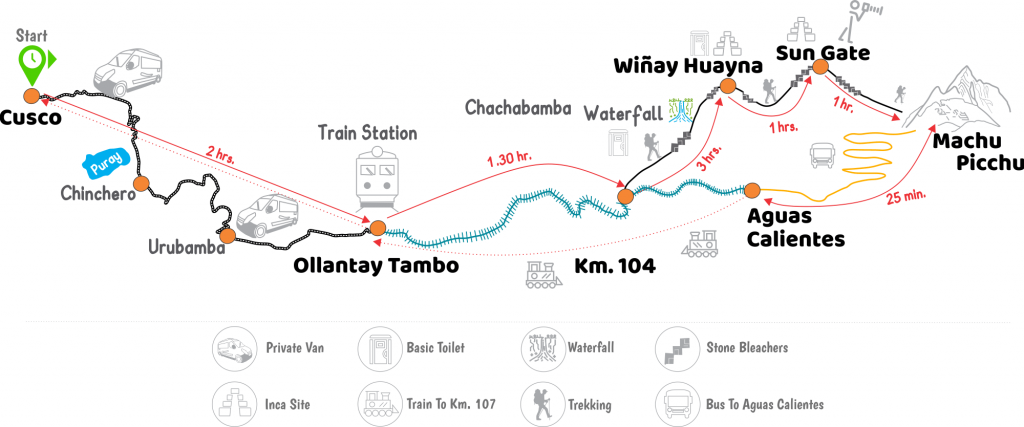 Becoming a Top RATED Inca Trail Company Operator
To become one of the "Top Inca Trail Operators," a company is evaluated on recommendations from a variety of sites such as travel guidebooks, review sites, travel forums and client evaluations. In addition, licensing by the Peruvian government, as an Inca Trail Operator is a complicated and stringent process for the protection of tourists. Only 10% of the tourist companies can qualify to be licensed. The government evaluates the entire business operation, office site, the tour guides, porters, chefs, camping equipment, first aid equipment and the company´s disaster preparedness.
All of these top operators are based in Peru, so they will have more first hand knowledge of the local conditions, the best itineraries for a trek they are selling, and how to purchase and co-ordinate all of the services to provide a seamless stress free adventure in Peru. It helps sustain the peruvian economy and create jobs for Peruvians. All these companies also offer alternative treks to Machu Picchu, as well as various other tours around Cusco and beyond.
List of the TOP Inca Trail Operators
5 VITAL POINTS TO UNDERSTAND BEFORE BOOKING WITH
AN INCA TRAIL OPERATOR
The amount of registered tour operators that run, sell, and operate their own Inca Trail hikes are very limited!
There are two types of companies that will try to sell you an Inca trail package: registered tour operators and middle men, otherwise known as endosars.
If you book with a company that is a middle man, you will pay higher prices and there is no way to know the quality of the service being provided by the third-party servicers that they use.
A licensed tour operator can guarantee 100% of their services because they are providing all of the services directly with their own guides, chefs, porters, and drivers etc.
If you book with a licensed tour operator like SamTravel, the advocate that you speak with are the ones you will be working with directly, so if you have any concerns you can go to them and get your needs meet quickly.
MOST Recommended Inca Trail Operators with Which to Book: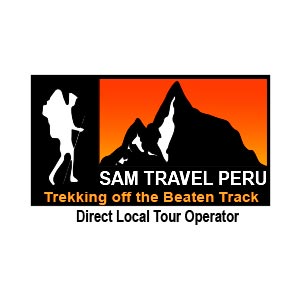 SAM Travel Peru
SAM Travel Peru (10 years in business) is a highly professional tour & trekking company that focuses on treks and tours for all age travelers, making sure everyone has the best possible tour experience. A key feature offered by SAM Travel is small group sizes and personalized service. They never exceed ten trekkers per group, unlike many operators who will happily reach the maximum group limit of 16 or more people. They work with each group to personalize their tour if needed. One size does not fit all. What's more, the company's Peruvian owner, Saul Alvarez, has been working along the Inca Trail since the age of 18, as a porter and later as a guide. He understands trekking better than most and the needs of the hiker. Please check all of its great reviews on TripAdvisor.
Website: https://www.samtravelperu.com/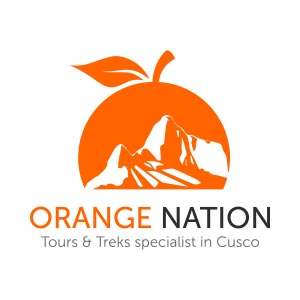 Orange Nation Peru
The company focuses on quality treks and tours for those that are budget conscious. The company tour guides, porters and cooks have shares in the company, and earn a fair amount for their level of contributions. When you choose this company, you make a direct impact to all the lives of the people that make your adventure memorable. The company has also has plenty of excellent reviews on TripAdvisor. Definitely, one to consider.
Website: https://www.orange-nation.com/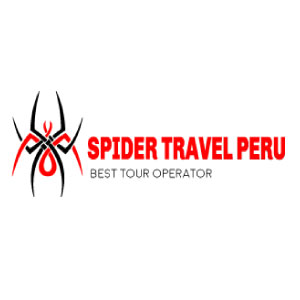 Spider Travel Peru
SPIDER TRAVEL PERU is a new innovative professional adventure travel company and Inca Trail Operator that offers unparalleled experiences to unknown and untouched wilderness areas. Spider has adventure treks that are carefully designed to cater to all of the possible options its clients might desire. Its passions are sharing the incredible landscapes of the Andes and the history and culture of the Inca people! Make sure you consider its many options!
Website: https://www.spidertravelperu.com/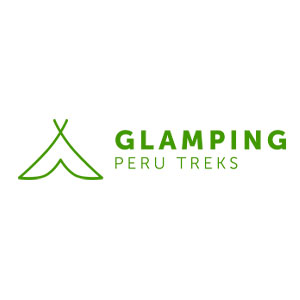 Glamping Peru Treks
Glamping Peru Treks creates treks and tours that offer unsurpassed luxury and comfort while hiking off the beaten track. All accomodations, food, and services are of the highest quality and standards. If you are looking for something upscale and luxurious while trekking or touring, this is the absolute best option for you. Do not be afraid to work with their service operators to create your dream personalized luxury trek or tour. The company group size averages 2 to 4 persons, not exceeding 8 people. If you love your privacy, be sure to ask for a private tour.
Website: https://www.glampingperutreks.com/
2 DAY SHORT INCA TRAIL ITINERARY
Huayna Picchu mountain ($75) is available on this option BUT its has to be booked in advance and depends on availability.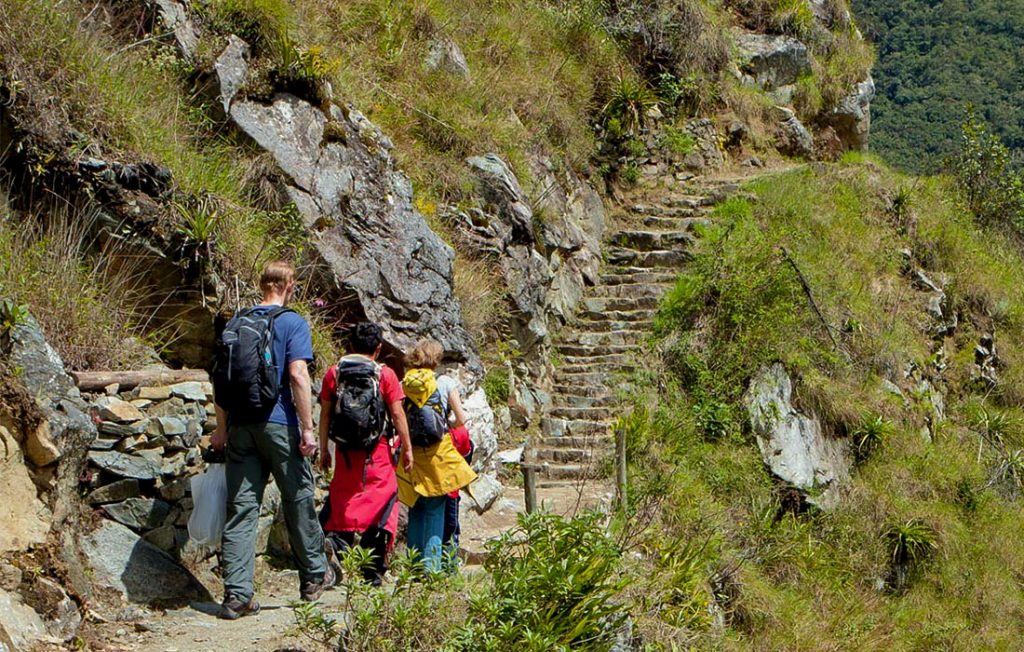 Packing Checklist of most top 2 day Inca Trail Operators
Original passport (it has to be the same you have used for booking your trek)
Good daypack (20-30 liters is recommended)
Reusable water bottle (in an effort to reduce plastic waste, disposable bottles are not allowed)
Comfortable hiking boots with ankle support
Toilet paper
Windbreaker or warm jacket
Layers, so you can take off warm clothes when hiking up and bundle up at the top
Hand sanitizer
Wet wipes
Personal medications
Sun hat, wool wat (only in the cold season) and sunscreen
Rain gear (if rainy season)
Snacks like chocolate bars, cereal bars or any dry fruits
Rain plastic poncho
Camera
Extra money for souvenirs and tips
The Weather on the Trail

Dry Season
May through November is dry season. That does not mean that it never rains in the dry season but it is mostly dry with an occasional light shower.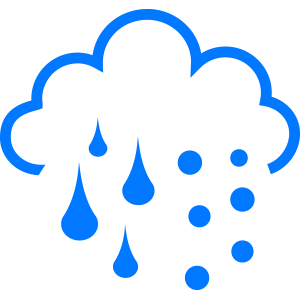 Rainy Season
The rainy season begins usually in December and last until April. In the rainy season, we have heavy tropical showers frequently.
The Cusco region has a tropical high mountainous type of weather. That means the weather can change quickly from sunshine to rain showers within minutes. A few clouds form (usually in the afternoons), it can rain for a few minutes and then out comes the sun again. Dry season rarely gets all day rain, however that can occasionally happen in wet season. The weather reports can be very misleading. It can show that it is raining every day; but all that means is that somewhere in our mountainous region there will be a shower. It can be rainy in one area of the Cusco region and completely dry in another area. The higher the altitude, the faster the clouds move across, creating rapidly changing weather.
On the Inca Trail, the weather depends on whether it is rainy season or dry season. For the 2 day Inca Trail, the altitude is 1,000 meters or 3,000 feet lower than Cusco. Thus it tends to be a bit warmer during the day and at night.
However, it being more tropical and more humid than Cusco, there is always a chance of a rain showers, especially in the cloud forest areas. In the rainy season, these showers will last longer and be much more intense tropical rain showers. The Inca Trail is made of stones laid in the ground so it can be more slippery to walk on in the rainy season.
Other things to consider from a Top Inca Trail Tour Operator
As noted earlier, there are plenty of Inca Trail operators out there. We suggest you browse their websites, have a look at whats on offer for yourself and get in contact them. This way you can test their efficiency and effectiveness.
As for non-Peruvian international Inca Trail operators, they typically offer this trek as part of a larger package. These larger international tour operators often use local operators to actually run their Inca Trail treks.
Generally speaking, if you just want to book a trek along the Inca Trail to Machu Picchuit's best to use a local company. But if you want a full travel package (e.g, Lima- Cusco-Machu Picchu- Lima, all inclusive), try companies like SAMCORPORATIONS. They offer package tours to all major spots around Peru. Including hot spots like Iquitos, Huacachina, Paracas, Puno, Areiquipa, Colca Canyon and Lake Titicaca among many other locations.
What requirements should a tour company meet to be an Inca Trail operator?
Inca Trail operator licences are only given to local Peruvian companies that have a business address in Cusco City. International travel trekking companies have to outsource their groups to local operators.
Also, Inca Trail tour companies should have storage facilities with all equipment needed for Inca Trail. Such as, first aid aquipment, dinning tents, kitchen tents, cooking equipment, mattress, and cloths for the porters. Sernanp (the entity in charge on Inca Trail), they visit each companies storage site yearly to supervise.
How to know if a travel company is good?
We recommend you checkout tripadvisor. reviews, reviews on google business, independent blogs and if its actually a registered business. Each company offers a different type of service. Some lead large groups, whereas others lead smaller more personalized groups. The size is usually a big factor in determining pricing and service standard.
Note: Believe it or not, all travel agencies offer the Inca trail, even though they do not have a permit. Those who do not have permission, only pass their passengers to companies that have permission. It is not advisable to book with them. Better to book with a direct local company like Spider Travel Peru or SamCorporations.