---
If you have extra time in Cusco, visiting Kinsa Cocha which are Pisac's three lakes is a perfect day trip because they are so amazing and easy to get to.
This unique hike is totally off the tourist radar; which means that even though you might be visiting Cusco in the high season, you will be the only ones enjoying all the mesmerizing views.
Another perk of visiting the Kinsa Cocha lakes is that you can get dropped off by a taxi right at the first one, which means you can hike as much or as little as you want and still get to experience the great views. The lakes lie in a valley, so the trek is flat and can be easily accomplished by all ages and experience levels.
If this sounds like a trek you might be interested in; we have all the information you need here. So, keep reading to learn exactly how to hike to Kinsa Cocha and enjoy Pisac's three lakes.
HOW TO GET TO THE KINSA COCHA LAKES TOUR.
Pisac is a tourist town in the Sacred Valley, so getting to the starting point of Pisac's three lakes hike is easy.
First, take a colectivo (shared van) from Cusco to Pisac.
Colectivos cost only 5 soles / $1.25 per person. They leave often and you can catch them anytime at the top of Puputi street. From there, it is a 45 minute drive to the town of Pisac.
Once you arrive in Pisac, walk down the main street and you will certainly find taxi drivers on either side of the road who will stop you and ask where you need to go or if they can help you.
Tell them you're heading to the Kinsa Cocha Laguna and negotiate a price.
It's important to negotiate a round trip price and have your driver wait for you at the Kinsa Cocha lakes because they are far off the beaten path and you won't be able to catch a ride back home.
The average price is 115 soles / $35 usd for the round trip taxi ride, which was about five hours (including his waiting during your hike) from start to finish.
When you negotiate your price, make sure it's to visit the Kinsa Cocha lake and the Blue Lake (Laguna Azul) because the third lake is about 3 km down the road from the first and won't be included in the price if you don't specifically ask for it.
If you don't want to go to Kinsa Cocha on your own, there are also tons of guided treks near Cusco that you can book instead, or you can ask SAM Travel Peru for a guide.
Lakes One and Two on the Kinsa Cocha trek in Pisac: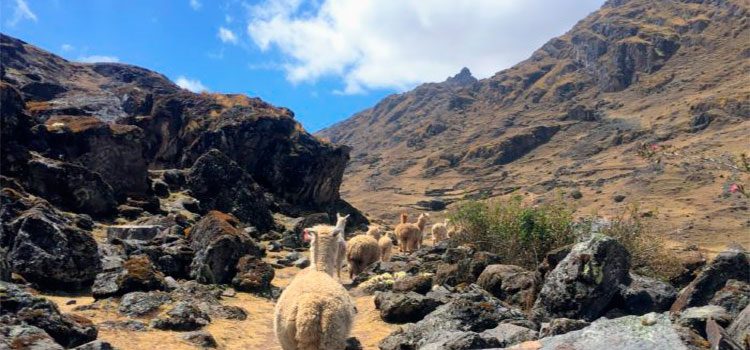 HOW MUCH DOES IT COST TO HIKE AT KINSA COCHA TOUR?
This is a fairly budget-friendly day trip from Cusco because there are no entrance fees required. The only major expense will be the transportation from Cusco to Pisac and Kinsa Cocha. The average price you spend will be around 50USD.
Alpaca field aka: the perfect place for a picnic lunch break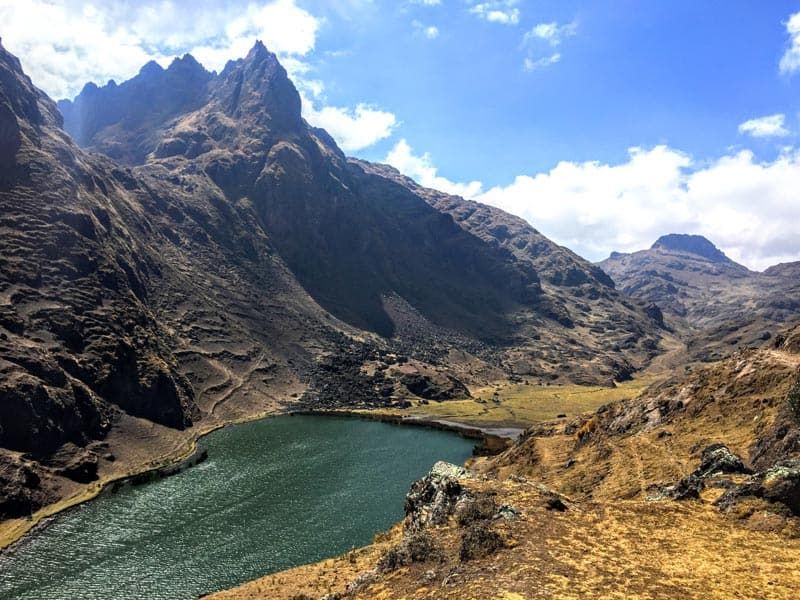 HOW MUCH TIME DO YOU NEED TO HIKE TO THE KINSA COCHA LAKES?
You'll definitely need a full-day to complete this Cusco day trip. The list below will help you get an estimated itinerary for your Kinsa Cocha hike.
45 minues – colectivo from Cusco to Pisac
45 minutes – taxi from Pisac to Kinsa Cocha
3 hours – hiking at the first two lakes
20 minutes – photos and view at the third lake
45 minutes – taxi from Kinsa Cocha to Pisac
1 hour – exploring the Pisac market and grabbing a snack in Pisac
45 minutes – colectivo from Pisac to Cusco
In total, you should budget around seven or eight hours from start to finish for an unhurried trip to Kinsa Cocha and the town of Pisac. Best to start early as to give yourself plenty of time to explore, take photos, and not have to feel rushed.
The trail leading around Lake One at the start of our hike
HOW TO HIKE TO THE FIRST TWO LAKES.
Once you grab a taxi and make the drive to the starting point of the hike, your driver will drop you at the first of Pisac's three lakes.
Before you set off, make sure to agree on a time with your driver for how long you want to hike (we recommend around three hours).
From here, there are trails going around both sides of the lake and you can choose your route. We recommend you cross the bridge and begin your hike on the left side of the Kinsa Cocha lake. Walk along the lake for about 30 minutes, and you will find the area where the first lake connects with the second.
Afterwards, you should find a large field with a herd of alpacas peacefully grazing. It's a great opportunity to just sit and watch them for a bit before continuing.
After passing the first two lakes, you will walk further into the valley, where you will feel a true sense of wonder and awe as you walk with surrounding mountains rising up on both sides. It is truly a humbling experience.
There are many beautiful locations to choose for a picnic lunch. We recommend you hike back near the alpaca field, or cross to the other side of the valley.
After a refreshing lunch, hike up the other side of the mountains to find the trail that returns to the opposite side of the lakes where you began. However, this time you will be walking above the lake with a gorgeous view of the mountains, valley, and fields spread out below.
It is truly breathtaking.
You can expect your walk to the end of the valley and back, with time for a picnic, to take a total of three hours.
HOW TO VISIT THE THIRD LAKE (LAGUNA AZUL)
Upon your returned to your taxi, you can then drive 10 minutes more down the road to the third lake.
It's possible to hike to this lake instead of walk, but it requires a steep and long journey up the mountainside.
If you choose to walk, then when you arrive at the first lake, take the trail on the right side of the lake.
Walk past the first two lakes, and eventually on your right you'll see a dip between two peaks high above you. From here, the trail goes up on some steep switchbacks.
Climb up the side of the mountain and get a gorgeous view of the third lake once you reach the top. From here, you can walk down to the third lake and return to your taxi on the road, or you can circle around the peak and back to the first lake to return.
However, if you are like most and prefer an easier route and avoid strenuous uphill hikes, you can chose to hire your taxi to take you to the third lake instead. Your driver will drop you off at Laguna Azul, the third lake, and give you time to climb up the hillside to snap a few pictures.
The drive from Kinsa Cocha to Pisac will take another 45 minutes down dirt roads but the views during the drive are beautiful.
WHAT TO PACK FOR YOUR HIKE TO THE KINSA COCHA LAKES
The hike to the Kinsa Cocha lakes isn't too strenuous but it's always a good idea to head out into nature prepared. We recommend bringing a small day pack with only essentials like:
A large water bottle
Sunglasses
Sunscreen! Cusco is at high altitude and you can and will get burned even in the winter
Extra layers like a sweatshirt or light jacket
Snacks and a packed lunch
Sturdy hiking boots
Cash for the colectivos and taxi (a minimum of S/ .200 is recommended)