The most updated information about the Lares Trek to Machu Picchu
While this is one of the most scenic trekking routes you can hike in Peru, it really shines with the opportunity to learn and experience the local culture. Hiking through the Lares Valley you will pass through the most isolated indigenous communities which are keeping the Inca culture alive. One of the highlights of this trek is the privilege to interact with the local people and learn about their way of life. There are six different routes through this valley, depending on where you start. Research each company carefully and ask exactly which route they take. Each route is incredibly picturesque, with majestic ice glaciers, shockingly blue glacial lakes, waterfalls, llamas, and alpacas. 
Lares Trek FAQs
There are many trekking routes to get to Machu Picchu: the Salkantay trek, the Inca Jungle and, above all, the famous Inca Trail. There is also a little known route called the 'Lares trek'. This route combines walks through high altitude places as well as Quechua villages where you can feel the true spirit of the Andes of Peru.
Where is Lares located?
Lares is located in the Andes Mountains, in the southern part of Peru. This part of the district of Cusco is in the province of Calca.
What is the weather like in Lares Trek?
The climate in Lares is temperate during the day but is often cold during the nights. The average temperature is 11ºC/51°F. During the day, the heat can reach 21ºC/70°F. At night, temperatures can drop to 1ºC/33°F.
How to get to Lares Trek?
Lares is 149 kilometers from the city of Cusco. To get to the trailhead, you will travel by car or van through the villages of Pisac and Calca in the Sacred Valley of the Incas.
What can you see and do on the Lares Trek?
Lares Valley is a unique cultural trekking route, that treks off the beaten path. You pass through the most isolated indigenous communities which are keeping the Inca culture alive and will have the privilege to interact with them. The route is incredibly picturesque, with majestic ice glaciers, shockingly blue glacial lakes, waterfalls, llamas, and alpacas.

ENJOY THIS AMAZING PLACE!
Best Itinerary For The Lares Trek To Machu Picchu 4 Days & 3 Nights
Every company should provide you with an itinerary similar to the one below. Pay attention to the names of the places, since there are several different routes. Most companies will start or end at the Lares Hot Springs, some companies like (SAM Travel Peru) create their own unique route, also making a trip to the hot springs.
Day 1: Cusco – Lares – Cuncani – Kiswarani
The excitement of your Lares trek to Machu Picchu will help you arise early for your pickup at 5:00am whether in Cusco or Sacred Valley. Then, you will drive for 2.5 hours to Cuncani community. Breakfast is served high in the mountains, looking down at the deep gorges with awesome views of the valleys. After breakfast, it's time to get ready, put your boots on and begin your first 3 hour gradual ascent to Hullquijasa Pass (4,200m/13,779ft). During your hike you will enjoy the amazing views of lakes, valleys and much more. Our first stop at Hullquija is where you will have your lunch. After a replenishing meal, you head down to the Kiswarani community, which is one of the most isolated and self-sustained communities. This traditional village will help you connect with nature and learn about the reality of Andean life with the locals who will open their homes to you. It would be appreciated if you are able to share some toys, old useful clothes, notebooks, fruit or any items with the locals. Two hours from your lunch spot, you have completed your first trekking day and have arrived at your campsite. Boots off, time to enjoy afternoon tea with amazing views of the frozen Andean peaks and waterfalls. After dinner, your guide will show you the Inca's constellations on which they depended on for their agricultural guidance and still use to this present day.
Meals: Breakfast – Lunch – Afternoon Tea Time – Dinner
Accommodation: Camping facilities
Distance: 12kms / 7 miles
Time: 6hrs approximately
Difficulty: Moderate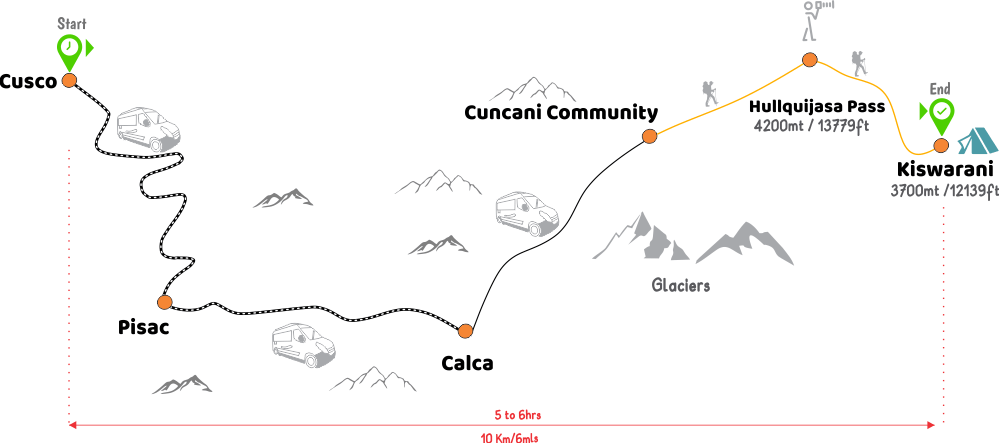 Day 2: Quishuarani – Pachaqutec Pass -Cancha Cancha
You begin your second day feeling refreshed after a good sleep and a delicious breakfast. You will start your 4 hour hike heading southwest, an intense walk accomplishing the three high passes to the highest point of our trek called Pachacutec Pass (4,700 m / 15,420 ft). Embrace the feeling of total exhilaration and self-achievement for making the summit. Rewarding you for the intense hike are the views of the rigid glaciers, blue glacial lakes, llama herds, rugged valleys and undulating farmlands. After time to enjoy the picturesque 360º views, you descend for about 30 minutes, where you will have lunch with great views of glaciers and the majestic views of the Lares Valley with herds of llamas and alpacas peacefully grazing.
After a siesta time, you descend for 2 hours until you reach your campsite located by the community of Cancha Cancha, (3,700m /12,139ft). You are taking the back roads to Machu Picchu, where llama herders are often seen and the local indigenous people will open their hearts and interact with you in the Quechua language (Inca language). Your guide will act as your mediator to translate and teach you some of the Quechua language.
At the campsite, everything will be ready. Enjoy afternoon tea time and dinner then snuggle in for a comfortable night sleep.
Meals: Breakfast – Lunch – Afternoon Tea Time – Dinner
Accommodation: Camping facilities
Distance: 14kms / 10.3 miles
Time: 7 to 8hrs approximately
Difficulty: challenge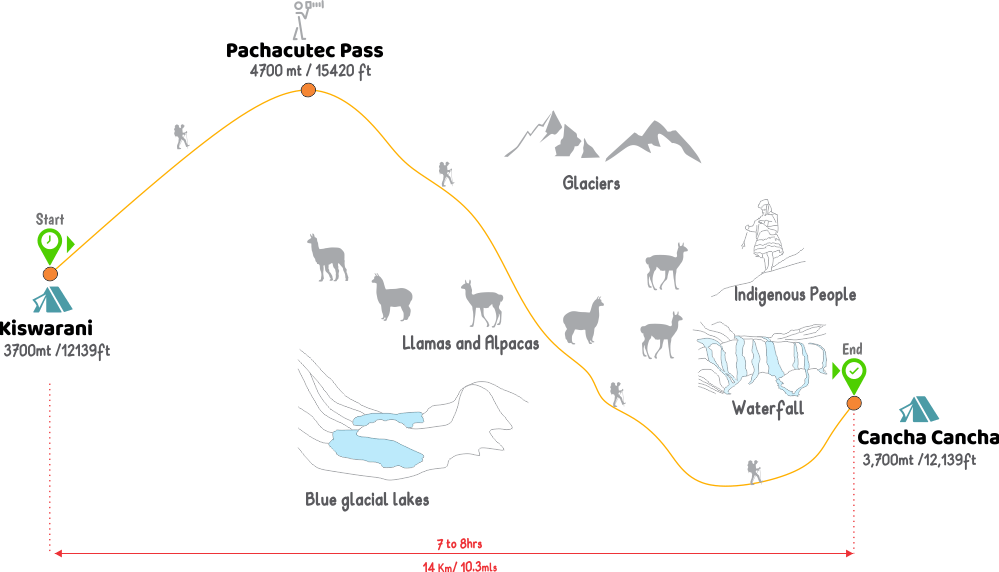 Day 3: Cancha Cancha – Huaran – Salt Mines – Ollantaytambo – Aguas Calientes
Your adventure continues as you begin the most memorable day yet! After breakfast, you'll have time to explore the village and visit the local elementary school, where Quechua is still taught. Once you are ready, you'll begin the last leg of your Lares Trek. It will be 3 to 4 hours of walking a gentle downhill, along a lovely stream, where you will pass by more llamas and alpacas. We'll pass by farms where they cultivate potatoes, fava beans, and many other traditional tubers, in the traditional Inca style. This is a great opportunity to learn about Peruvian agriculture because people still farm by hand with traditional, Inca farming tools. Now, we will start to descend to the warmer area, the Sacred Valley. You will begin to feel the micro-climate changes and start seeing crops that are different from in the high mountains. Finally, you arrive to Huaran, where you have your lunch and where you will say goodbye to your horses, horsemen, chef and porters, as they will be going back to their homes.
From Huaran, you will catch a van and make the short drive into the valley to visit the Salt mines, in the town of Maras. Here, at 11,000 feet above sea level, a salt water spring gushes forth and spills down the side of the mountain. Over 3,000 small evaporation ponds have been created and look as if they are tumbling down the mountainside. These have been in use since pre-Incan times. The salt is said to have healing properties because it is loaded with natural minerals, some of it even comes out pink. Local families each own one of these ponds, and make their living supplying salt to the towns around the area. There is a small shop on site and you can purchase some salt to take home with you.
After visiting the Salineras, you will get back in the van for a 45 minute drive, that skirts along the Sacred Valley to Ollantaytambo. Ollantaytambo is the only living, intact Inca village. It still has many Inca water channels, houses and walls. Your guide will take you around to view this small town until it is time for dinner, which will be at a local restaurant. We'll then catch the 7 p.m. train for Aguas Calientes, the town below Machu Picchu (train times may vary, depending on availability). Upon your arrival to Aguas Calientes, you will check-in to your comfortable hotel for a relaxing night before your much anticipated day of the 7th Wonder of the World!
Meals: Breakfast – Lunch – Dinner
Accommodation: Hotel in Aguas Calientes
Distance: 9kms / 6 miles
Time: 3 to 4 hrs approximately
Difficulty: Moderate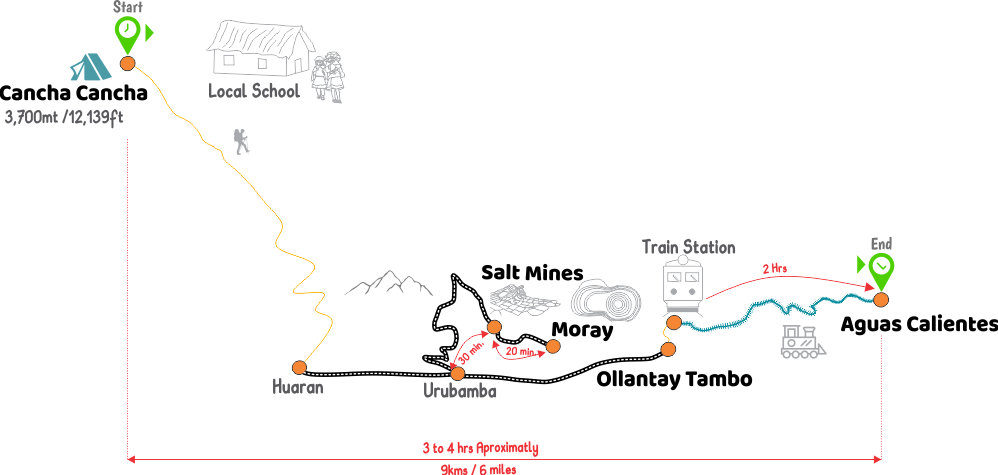 Day 4: Aguas Calientes – Machu Picchu – Cusco
This is the day you've been waiting for! You will take the first bus to the Machu Picchu archeological site, making sure to tour every nook and cranny of this New Wonder of the World and UNESCO World Cultural Heritage Site. The Citadel of the Incas, Machu Picchu, what an unforgettable experience! Your guide will expertly direct you for around 2 hours through the enigmatic ruins and its main streets. Then on your own, you can wander around the town squares of the world's spiritual center of Inca wisdom, as well as climb the intricately carved stone stairways.
Most companies will offer the option to also purchase these extras:
Climb up Huayna Picchu to appreciate the beauty and magnificence of Machu Picchu (US$75 per person)
Other optional activities in Aguas Calientes include a visit to the local museum or to the hot springs.
When you are ready, you will descend to Aguas Calientes, have a leisurely lunch on your own, and later board the train for the return trip to Cusco stopping at the Ollantaytambo Train Station, where you will have transportation provided back to Cusco. You can expect to arrive at your hotel around 7 or 8pm.
Meal: Breakfast
Difficulty: Easy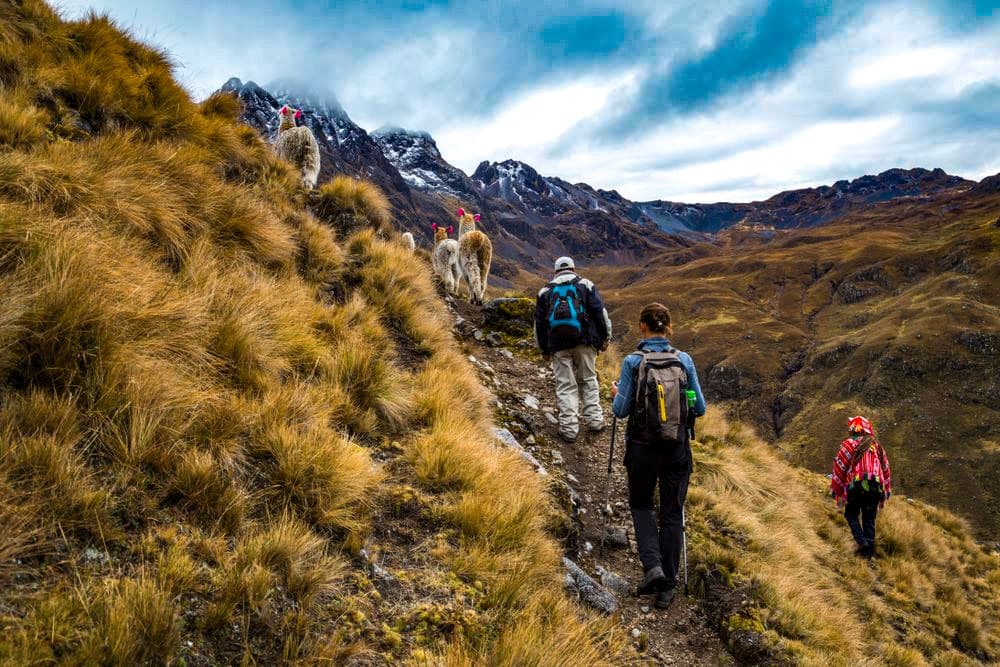 What does the Lares Trek includes?
Each tourism agency offers a service with similarities and differences in the Lares Trek. In general, the tours include the following:
Transportation by bus or van from Cusco to Lares
Transportation by bus or van from Ollantaytambo to Cusco
Transportation by train from Ollantaytambo to Aguas Calientes (round trip).
Tour guide service throughout the trek
Camping equipment
Cook and food during the camps
Pack horses
Lodging in Aguas Calientes the third day
First aid kit, including oxygen
Entrance tickets to Machu Picchu
Is it difficult to do the Lares Trek?
The Lares Trek has medium difficulty. Compared to the Inca Trail or the Salkantay Trek, this route is less arduous. The only difficulty or worry is altitude sickness, due to the trails being at high altitude.
When is the best time to do the Lares Trek?
The best time to do the Lares Hike is during the dry season (from April to October). In those months, the sky is clearer and there is less chance of rain. Therefore, the roads are in better condition for access to trailheads and trails are in better condition also.
Is it possible to do the Lares Trek on your own?
There is no restriction for a visitor to try the Lares Valley Trek on their own. However, unlike other walks such as the Salkantay Trek or the Choquequirao Trek, the routes are not well marked, so it is difficult to follow the course. Remember, there are six different routes, so it is best to have a guide who knows the route that you intend to do.
To do the Lares Trek on your own, you must understand which route to follow. For this, a good map is necessary. In addition, the inhabitants of this region are mostly Quechua speakers. If you get lost, don't count on everybody knowing Spanish, and finding somebody who speaks English is unlikely. Also, you risk walking several miles or kilometers off your route. It is a very vast area. We highly recommend having a guide.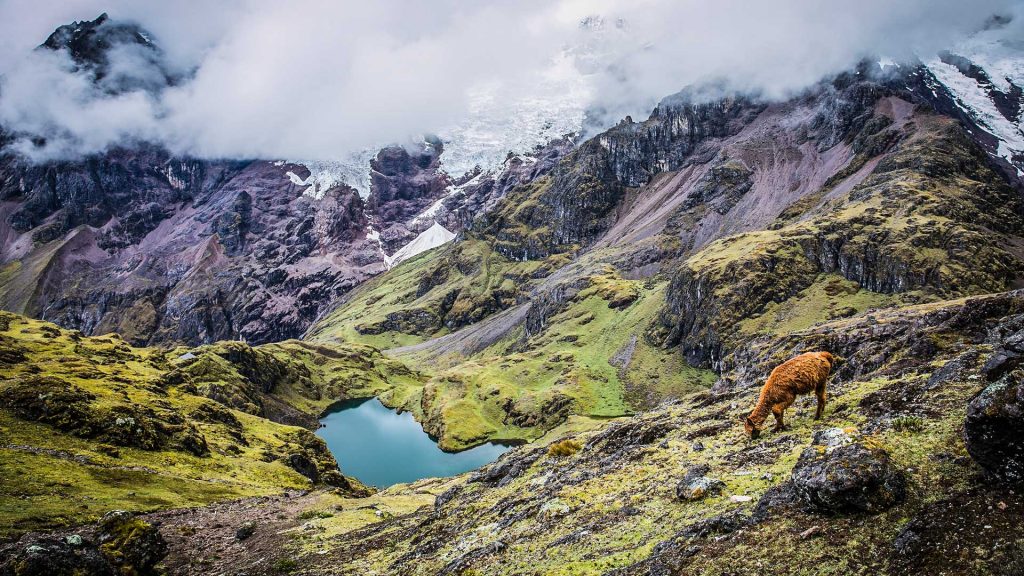 What should you take on the Lares Trek?
The tour services that lead to Lares Trekking include basic equipment such as tents, food and a pack horse.
In addition, it is recommended that you bring the following:
Sleeping bag
Adjustable trekking poles
Hat or cap (prepare for both cold nights and sunny days)
Sunscreen
Warm clothes for the nights
Light clothes for the day
Rain poncho
Reusable water bottle
Hiking shoes
Swimwear (for Lares hot springs)
Snacks
Camera
Extra money
Recommendations during the Lares Trekking
The Lares Trek includes several routes that cross high altitude landscapes until reaching Machu Picchu. On the route, you can see beautiful landscapes and indigenous peoples with ancestral traditions.
For a perfect trip it is recommended:
Acclimatize in the city of Cusco for at least two days before doing the walk. This will help you avoid the worst symptoms of altitude sickness. You should plan to drink more water at high altitudes than at sea level to stay hydrated.
It is not necessary to be in optimal physical form to complete the Lares Trek. However, regular exercise before the walk is helpful.
Drinking coca leaf tea during the tour (as the Incas did hundreds of years ago). Another alternative is to take pills to prevent altitude sickness before starting the trek. Ask your doctor at home about altitude sickness before you come to Peru.
The Lares Trek is a great opportunity to know the way of life of the towns that inhabit the Andes.
These people offer their products made from alpaca fiber at lower prices than the stores in Lima, Cusco or other countries. Buying directly from the artisan is true fair trade!
***** Information provided by Veronica View Hotel