In 2013, the world was introduced to a newly uncovered geological wonder in Peru known as the Rainbow Mountain or Vinicunca.
History of Rainbow Mountain
Rainbow mountain is the most eye catching phenomenons of nature you will ever come across. There is nothing like it anywhere else in the world. It stands at an elevation of 5,200 meters or 17,060 feet in its uniqueness with many vibrant colors like turquoise, lavender, orange, gold and many more. These astonishingly striking colors are formed by weathering, environmental conditions and sedimentary mineral deposits over many years. The beautiful colors you see in all of the photos are created by minerals such as iron oxide, copper sulfide and more. The Rainbow Mountain is nestled in the Andes mountains in the South Valley of Cusco (about 3 hours outside of Cusco City), with spectacular views of the snow capped Ausangate Mountain.
Rainbow Mountain was recently discovered in 2013 when the snow melted and revealed the striking colors that lay beneath. The very first guided tour took place in January of 2016. Given how recent its discovery is, it has grown exponentially in popularity over the years. It is currently the second most visited tourist site in Peru after Machu Picchu and it was recently added in the National Geographic list of "Top 100 places to visit before you die".
Why to do the Rainbow Mountain with Professional Licensed Tour Operators?
Professional Licensed Tour Operators provide security and peace of mind. They provide highly qualified tour guides, small groups, updated info, oxygen tanks, access to horses if needed, safety guarantee, first aid kits, and fresh cooked meals prepared by chefs.
Please read below for more details of what you should expect when you use professional tour operators like SAM Travel Peru:

See Boxes Below for more Information
Oxygen Tank: Essential for a lot of travellers particularly those who struggle with high altitudes. Everybody reacts differently when trekking Rainbow Mountain which reaches heights of 5,200m/17,000ft above sea level.
Official Qualified Guides: Bilingual tour guides are highly trained in regards to Rainbow Mountain and have been doing this trek for years. No need to worry about safety or missing out on information when you go with professional trained guides
First Aid Kits: Every tour will have a first aid kit at hand, oxygen and guides certified in first aid. Injuries can sometimes happen on long treks so it is necessary to be prepared for anything.
Safety Guarantee: Top rated Rainbow Mountain operators like SAM Travel are known for professional guides, equipment durability, trekking information and tour organization. View the top-ranking alternative tour operators.
Updated Info: The information on the Rainbow Mountain is regularly updated including weather conditions, tour options and general info about the mountain itself. Just ask your expert alternative tour operators.
Small Groups: Tour operators offering small groups of no more that than 8 persons, averaging around 4 to 6 persons are the best alternative. You are on vacation; you deserve the special attention small groups can offer with professional guides to take care of all of your needs.
PROFESSIONAL TOUR OPERATORS
These top notch professional tour operators facilitate luxury private tours for a more intimate experience for you and your travel companions. As well, they run small group tours, where you can meet like minded travelers with which you get to share these incredible trekking experiences in the Andes Mountains of Peru. All travel is done in private mini-vans and the meals are all fresh Peruvian food prepared by well trained chefs! (contact your guide with any dietary restrictions and they will be sure to accommodate to your needs)
Please explore the best profesional tour operators for this tour with this link: Top Rated Tour Operators.
WANT TO KNOW MORE?
If you have particular questions you wish to ask or simply want regular email updates of our Rainbow Mountain tours and info, give us your contact information and we'll be happy to get in touch with you.
Rainbow Mt, known locally as Vinicunca (its Quechua name) or the Montaña De Siete Colores (seven-colored mountain), is an absolute must for all those who love stunning landscapes and gorgeous scenery. Nestled in a remote region of the Andes Mountains, Rainbow Mountain was once a spectacle only to be admired by trekkers along the Ausangate Hike, but now you can witness this display of natural beauty in all its glory on a shorter 1- or 2-day hike as part of your vacation.
Where is Rainbow Mountain?
The Rainbow mountain is located about 3 ½ hours from Cusco by minibus. Found in the Peruvian Andes, Rainbow Mountain is famed for its natural, multi-coloured beauty created by mineral deposits. It has only recently been discovered by trekkers but is fast becoming one of the places that must be included in a tour of Peru.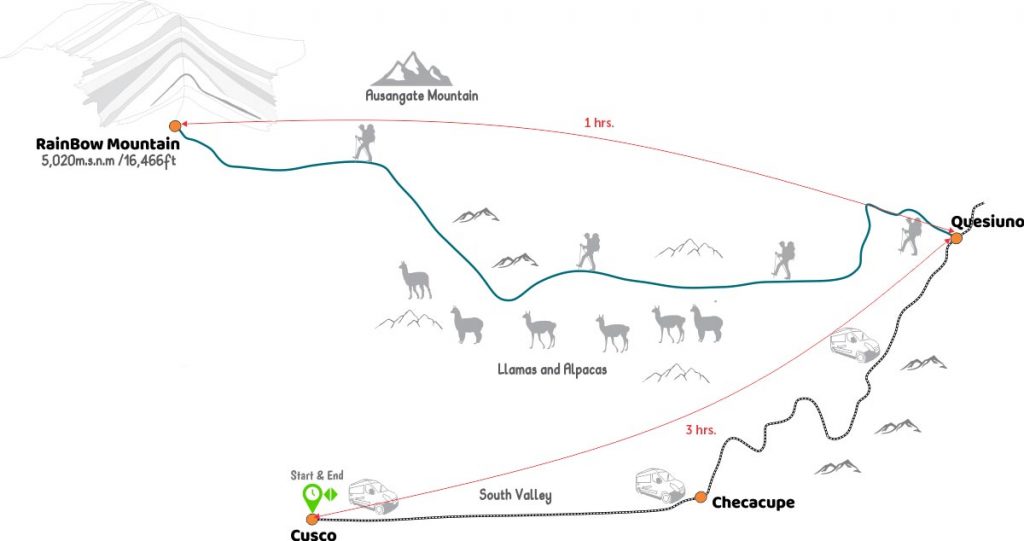 Best Itinerary for the Rainbow Mountain Hike
Cusco – Cusipata – Llacto – Rainbow Mt – Llacto – Cusco
The trek starts at 4am as your guide awaits you in your hotel lobby to escort you to our private van to begin your adventurous journey. Regardless of the agency with which you book, your incredible Rainbow Mountain Trek Adventure must start early due to the distance to arrive at the trail head. The early morning drive is dark and gives you the opportunity to rest or nap before arriving at breakfast.
After a hearty breakfast we hop back in the van and begin our ascent up to the trailhead. The hike starts along a gently flowing stream. As you trek up the mountain, enjoy the continuous views of the Ausangate Mountain. When you pass through different villages do not miss out on this rare opportunity to interact with the indigenous people, who are still living their traditional lifestyle. Your guide will happily translate any questions or comments you have into the local Quechua language. The village is home to smiling and precious people who love interacting with travelers.
After a short 1.5 hour hike, you will be met with the mighty Rainbow Mountains at (5,020m /16,466ft) The distance is not great, but the high altitude forces everybody to walk slowly. Don't be deceived by how easy the trail looks. Even those who are acclimatized to Cusco have to walk slowly. A horse can be hired for majority of the trek. However, the last 600m are too steep for horses and you will have to journey the remaining stairs. The cost is to rent a horse is about 100 soles roundtrip which your guide can negotiate. Be sure to take pictures and savor the colorful environment. We recommend the short hike up the neighboring mount to get a better angle of the striking rainbow colors. You will spend approximately 30 minutes at the top before beggining the hike down the same path.
The hike back down is around 1 hour. Upon your return to the vehicle, the chef will have your hot lunch prepared. After lunch, we take our van back to Cusco
After lunch you begin your scenic 3-hour drive back to Cusco and your hotel, arriving around 5:00pm to 6:00pm at the latest.
What to expect
Weather can change in seconds when you're in the high mountains – so be sure to pack sunblock, sunglasses, a rain jacket, a hat and wear some thick hiking socks – its also a good idea to bring a spare pair of socks just in case!
Coca tea for breakfast, staying hydrated and taking ibuprofen if you have a headache can help you adapt to high altitudes.
Be sure to bring a small backpack with lots of water, snacks and a toilet roll.
The entrance fee to the park is 10 Soles and usually it isn't included in most Rainbow Mountain Tour packages.
When is the best time to visit Rainbow Mountain?
The best season to hike Rainbow Mountain is the dry season, which is from April to September every year. During Cusco's dry season it's less likely to rain and daily sunshine with beautiful weather is the standard. The peak tourism season in Cusco is between the months of May and August, which is due to the weather and it being summer vacation time for many people.
WHY?
Because no rain and teh vies are super clear!
What should I bring?
Sunblock
Rain gear
Hat, gloves, sunglasses
Water (2 liters)
Trekking pants and jacket
Hiking shoes
Snacks, identification, cameras and cash
We also suggest visiting the nearby Red Valley in Pitumarca, which is an extra 45 minute hike after reaching the summit of Rainbow Mountain. It is usually included as a part of the Rainbow Mountain hike if the physical condition of the group makes it possible.
Important FAQs.
WHAT IS THE TRAIL TO RAINBOW MOUNTAIN LIKE?
The trail starts as an even, gradual incline through the valley until you arrive at the last 600 metres where you encounter some steep steps up to the colors of Rainbow Mt.
For the classic view, you have to climb a very steep, hard-packed dirt mountainside that's directly across from Rainbow Mountain. Because the mountainside is sheer, the terrain can be slippery when wet. The summit allows you to see the full streaking colors of the mountainside and the stellar views of lush, green scenery that fade into steely snowcapped mountain peaks.
HOW HARD IS THE HIKE UP TO RAINBOW MOUNTAIN?
A lot people don't realize beforehand that Rainbow Mountain is a high altitude hike. The altitude, more so than the incline of the trail, adds to the challenge factor of the hike. The trailhead starts at around 4,300 meters (14,000 feet) and climbs to just over 5,000 meters (16,400 feet).
WHAT IS THE WEATHER LIKE?
The weather at Rainbow Mt is very unpredictable, changing frequently and quickly. You might see warm weather and sunny skies one minute and then cloudy skies and snowfall the next. The best idea is to make sure you're prepared for all weather by dressing in layers and carrying a small backpack to store a rain jacket or warmer gear.
ARE THERE RESTROOMS ALONG THE TRAIL?
Very basic bathroom facilities are available along the trail. These bathrooms are very rustic, but it's the only option that is available in such a remote area. Make sure to carry a roll of toilet paper with you just in case. Your guide will recommend you use the restrooms located at your breakfast location before beggining your journey.
WHY IS RAINBOW MOUNTAIN IN PERU COLORFUL?
The colors of the mountain actually come from the rich mineral deposits compressed into layers over millions of years. There are an aray of colors found in just one mountain and each color comes from a different substance.
Pink: The pink color came about due to red clay, mud, and sand.
White: This color comes from substances rich in calcium carbonates such as quartzose, sandstone, and marls.
Red: This strong color is made up of clays and claystones.
Green and Blue: These come from a compound of phyllites and more clays that are rich in ferromagnesian.
Earthy Brown: The brown is made up of rock and magnesium.
Yellow: This last one is comprised of layers of iron sulphide.