Where is Rainbow Mountain?
The Rainbow mountain is located about 3 ½ hours from Cusco by minibus. Found in the Peruvian Andes, Rainbow Mountain is famed for its natural, multi-coloured beauty created by mineral deposits. It has only recently been discovered by trekkers but is fast becoming one of the places that must be included in a tour of Peru.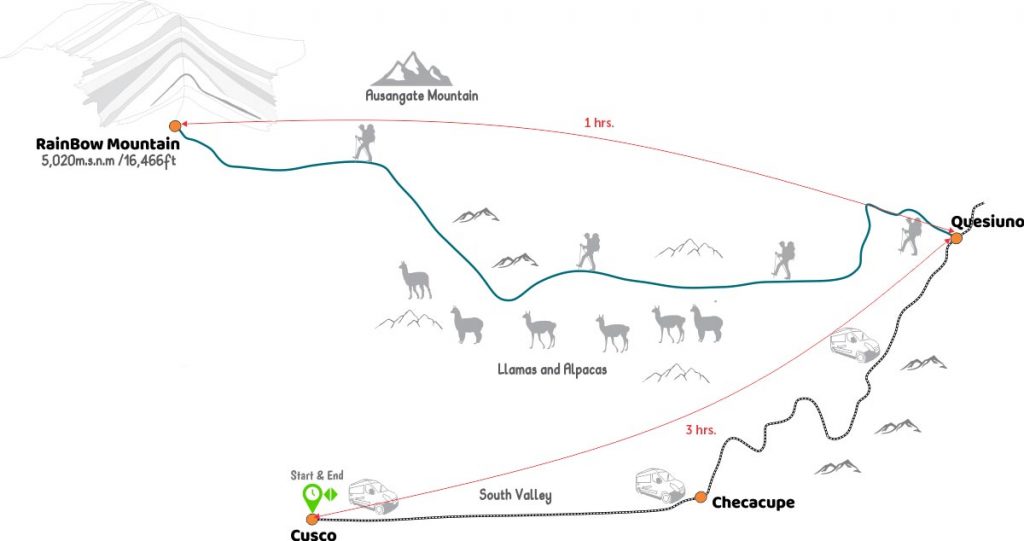 Best Itinerary for the Rainbow Mountain Hike
Cusco – Cusipata – Llacto – Rainbow Mt – Llacto – Cusco
The trek starts at 4am, where you will be met at your hotel lobby to being your journey. Regardless of the agency with which you book, your incredible Rainbow Mountain Trek Adventure must start early due to the distance to arrive at the trail head. Relax or sleep on your 3-hour scenic drive through the South Valley, there are amazing views of Inca terraces, valleys and rocky mountains.
Once you reach the trailhead, the hike begins along a flowing stream.  While you are having your breakfast at the trailhead, you will be surrounded by llamas and Alpacas dotting the valleys. As you trek up the mountain, enjoy the continuous views of the Ausangate Mountain. When you pass through different villages be sure to interact with the indigenous people, who are still living their traditional lifestyle. Your guide will assist with that. They are precious people.
After a short 1.5 hour hike up before you stands the mighty Rainbow Mountains at (5,020m /16,466ft) The distance is not great, but the high altitude forces everybody to walk slowly. Don't be deceived by how easy the trail looks. Even those who are acclimatized to Cusco have to walk slowly. A horse can be hired for majority of the trek. However, the last 600m are too steep for horses and you will have to walk this last part. The cost is about 100 soles roundtrip which your guide can negotiate. You can take pictures and savor the environment. You will spend approximately 30 minutes at the top.
At this point, the hike back down is around 1 hour. When you return to the vehicle, the chef will have your hot lunch prepared. After lunch, we take our van back to Cusco
After lunch you begin your scenic 3-hours drive back to Cusco and your hotel, arriving around 5:00pm to 6:00pm.
What to take with you on the trek?
Weather can change in seconds when you're in the high mountains – so be sure to pack sunblock, sunglasses, a rain jacket, a hat and wear some thick hiking socks – but also bring a spare pair of socks just in case!
Coca tea for breakfast, staying hydrated and taking ibuprofen if you have a headache can help you adapt to high altitudes.
Be sure to bring a small backpack with lots of water, snacks and a toilet roll.
The entrance fee to the park is 10 Soles and usually it isn't included in most Rainbow Mountain Tour packages.
When is the best time to visit Rainbow Mountain?
The best season to hike Rainbow Mountain is the dry season, which is from April to September every year. During Cusco's dry season it's less likely to rain and daily sunshine with beautiful weather is the standard. The peak tourism season in Cusco is between the months of May and August, which is due to the weather and it is summer vacation time for many people.
What should I bring?
Sunblock
Rain gear
Hat, gloves, sunglasses
Water (2 liters)
Trekking pants and jacket
Hiking shoes
Snacks, identification, cameras and cash
We also suggest visiting the Red Valley in Pitumarca, really close to the Rainbow Mountain, which is an extra 45 minute hike after reaching the summit of Rainbow Mountain. It is included as a part of the Rainbow Mountain hike if the physical condition of the group makes it possible.