Upon entering the Sacred Valley, only a short drive from Cusco, lies the town of Pisac which is famous for their handicrafts market and Pisac Ruins towering atop the hill. Read our guide on how to explore the Inca ruins, how to get from Cusco to Pisac, if it's better to travel independently or with a tour, how much things cost, and tips on how to best enjoy this popular one day trip from the Incan capital, Cusco.

---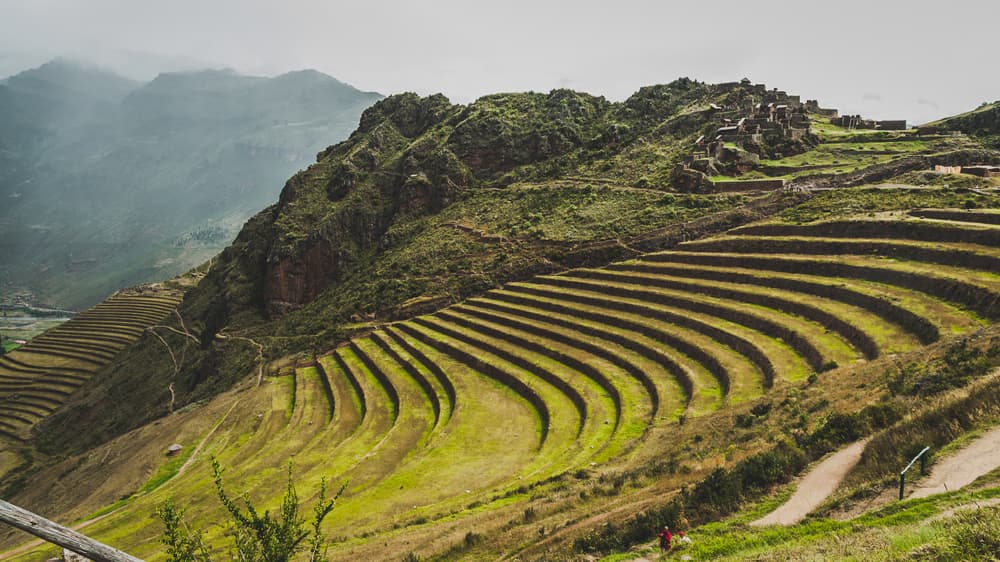 Pisac Ruins, perched atop a mountain overlooking the valley and Pisac village below, has its rightful place on our list of the best ruins and one-day trips we've done from Cusco.
Pisac town is a gateway to the Sacred Valley, and due to its strategic location, we can guess that the main purpose of the ancient Incan city was it probably served as protection for Cusco and the Sacred Valley. Another theory is that it was a major trading point. Nowadays, we can be grateful that Inca people built one of the most picturesque sites in an even more beautiful setting.
In the past few years, Pisac town and its market have become a must-visit site and the ruins at the top of the hill can be reached by taxi or by walking if you are up to it. If you are not much into shopping, the main attraction for traveling to Pisac are the ruins scattered across the hill where you could admire how advanced the Inca were when it came to construction and agriculture. Don't miss out on the absolute beauty of the valley and mountains surrounding it! It is so peaceful and is a great place to just take in the reason why the Inca called it the "Sacred Valley".
Here's our guide on how to visit Pisac, and get to the ruins.
THINGS TO DO IN PISAC
Pisac is a great and affordable option for a day trip from Cusco. If you're traveling from Ollantaytambo and/or Machu Picchu you can stop on your return but you must be sure to take the road that gets you there and not to Cusco. You could also stay a day or two and use it as your base to explore the Sacred Valley.
THE PISAC MARKET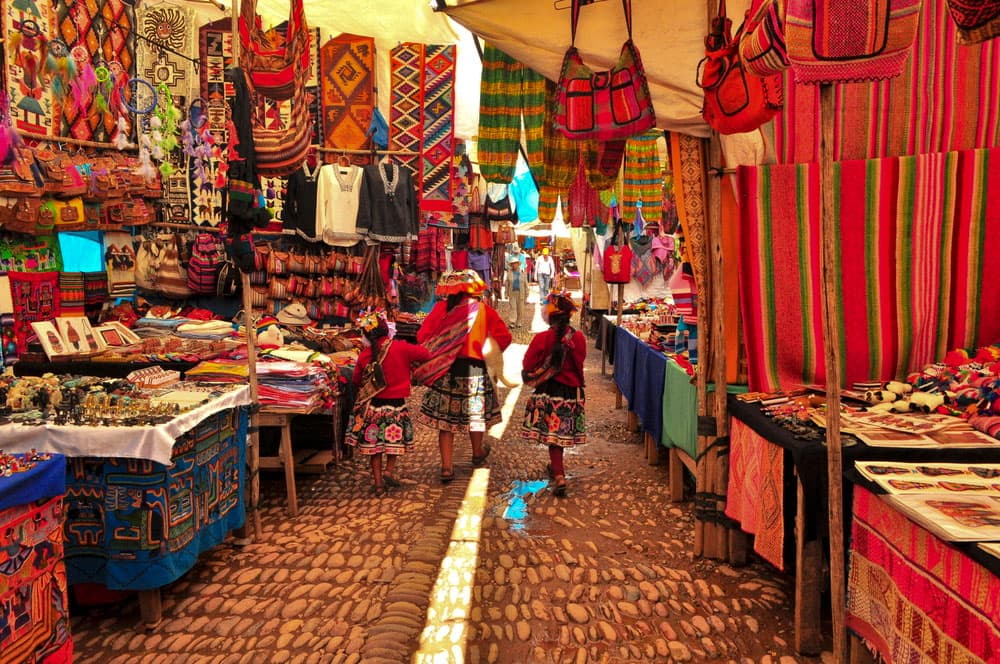 If Pisac didn't have such exceptional ruins (see more about them below), then we wouldn't recommend anyone to go out of their way just to visit its famous Pisac market. It use to be open only on Sunday but it is now open daily. This sprawling market which spills out over half of Pisac's streets is a feast for the senses and continues to see its fair share of families from the surrounding villages making their weekly trip to Pisac, which provides a wonderful opportunity for people-watching and insight into local life.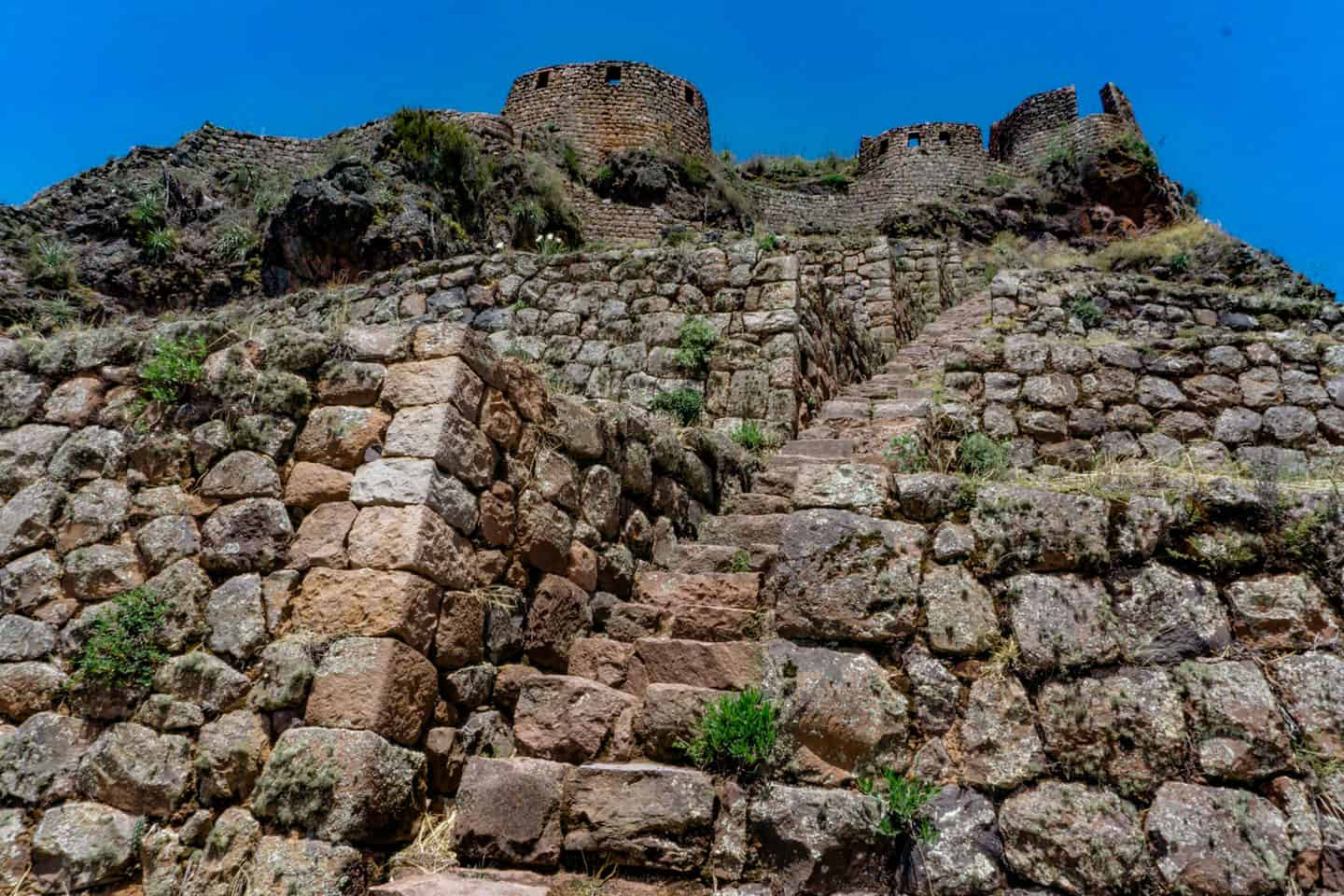 CLIMB THE PISAC RUINS
Taking a taxi is the easy route; or you can choose to hike to the Pisac ruins, which is not super-hard, but don't expect a leisurely stroll either. 
No matter your choice of exploring the Pisac ruins, you will be rewarded by stunning vistas, and if you hike you will see more ruins than the average visitors who usually only wander around the upper part of the ruins. Pisac ruins are included in most tours of Sacred Valley.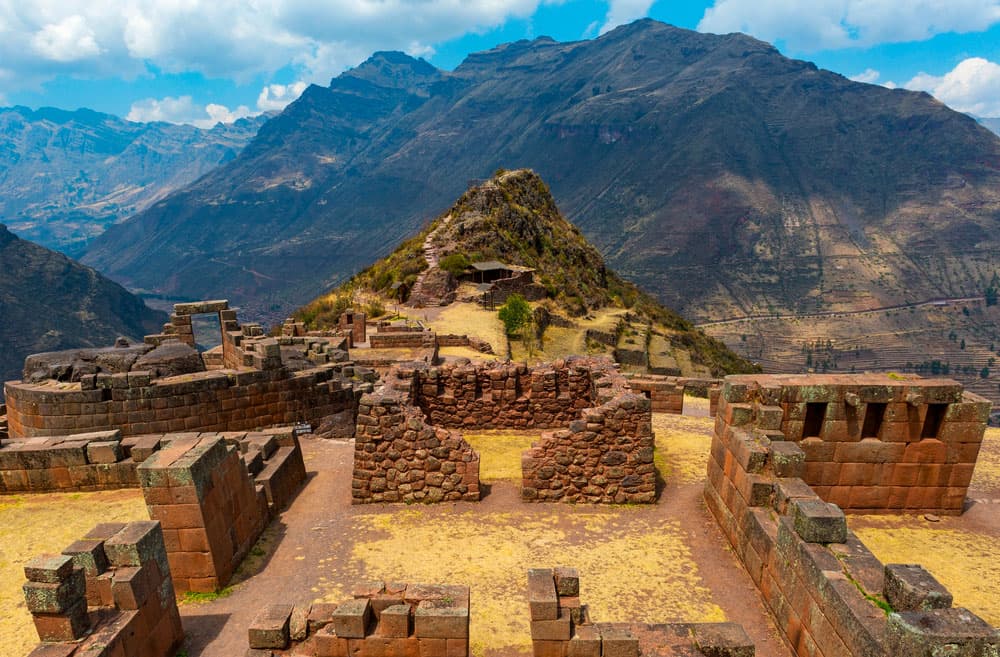 To get to the trailhead, you walk through the market and continued via Intihuatana street uphill where you have to buy a "boleto turistico" (better to buy the multi-day option). From here, you follow the narrow, but well-signposted path via terraces uphill. After some time you start to discover what was left from Pisac fortress. It was once scattered all over the hill, and seen from a large distance. It takes about two hours until you reach the main part of the ruins, where you meet other tourists who decided to travel on a tour or by taxi.
Hiking Distance: The hike to the ruins is four kilometers long and leads mostly uphill. However, you can walk at a slow pace, and enjoy time to take plenty of photos and wander around the smaller sections of the ruins.
Pisac is a lower altitude than Cusco at 2,972 meters above sea level, (9,750ft) so you need to gain almost 400 meters because the top of the ruins is 3,347 meters (10,980ft) high. Either way, this hike is good altitude training if you plan on doing the Inca Trail or any alternative trek to Machu Picchu.
Taxi: If you aren't fit, then this is the sensible option; it's the most popular way to reach the ruins.
Once your colectivo has dropped you off and you cross the bridge into Pisac, you will find a group of taxi drivers who run tourists up the road for 15 minutes to the back of the ruins for around S/. 20-25.
Due to the inflated price, try to do this trip in a group to split the cost and don't be afraid to haggle if you are being charged more than this. You can either take the taxi one-way and walk back down to Pisac from the ruins along the trail (our recommended option), or you can agree that the taxi driver will wait and take you back down once you've explored the ruins for a certain amount of time.
HOW TO GET TO PISAC FROM CUSCO
Connections between Pisac and Cusco are frequent and easy to find, with a journey time of 45 minutes and a one-way fare costing just S/.5 soles per person (although don't be surprised if you're asked for S/. 6 by some drivers). If you are doing this as a day trip from Cusco and plan on hiking up and down the Pisac ruins, then leave no later 9 a.m.
Firstly, make your way to Calle Puputi in Cusco – every taxi driver will know it and it shouldn't cost you more than S/.5 to get there from elsewhere in the old town. Alternatively, you could walk to it in about 20-30 minutes from most places in the old town. On the street, you will find several colectivos (minibuses) going to Pisac, Urubamba and Calca. It won't take much time before someone tries to get you in their minivan, which will hopefully already have some people in it – just make sure you confirm the destination and price before boarding. These minibuses depart when full.
The driver will stop at the bridge outside Pisac, and from there you then simply have to disembark and cross the bridge to be in the town. For the return journey, cross the bridge again and wait at the opposite side of the road (there's a small bus shelter facing the large mural billboard) – you likely won't be the only person waiting to return to Cusco. It may be necessary to flag down the colectivo as it passes and, depending on the time of day and season, it might take a while before you can find a bus with an available seat. If it's dark by the time you've made it back to Cusco, then you can take a taxi back to your hostel/hotel.
ENTRANCE FEE TO PISAC RUINS
When you plan on visiting sights around Cusco, especially in the Sacred Valley, you will soon learn a new term: "boleto turistico", which mean "tourist ticket". You need the boleto turistico to enter inti Pisac ruins and many other neighboring sites. There are two different types of "boletos" or "tickets", one is a day pass and you can visit as many sites as you can cram into your 24 hours. The other is a mulit day pass which allows more leisure sightseeing. Plan ahead and make a plan that best suits your itinerary or your group.
WHERE TO STAY IN PISAC
If you do plan on extending your time in Pisac, using it as a Sacred Valley base, or simply want to disconnect and savour a few nights out of the big city, then the town does have a few hostels and accommodations on offer which you could simply turn up to on the day. If you wanted to book in advance however, or your budget is a little higher, then we've included the best options below. Note that a number of the nicest accomodations in Pisac are located a 5-10 minute walk outside the town.
Casa Intihuatana: A basic but popular hostel a little outside the centre of Pisac. Dorms and privates available, with a guest kitchen and wifi. Prices start from £10 for a budget private double – check prices and availability here.
Hospedaje Inti: A slightly more expensive hostel than Intihuatana at £16 for a double, it's in a lovely peaceful location and has a great kitchen. Check availability and prices here.
Bamboo Lodge Sacred Valley: Just outside of the town, this is a really lovely modern hotel with lots of traditional touches throughout. A buffet breakfast is included. Prices start from S/. / £55 for a private double with balcony – check prices and availability here.