There are two types of travellers in the small Incan town called Ollantaytambo: those who have just come back from Machu Picchu, and those who are on their way to visit this majestic UNESCO World Heritage site.
A beautiful two hour drive from Cusco (do not fall asleep on this!), this town is the hub for people taking the train toward Machu Picchu, starting their four-day Inca Trail hike, and a handful considering a walk beside the tracks to Aguas Calientes. Due to this, it gets a lot of foot traffic and a lot of tourist turnover each day, with most individuals and groups sticking around for only one night.
However, Ollantaytambo should be understood as a special place that stands very much on its own two feet for a few good reasons. It is very much worth making a stop at before you visit Machu Picchu, rather than simply going directly from Cusco. The town, continuously inhabited since the 13th century, was actually the only place in Peru where the Spanish army suffered a resounding defeat (or at least held them back successfully until they returned with more forces) and remains a leading example of Inca architecture. Its location within the Sacred Valley is also simply stunning for the surrounding mountains and valley.
In fact, due to the tourism infrastructure it has in place, it's a great alternative base for discovering the secrets of the wider Sacred Valley
So, whether you're staying for one night or two, here's our advice on the best things to do in Ollantaytambo, where to stay in town (Hotels & Hostels), transport options, and some tips on the best places to eat amongst the dozens of options. If you're reading this and still not exactly sure how to get to Machu Picchu from Ollantaytambo, we've got all the answers for you too!
HERE ARE THE TOP THINGS TO DO IN OLLANTAYTAMBO
1.- VISIT THE OLLANTAYTAMBO RUINS AND TERRACES
Snaking up the hills, these ruins define and dominate Ollantaytambo from nearly every angle. However, it's important to try and get to them in the early morning or later the in the afternoon as it can be incredibly crowded once the large tourist buses turn up. The town is at an altitude of 2,792 m, so don't be surprised if you're a wee bit out of breath making your way to the top.
Entry to the ruins is only possible with the Cusco Boleto Turistico – a multisite ticket which covers many of the best Sacred Valley ruins. It is not possible to buy a single entry ticket to Ollantaytambo, so find out more about the Boleto Turistico, where to buy it, and its three ticket price packages in this post. Give yourself 1-2 hours to explore the site at your own pace.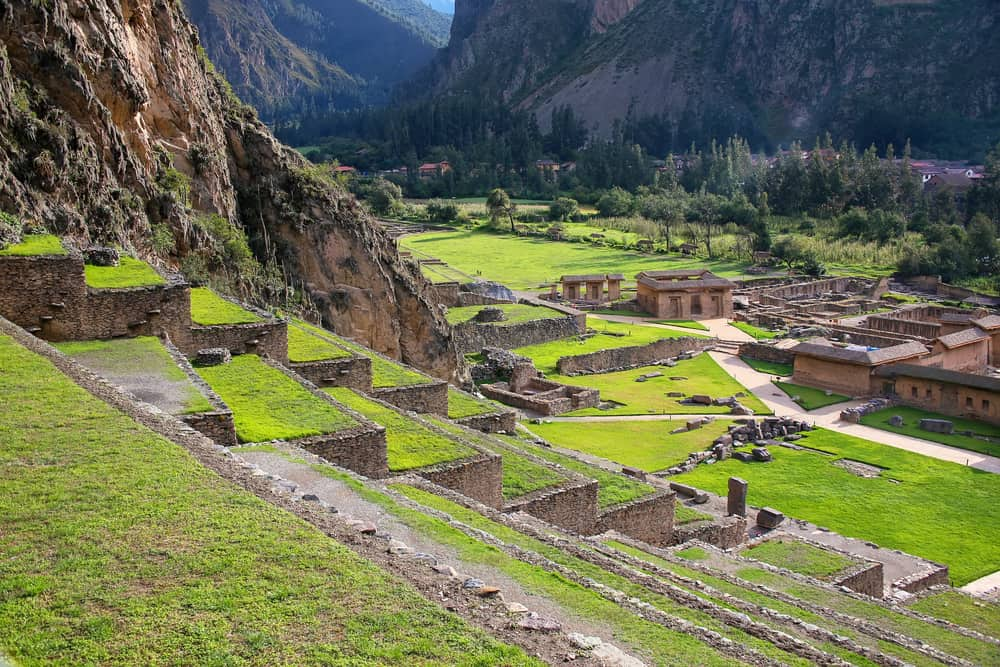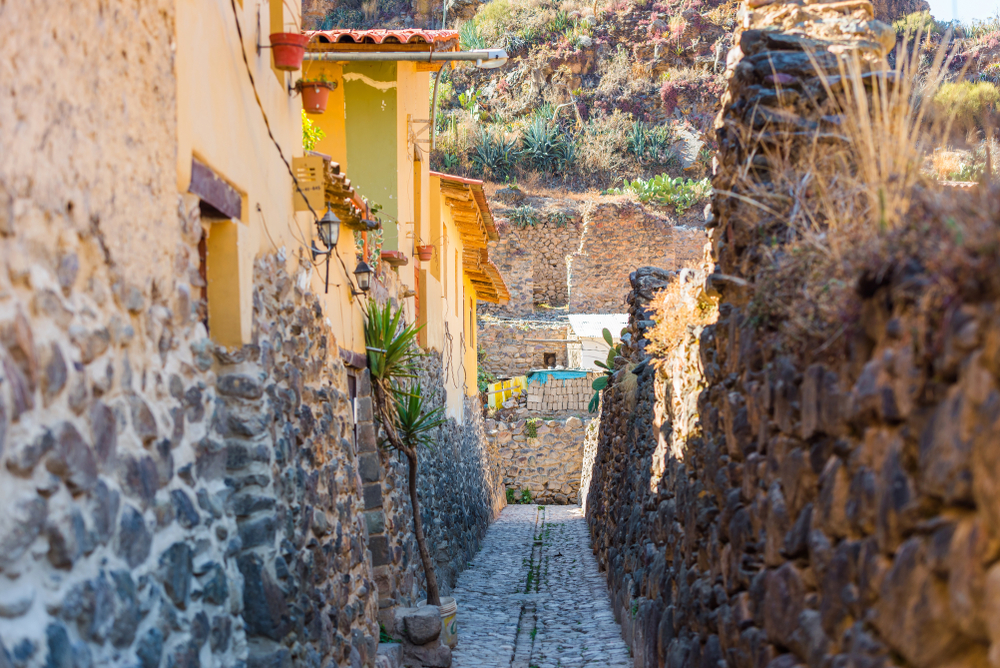 2.- EXPLORE THE OLD TOWN STREETS
It always sounds like it's raining in parts of Ollantaytambo, and that's due to the town's unique and incredibly well preserved Incan open-draining system which runs straight through the center of many of its pretty cobblestone streets (if you don't spot them in time, expect wet feet). Walking the town's narrow back streets feels like stepping back in time and, as Ollantaytambo is so compact, you'll never really get lost. Just look up to the Inca site towering above you to get your bearings.
3.- BROWSE THE SOUVENIR MARKET
If you are on a shorter trip to Peru, then you'll enjoy spending some time exploring this small but well-stocked open-air souvenir market.
Found at the base of the ruins (you'll pass through it to enter the terraces), it has all the usual fare one would expect to see in a Peruvian tourist spot and makes no claims to be anything other than just that – but you may find some gems for yourself. Haggling is part of the process, but remember to only try and get a deal that is fair for everyone involved in the transaction. (Having traveled in other countries where haggling is expected, like Morocco, I learned not expect to get half of the original price, but you can usually get five to twenty soles off the price).
TIP: There's a cute little side street branching off from the tourist market where there are small shops selling similar wares.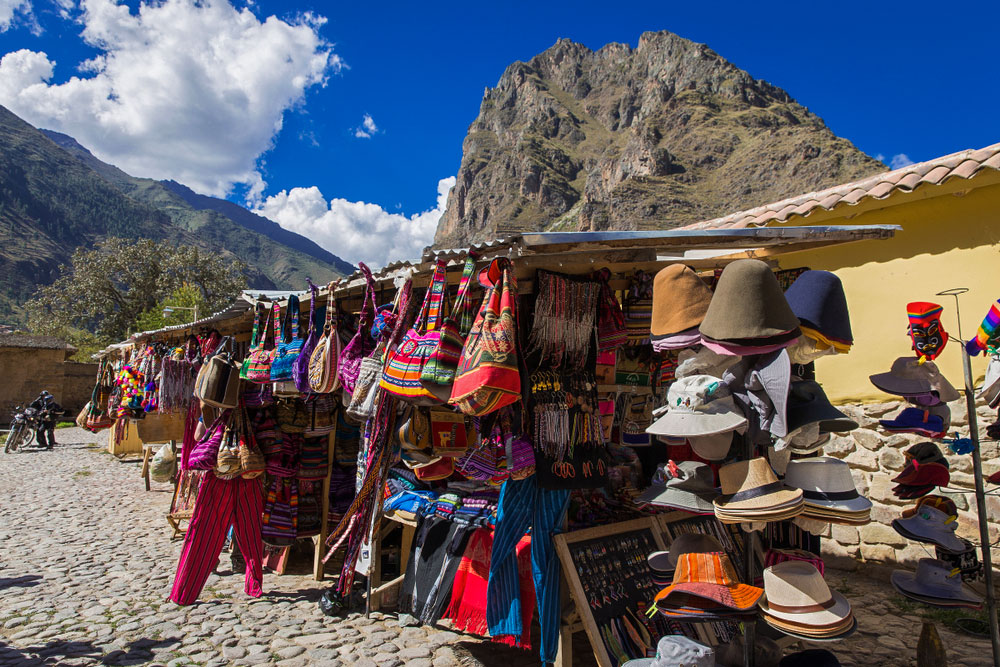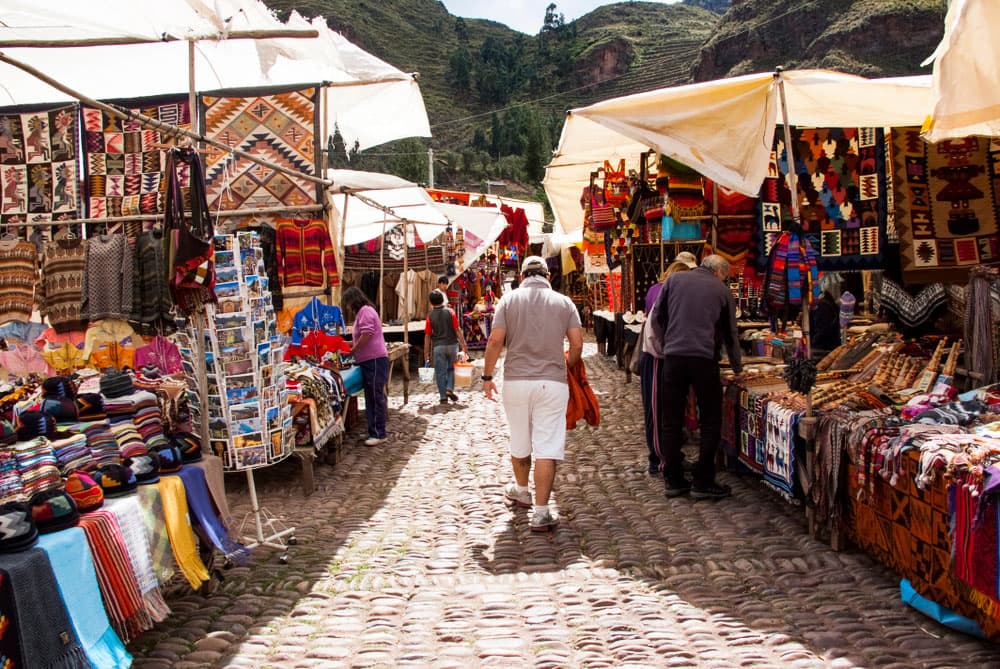 4.- STOP BY THE LOCAL MERCADO
Just of the the central plaza, this local's market is a joy to walk through. Get an insight into day-to-day life here; in somewhere that has no shortage of tourists, it has remained defiantly authentic (a good thing). It's also the best place to stock up on snacks for your Inca Trail hike.
5.- ENJOY THE VIEW FROM THE DEPOSITOS DE PINKUYLLUNA
A great free view over Ollantaytambo and its imposing mountains is available from these old storehouses – it's perfect for golden hours vibes. They're also much less visited than the Terraces and Ruins, so offer the opportunity to escape the crowds and work up a sweat too.
To find the trail, simply go down Lare Street and you will see a set of the stairs and sign on your right to take you on the trail; the start point is also clearly pinpointed on Google maps if you type in 'Pinkuylluna' . The walk up takes 30-45 minutes, and be careful on the way down!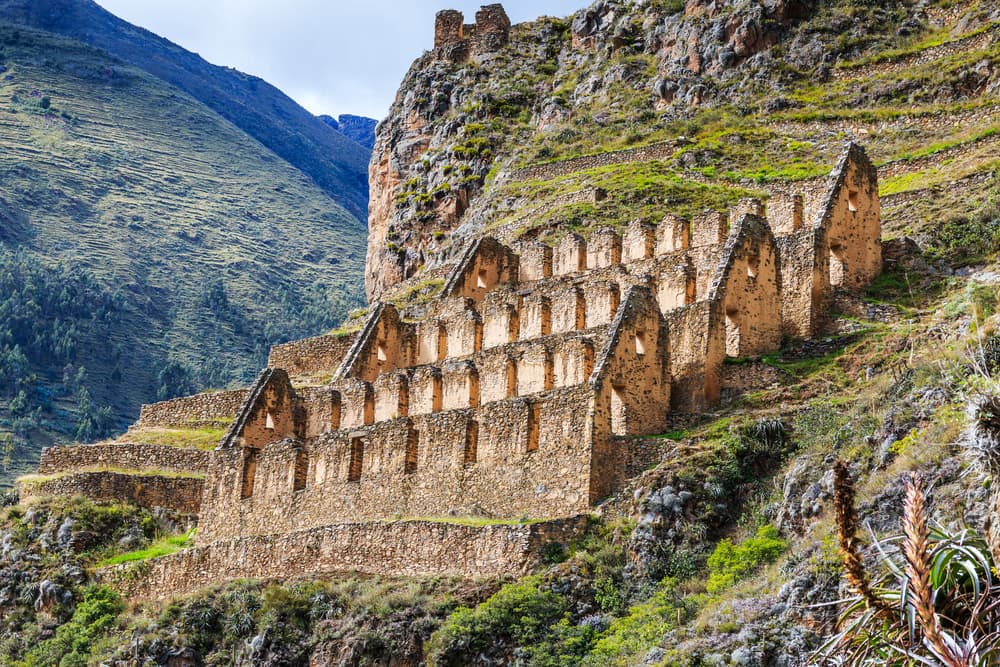 6.- A SACRED VALLEY SPACE
If you're keen to avoid spending too much time in cities, then Ollantaytambo's small town vibe may be a much more attractive alternative and allow you to discover the Sacred Valley a little slower and on your own terms. Once the large crowds have come and gone each day, it's got a pretty charming small town vibe to it and there remain so many pockets of authentic Peru in amongst the rest of us tourists.
7.- WHERE TO STAY IN OLLANTAYTAMBO
For everyone else, there's no shortage of locally run hostels, hotels, and guesthouses catering to every travel style. You will always be able to find somewhere cheap and cheerful if you just turn up (less possible in the May-September high season), but if you prefer to book and plan ahead then our recommendations are:
Veronica View Hotel; Arriving at the hotel, you will be greeted amid gardens of native flowers and orchids. Take in the stunning sight of the Veronica Mountain, covered with glaciers year-round. After you settle into your room, walk through the gardens to the pool and restaurant area. There is a steam sauna, dry sauna, spa, heated swimming pool and restaurant at your feet more information here.
Inka King: Seconds from the main square and a 10-minute walk to the train station, Inka King is a popular backpacker option with clean and comfortable dorms, twins, and doubles.
Sol Miranda: A more upscale option for those who want more comfort, convenience, and service..
Most hostels and hotels in Ollantaytambo will offer free luggage storage services, so you can leave your backpacks or suitcases there whilst you're doing the Inca Trail or visiting Machu Picchu for one to two days.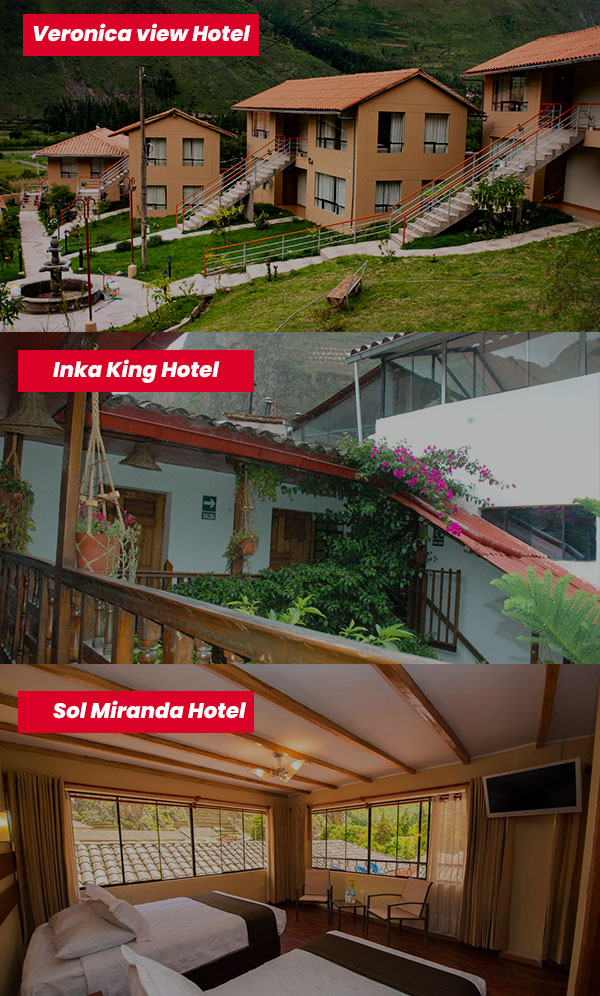 HOW TO GET FROM OLLANTAYTAMBO TO MACHU PICCHU
Ok, so this is probably the main reason you're looking into Ollantaytambo in the first place right? Here's what you need to know!
The small town of Aguas Calientes is actually the access point to Machu Picchu, and people can walk to the site from there or take the shuttle bus for 25 minutes to the entrance. The best option to travel to Aguas Calientes is take the train from Ollantaytambo (it's only 32 kms away) rather than going straight from Cusco. The start point for the Inca Trail can also only be accessed via Ollantaytambo.
This is why so many tourist groups and independent travellers end up in the town for a night!
Here's a breakdown of the two main ways to get from Ollantaytambo to Machu Picchu (in the next section we've shared how to get from Cusco to Ollantaytambo with public transport):
TAKE THE TRAIN
There are regular daily departures to Aguas Calientes from Ollantaytambo train station with both Peru Rail and Inca Rail – this is the Machu Picchu train which you've probably already heard a lot about.
It's highly recommended to buy your tickets in advance online or in person to get the best price and departure times for your trip. It is also possible to buy them last minute at the train station in Ollantaytambo but choice will be very limited in high season and most tickets left will be for the most expensive services.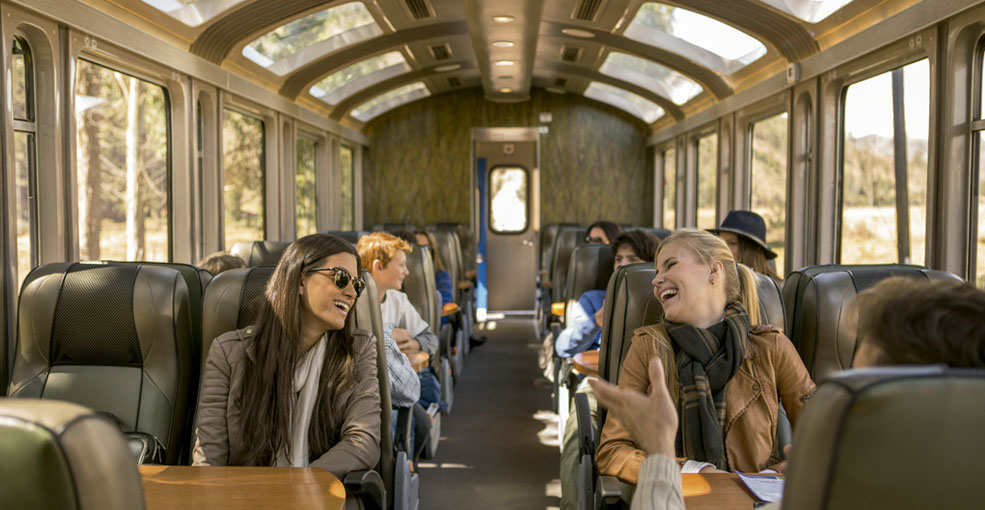 Where is the train station? The train station is easily found at the end of Av. Ferrocarril (go left just before the small bridge which takes you to the tourist market and terraces). It's a 10-minute walk downhill from the plaza, so make sure you leave with plenty time to catch your train.
How much are the tickets? It varies depending on company, departure time, and train service chosen as they have different levels and train types available (i.e. the Vistadome). Prices start from £56 one-way but can cost a lot more.
What are the schedules? The train from Ollantaytambo to Aguas Calientes takes 1h 20m to 1h 40 mins (it covers the distance slowly intentionally).
TOP: Peru Rail does have three morning departures from Cusco to Aguas Calientes, but it actually leaves from a station at Poroy, a 20-minute taxi ride outside of the Cusco. That's why Ollantaytambo is the most popular option and it's a nicer travel experience to have a chilled out day and night in Ollantaytambo and then take the train to Machu Picchu the next morning.
WALK THE INCA TRAIL OR ANY ALTERNATIVE TREK
The start point for the Inca Trail is actually by the train tracks at Kilometre 82, about half an hour's driving outside of Ollantaytambo. However, it's only possible to do the Inca Trail with an official tour group (we went with SAM Travel who has a great reputation and Inca Trail online reviews), and you have to book your place months in advance. Most Inca Trail tours will include your transport to Ollantaytambo from Cusco.
For all the information you need to prepare for the Inca Trail, read what to pack, which tour operator to take, when to book here!
WHERE TO EAT
Arround three sides of the plaza and on the road leading towards the terraces and souvenir market, you'll find no shortage of tourist-focussed places selling pizza, pasta, burgers, plus alpaca steaks and traditional Peruvian dishes. They are all much and such to be honest, so just pick one that you like the look of. Many of them also offer a negotiable happy hour cocktail rate too!