There are three types of travellers that pass through the ancient Inca Village called Ollantaytambo: Those who are on their way to visit this majestic UNESCO World Heritage site, Machu Picchu, those who are starting the Short Inca Trail or those ending their Sacred Valley Tour. However, it is also an authentic quaint Inca Village to stay a day or two that is fun to just explore, and enjoy some really nice restaurants. Do not miss the absolutely incredible nearby Inca ruins that dominate the town. 
Ollantaytambo is a two hour drive from Cusco through the beautiful Sacred Valley of the Incas with its high peaked mountains and gorgeous valleys. During the growing season for Choclo (Inca corn) you will see miles of fields of growing corn. Besides potatoes, choclo is the second most important crop in the Cusco region. You will also pass through various small villages or towns. Do not forget to stop and check out the many stands selling local handicrafts.
The village of Ollantaytambo is the hub for people taking the train to Machu Picchu, starting the 1 or 2 day Inca Trail, and those exploring all of the Inca ruins of Sacred Valley in a tour which includes the Ollantaytambo ruins. Due to this, the town gets a lot of foot traffic and tourist turnover each day, with most individuals and groups sticking around for only one night.
However, Ollantaytambo should be understood as a special place that stands very much on its own two feet for a few good reasons. It is worth making a stop at before you visit Machu Picchu, rather than simply going directly from Cusco. The village has been continuously inhabited since the 13th century, and was actually the only place in Peru where the Spanish army suffered a resounding defeat (or at least held them back successfully until they returned with more forces) and remains a leading example of Inca architecture. Its location within the Sacred Valley is also simply stunning for the surrounding mountains and valley.
In fact, due to the tourism infrastructure it has in place, it's a great alternative base for discovering the secrets of the wider Sacred Valley. So, whether you're staying for one night or two, here's our advice on the best things to do in Ollantaytambo, where to stay in town (Hotels & Hostels), transportation options, and some tips on the best places to eat amongst the dozens of options. If you're reading this and still not exactly sure how to get to Machu Picchu from Ollantaytambo, we've got all the answers for you too!
HERE ARE THE TOP THINGS TO DO IN OLLANTAYTAMBO
1.- VISIT THE OLLANTAYTAMBO RUINS AND TERRACES
Snaking up the hills, these ruins define and dominate Ollantaytambo from nearly every angle. However, it's important to try and get to them in the early morning or later in the afternoon as it can be incredibly crowded once the large tourist buses turn up. The village is at an altitude of 2,792 m/9,160ft so don't be surprised if you're a wee bit out of breath making your way to the top. However, it is still a much lower altitude than Cusco. 
Entry to the ruins is only possible with the Cusco Boleto Turistico – a multisite tourist ticket which covers many of the best Sacred Valley ruins. It is not possible to buy a single entry ticket to Ollantaytambo ruins, so find out more about the Boleto Turistico, where to buy it, and its three ticket price packages in this post. Give yourself 1-2 hours to explore the site at your own pace or join a tour that explores all of the ruins of Sacred Valley.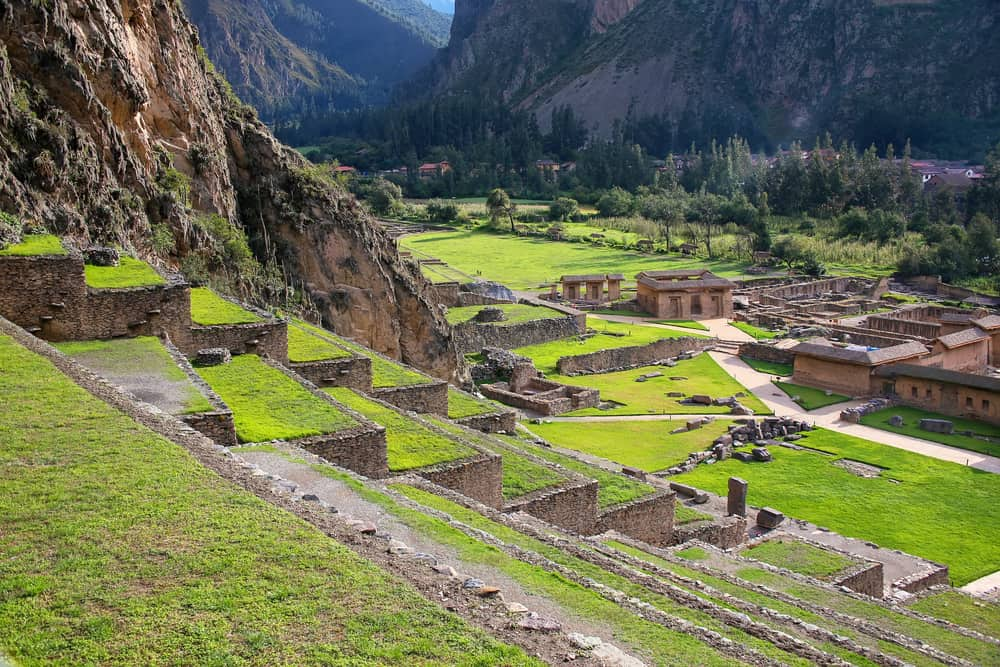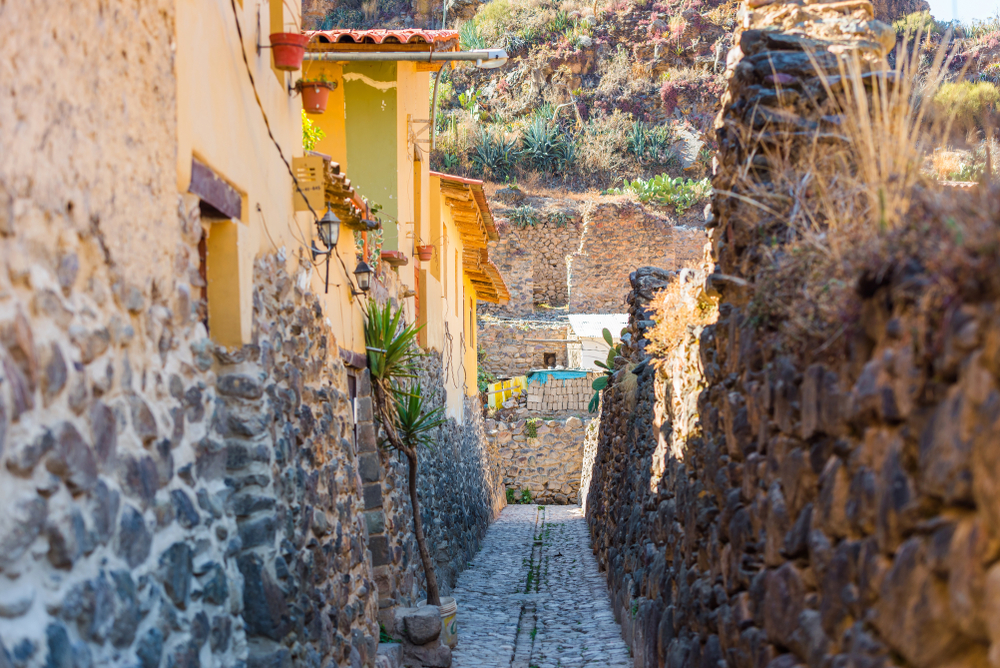 2.- EXPLORE THE OLD TOWN STREETS
It always sounds like it's raining in parts of Ollantaytambo, and that's due to the town's unique and incredibly well preserved Incan open-draining system which runs straight through the center of many of its pretty cobblestone streets (if you don't spot them in time, expect wet feet). Walking the town's narrow back streets feels like stepping back in time and, as Ollantaytambo is so compact, you'll never really get lost. All you need to do is just look up to the Inca site towering above you to get your bearings.
3.- BROWSE THE SOUVENIR MARKET
If you are on a shorter trip to Peru, then you'll enjoy spending some time exploring this small but well-stocked open-air souvenir market.
Found at the base of the ruins (you'll pass through it to enter the terraces), it has all the usual fare one would expect to see in a Peruvian tourist spot and makes no claims to be anything other than just that – but you may find some gems for yourself. Haggling is part of the process, but remember to only try and get a deal that is fair for everyone involved in the transaction. (You should not expect to get half of the original price, but you can usually get five to twenty soles off the price).
TIP: There's a cute little side street branching off from the tourist market where there are small shops selling similar wares.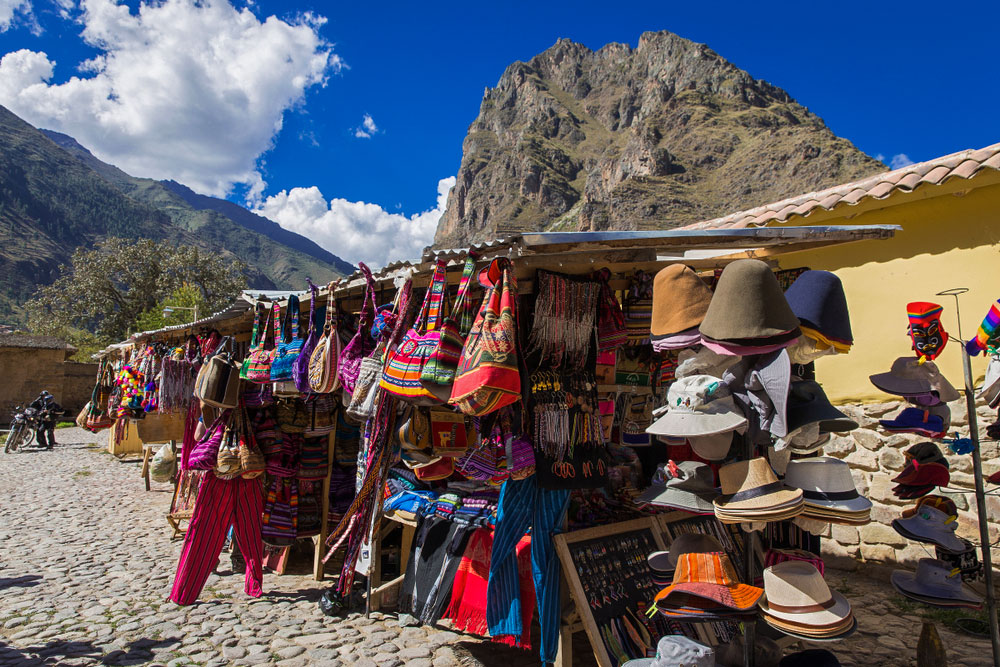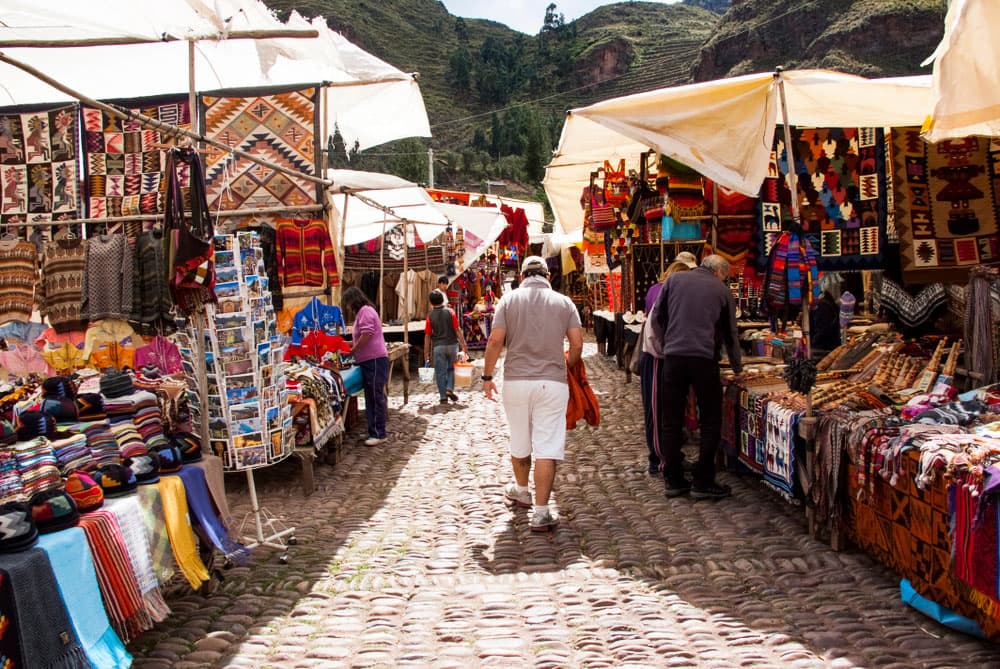 4.- STOP BY THE PLAZA OR LOCAL´S MARKET
Do not miss relaxing at the plaza, especially in the evenings. You may even find dancing or music by the natives in the Plaza. 
Just a short stroll from the central plaza, this local's market is a joy to walk through. Get an insight into day-to-day life here; in somewhere that has no shortage of tourists, it has remained defiantly authentic (a good thing). It's also the best place to stock up on snacks for your Inca Trail hike or tour through Machu Picchu.
5.- ENJOY THE VIEW FROM THE DEPOSITOS DE PINKUYLLUNA
A great free view over Ollantaytambo and its imposing mountains is available from these old storehouses – it's perfect for golden hours vibes. They're also much less visited than the Terraces and Ruins, so it offers the opportunity to escape the crowds and work up a sweat too.
To find the trail, simply go down Lare Street and you will see a set of stairs and sign on your right to take you to the trail; the start point is also clearly pinpointed on Google maps if you type in 'Pinkuylluna'. The walk up takes 30-45 minutes, and a level of caution is required on the way back down!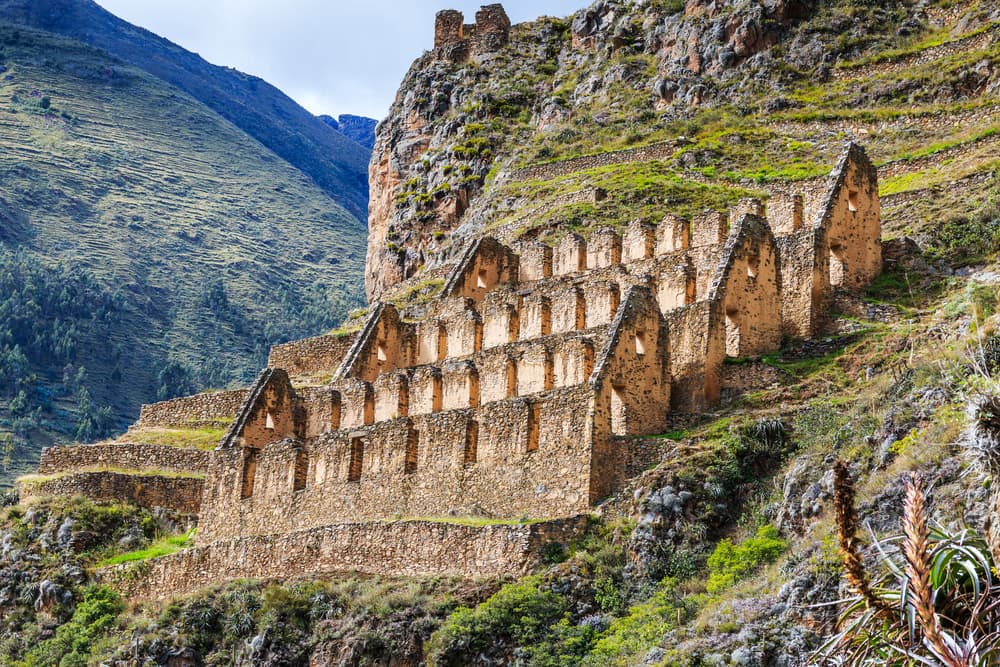 6.- A SACRED VALLEY SPACE
If you're keen to avoid spending too much time in cities, then Ollantaytambo's small town vibe may be a much more attractive alternative and allow you to discover the Sacred Valley a little slower and on your own terms. Once the large crowds have gone it's got a charming small town vibe to it and there remains so many pockets of authentic Peru. Many of the people still keep their native dress style. 
7.- WHERE TO STAY IN OLLANTAYTAMBO
For everyone else, there's no shortage of locally run hostels, hotels, and guesthouses catering to every travel style. You will always be able to find somewhere cheap and cheerful if you just turn up (less possible in the May-September high season), but if you prefer to book and plan ahead then our recommendations are:
Veronica View Hotel; Arriving at the hotel, you will be greeted amid gardens of native flowers and orchids. Take in the stunning sight of the Veronica Mountain, covered with glaciers year-round. After you settle into your room, walk through the gardens to the pool and restaurant area. There is a steam sauna, dry sauna, spa, heated swimming pool and restaurant at your feet.
More information here.
Inka King: Seconds from the main square and a 10-minute walk to the train station, Inka King is a popular backpacker option with clean and comfortable dorms, twins, and doubles.
Sol Miranda: If you are looking for a more upscale option look no further. This hotel is designed for those who want more comfort, convenience, and service.
El Albergue: A higher end hotel on the main drive to the train station that offers 3 star comfort and benefits. It is frequently booked out and requires some advanced booking. 
Most hostels and hotels in Ollantaytambo will offer free luggage storage services, so you can leave your backpacks or suitcases there while you're doing the Inca Trail or visiting Machu Picchu for one to two days.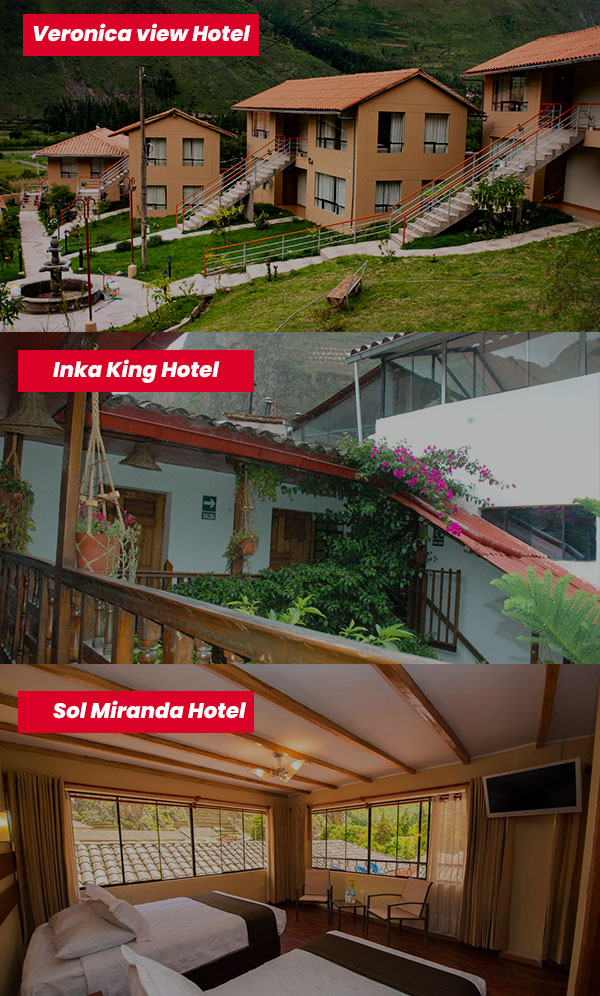 HOW TO GET FROM OLLANTAYTAMBO TO MACHU PICCHU
Ok, so this is probably the main reason you're looking into Ollantaytambo in the first place right? Ollantaytambo is the half way point between Cusco and Machu Picchu. It is the point you need to pass through to get to Machu Picchu by train or start your journey by train to Machu Picchu – the city of Aguas Calientes which is the town below Machu Picchu Citadel.
The small town of Aguas Calientes is actually the access point to Machu Picchu. From there people can  take the shuttle bus for 25 minutes to the entrance or walk to the site from there. The best option to travel to Aguas Calientes is take the train from Ollantaytambo (it's only 32 kms away) rather than going straight from Cusco. The start point for the short Inca Trail can also only be accessed via Ollantaytambo by train. This is why so many tourist groups and independent travellers end up in the town for a night!
Here's a breakdown of the two main ways to get from Ollantaytambo to Machu Picchu.
TAKE THE TRAIN
There are regular daily departures to Aguas Calientes from Ollantaytambo train station with both Peru Rail and Inca Rail – this is the Machu Picchu train which you've probably already heard a lot about.
It's highly recommended to buy your tickets in advance online or in person to get the best price and departure times for your trip. It is also possible to buy them last minute at the train station in Ollantaytambo but train choices and times will be very limited in high season if at all. Most tickets left will be for the most expensive services or late hours.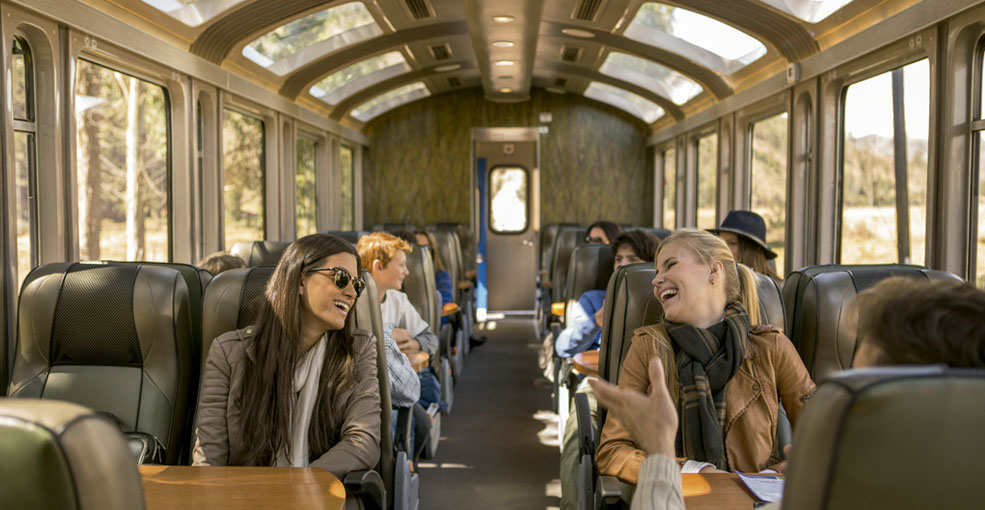 Where is the train station? The train station is easily found at the end of Av. Ferrocarril (go left just before the small bridge which takes you to the tourist market and terraces). It's a 10-minute walk downhill from the plaza, so make sure you leave with plenty time to catch your train. (Note: Peru Rail also has a station in Poroy, just 20 minutes outside of Cusco.) 
How much are the tickets? It varies depending on company, departure time, and train service chosen as they have different levels and train types available (i.e. the Expedition or Vistadome). Prices start from $60 USD on up for a one-way but can cost a lot more. Note: do not buy your train tickets unless you have entrances to Machu Picchu Citadel. The tickets for this site are selling out over a month in advance in high season. 
How long does it take to get to Machu Picchu? The train from Ollantaytambo to Aguas Calientes takes 1h 20m to 1h 40 mins (it covers the distance slowly intentionally). Giving you plenty of time to enjoy the scenery from the window of your train. You'll pass by beautiful mountain views, open farm fields, and quaint villages and towns.
What are the schedules? The Expediton and Vistadome trais run from 5am in the morning to 9pm at night.
WHERE TO EAT
Around three sides of the plaza and on the road leading towards the terraces and souvenir market, you'll find no shortage of tourist-focussed places selling pizza, pasta, burgers, plus alpaca steaks and traditional Peruvian dishes. Recently, there are also all kinds of healthy alternatives and vegetarian options. While all restauraunts are sure to satisfy your tastebuds, we recommend trying some of the more authentic and local dishes like Llomo Saltado, Ceviche, or maybe even an Alpaca steak!