We have the most updated Choquequirao trek information for 2021 – 2022! Check it out!
Inca History still keeps many hidden secrets. One of them is Choquequirao: the last Inca fortress and sister citadel of Machu Picchu, which is still a mystery for researchers of this ancient culture.
Choquequirao is situated between the jungle and the Peruvian Antes, on a mountain 3033 meters above the sea level. You can only get there by walking. It's a 40 km. trek both ways, at altitude between 1400 and 3100 m.a.s.l.
WHAT IS CHOQUEQUIRAO?
Choquequirao, meaning Cradle of Gold, is an Incan city that was built in the same era as Machu Picchu. Thought to be built by Pachacuti, the Incan Emperor who envisioned Machu Picchu, the city was extended by his son, Tupaq Inka Yupanki.
It's roughly the same size as Machu Picchu and contains a few different architectural styles. Despite covering six square kilometres, only about a third of it has been reclaimed from the jungle. Restoration work is ongoing.
Choquequirao was built on a flattened hilltop that was levelled centuries ago and ringed with stones to stop it from sliding down the mountainside. Though much of the city is inaccessible due to the encroaching jungle, a temple and several other buildings around the main square have been cleared, as well as several terraces.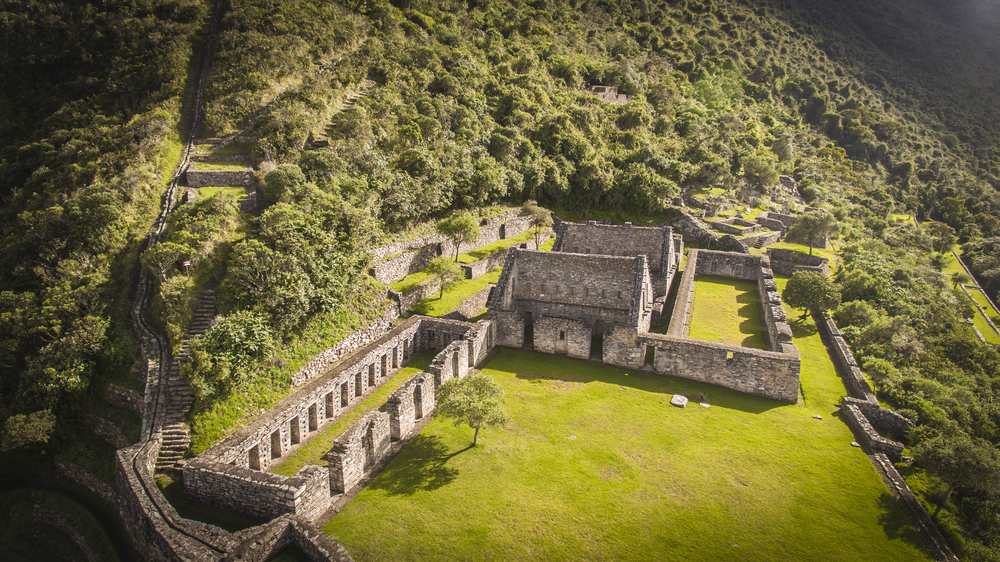 Is the effort to get there worth it?
Absolutely! Its difficult access makes Choquequirao one of the places with the most charm in all of Peru. The fauna and flora are almost exactly the same as they were during the Inca Empire and the site has less than 25 visitors per day.
What is the easiest way to get there?
The easy and safest way is to take a tour, which cost around $350 to $800 USD with everything included. But today we want to talk about the most adventurous way of visiting this wonder: on your own. You can take a taxi from Cusco, alone or with some friends.
To book the Choquequirao Trek, check out the Tour Operator here!
How can I get to Choquequirao by myself?
From Cusco you'll need to take a combi or taxi to the town of Cachora. You'll want to take a taxi from Cachora to the Mirador de Capuliyoc, a lookout point where the road ends and the trail begins. This will shave a good 13 kilometers off your trek, so you have more time and energy to make it up the steep inclines and downhill sections that characterize this route. The path may seem deceptively short on a map, but constant zigzags and steep ups and downs stretch it out into a much longer and more grueling trek than at first glance.
There are two main potential camping sites about halfway in. First, Playa Rosalina, is the official campsite. Alternatively, if you prefer to get the longer part of your trip out of the way the first day, keep on trucking to Santa Rosa. The next day you'll finish the journey to the ruins themselves, where you will spend the second night. Obviously, spending the first night at Santa Rosa will make your second day easier.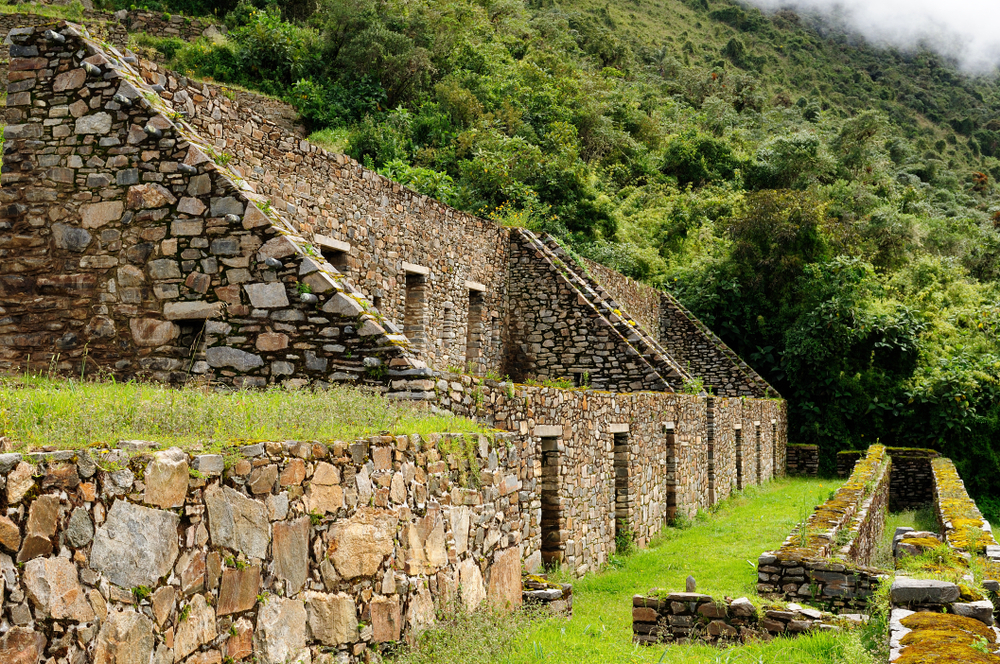 What is the actual distance from the trailhead to Choquequirao?
The actual distance from Capuliyoc (the starting point) to Choquequirao its 20km. It's the same distance on the way back, making in total a 40km round-trip.
Arriving at the Choquequirao archeological site
Once in Choquequirao you have the option of seeing the citadel for the rest of the day or camping in the ruins (there is a camping spot there) and exploring the next day more peacefully.
Since Choquequirao is not 100% discovered, the citadel can be seen relatively quickly. Don't miss the main plaza and its surroundings and the llama's platforms. This last spot requires an extra effort but is totally worth it.
FAQ
Food: to avoid carrying much weight, we recommend you to carry only a few snacks (fruits, dry fuit, etc.) in your backpack. In every camping area you will find families that offer food at very affordable prices.
What is the most common itinerary if I choose to go with a tour company for the Choquequirao Trek?
DAY 1: CUSCO – CAPULIYOC – PLAYA ROSALINAS – SANTA ROSA
At 4:30 am, we pick you up at your hotel and drive for the next 4 hours in our private van to Capuliyoc (2,850m/9,407ft). Along the way, there are spectacular views of villages, valleys and snow-capped mountains. Once at Capuliyoc we meet our horsemen and pack all of our equipment onto the horses.
Then we start walking all the way down to Playa Rosalinas (1,475m/4,840ft) where we have lunch. Along the way enjoy great views of the Apurimac Canyon, and mountain peaks such as Padreyoc (5,571m/18,387ft). After lunch, we ascend for two hours to our first campsite at Santa Rosa, (1900m/6234ft) where we spend the night.
Meals: Lunch – Afternoon Tea Time – Dinner
Accommodation: Camping facilities
Distance: 12kms/7.5 miles
Difficulty: Moderate
DAY 2: SANTA ROSA – MARANPATA – CHOQUEQUIRAO
After an early breakfast, we start our adventure by walking uphill for 2 hours to the rural village of Maranpata (2,850m/9,350ft), We enjoy the scenery and then we walk through a myriad of flora and fauna to the magnificent archeological site of Choquequirao. We have lunch here and then we will have a private guided tour for us in the afternoon. During the tour, we will explore all the important sections, such as the palaces, temple, ritual water fountains, amazing Usnu (ceremonial platform), agricultural terraces, llama's section and much more. Finally, we head back to our second campsite located just 20 minutes from the Choquequirao ruins, where we will have tea and dinner
Meals: Breakfast – Lunch – Afternoon Tea Time – Dinner
Accommodation: Camping facilities
Minimum Altitude: 1900m/6234ft
Maximum Altitude: 3,150m/10,397ft
Distance: 8km
Difficulty: Moderate/Difficult
DAY 3: CHOQUEQUIRAO – CHIQUISCA
After an early breakfast, we explore some of the stunning sections of Choquequirao ruins and then head back towards the rural community of Maranpata for lunch. Afterwards we descend to the magnificent Apurimac River (1,550m/5,117ft) for two hours. Finally, we walk up a moderate hill for one hour to our third campsite at Chiquisca. (1,990m/6,270ft)
Meals: Breakfast – Lunch – Afternoon Tea Time – Dinner
Accommodation: Camping facilities
Distance: 12kms/7.5 miles
Difficulty: Moderate/Difficult
DAY 4: CHIQUISCA – SAYWITE – CUSCO
After a delicious breakfast, we walk up a moderate difficulty hill towards the Capuliyoc pass. Once there we can enjoy the spectacular views of the surrounding mountains and the Apurimac Canyon. Then we take our car towards Cachora (2,850m/9,407ft) for lunch. Afterwards we take our private transport to the archeological site of Saywite having plenty of time to explore it. Finally, our private transport will take us back to Cusco to your hotel, arriving in the evening, arriving around 6pm.
Meals: Breakfast – Lunch
Distance: 8km
Difficulty: Moderate
This itinerary has been provided by SAM Travel Peru!
PACKING CHECKLINST FOR CHOQUEQUIRAO TREK (ONLY if you take a tour)
WHAT YOU HAVE TO TAKE WITH YOU
Original passport (it has to be the same you have used for booking your trek)
Good daypack (the smaller, the better)
Water storage: 2-3L reusable water bottles (Camelbaks are encouraged)
Comfortable hiking boots with ankle support
Sleeping bag (can be rented from several different agencies in Cusco)
Headlamp: essential
Toilet paper
WHAT TO PUT IN YOUR DUFFEL BAG FOR THE CHOQUEQUIRAO TREK?
Most tour companies will provide you with a duffel bag at your briefing and INCLUDE an extra porter who will carry up to 7 kgs or 14 lbs including your 2.5kg sleeping bag, mattress and extra clothing. By Peruvian law, a duffel bag must not weigh more than 7 kilograms (15lbs). This limit is set to protect the health of the porters or horses. All bags will be weighed before being accepted. If you require more than 7 kilograms, it will then be your responsibility to carry the extra weight with your day pack. In this 7 kilos, please count 2 kilos for your sleeping bag and 1 kilo for your sleeping pad. This leaves you about 4 kilos for your personal gear.
2 t-shirts
2 hiking pants at least
4 sets of undergarments
3 sets of hiking socks
Bathing Suit for the thermal waters
Couple Fleece/ Thermals
Warm clothes, down jacket — 2nd campsite temp around 3º C
Waterproof gloves (even if they are ski gloves, take them)
Comfortable shoes for camp
Quickdry towel. We provide small ones, you might prefer something larger
Small bottle of soap: we provide warm water each day to wash
Battery Charger: No electricity along the trek
Large plastic bags
Sleeping bag: It has to be at least -15ºC
Swimming Suit
TOILETRIES
Face moisturizer
Hand Sanitizer
Wet wipes
Toothbrush and toothpaste
Personal medications
First aid kit: band aids, moleskin, etc
WHAT TO PUT IN YOUR BACKPACK FOR CHOQUEQUIRAO TREK
We highly recommend a small backpack 30 to 40Litres for hiking in the day. A big backpack will not be allowed into Choquequirao. The remainder of your belongings will be in your duffel bag at camp.
Water: Please supply your own water until the first lunch spot, then the company should provide you with cold boiled water at each meal time.
Sun hat
Sunscreen
Headlamp: essential
Wool hat
Rain gear
Fleece
Snacks like chocolate bars, cereal bars or any dry fruits
Rain plastic poncho
Gloves
Camera
Hand sanitizer
Toilet paper and small plastic bag for waste
Extra money for souvenirs, drinks & tips