Trekking the Inca Trail to Machu Picchu is an incredible adventure and a unique experience that many people of all ages aspire to undertake. While the journey can be physically demanding, it offers a variety of rewards and educational opportunities for kids. Here are some factors to consider when deciding whether kids should hike the Inca Trail:
Physical Fitness:
The Inca Trail is a challenging hike that spans approximately 26 miles (43 kilometers) and involves steep ascents and descents, high altitude, and varying terrains. Children should be physically fit and capable of enduring several days of continuous hiking before attempting the trail. It's important to assess their physical readiness and consult with a healthcare professional if necessary.
Age and Maturity:
The Inca Trail is generally recommended for children aged 12 and above. Younger children may lack the physical stamina and maturity required to handle the demands of the trek. It's crucial to consider their ability to follow instructions, cope with challenging situations, and appreciate the historical and cultural significance of the trail.
Altitude Sickness:
The Inca Trail reaches altitudes above 13,000 feet (4,000 meters), which can potentially cause altitude sickness. Children may be more susceptible to altitude-related symptoms, and it's vital to monitor their well-being and take appropriate precautions, such as acclimatization days and staying hydrated.
Educational Value: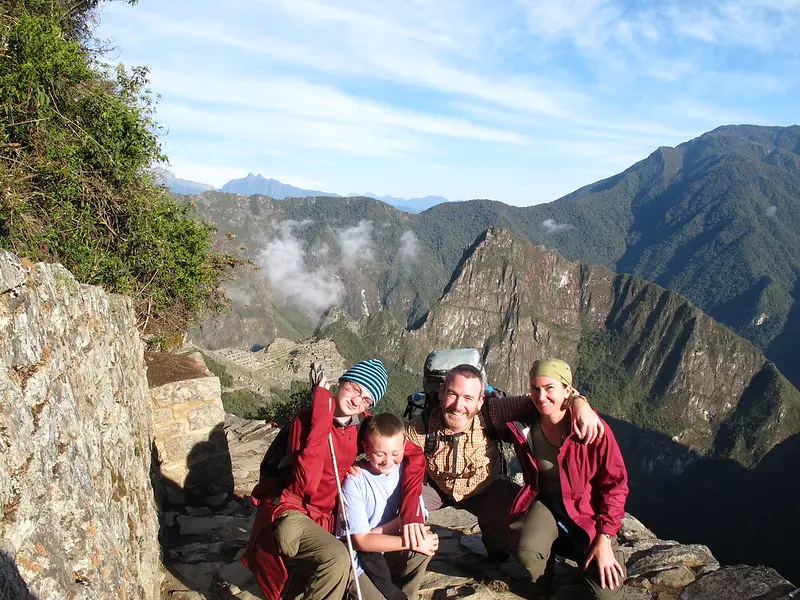 The Inca Trail offers a rich educational experience, allowing children to learn about ancient civilizations, history, geography, and cultural diversity. Exploring the ruins along the trail and witnessing the magnificent Machu Picchu can be a transformative experience that fosters a sense of wonder and curiosity in kids.
Safety Considerations:
Safety is paramount when hiking the Inca Trail. Ensure you choose a reputable tour operator that prioritizes the well-being of participants, provides experienced guides, and follows proper safety protocols. It's essential to have appropriate equipment, including sturdy footwear, rain gear, and warm clothing, to keep children comfortable and protected during the trek.
Family Bonding:
Hiking the Inca Trail as a family can create lasting memories and strengthen bonds. Sharing the challenges, triumphs, and breathtaking landscapes along the way can be a rewarding experience for both children and parents, promoting teamwork, resilience, and a sense of accomplishment.
while the Inca Trail offers a remarkable adventure, it's important to assess each child's physical readiness, age, maturity, and ability to cope with the demands of the trek. With proper preparation, safety precautions, and a focus on educational experiences, hiking the Inca Trail can be a memorable and transformative journey for kids.