Huayna Picchu, which means "Young Peak" in Quechua is one of the characteristic views of Machu Picchu – known to many because of its famous steep climb up the "Stairs of Death". Also known as Wayna Picchu (pronounced the same way), Huayna Picchu is one of the two mountains located next to the citadel of Machu Picchu. For this reason, it is a must visit for both hikers and thrill seekers who wish to add an exciting and memorable adventure to their stay at Machu Picchu. Read on to learn everything you need to know about hiking on this famous peak.
Overview
Elevation: 8,920 ft (2,720 m)
Elevation Gain: 952 ft (290 m)
Climate: Tropical, cloud forest
Terrain: Mountainous, steep stone steps, dirt paths
Difficulty: Moderate
Duration: ~3 hours round trip
Length: 2.4 mi (4 km) round trip
Entrance Times: 7am, 10am
Recommended Clothing: Layers, long pants (to protect against biting flies), hat, hiking boots, sunglasses
Trailhead: 15 – 20 min walk from the entrance through the Machu Picchu sanctuary.
Known For: The best view of Machu Picchu, Death Stairs, Temple of the Moon, native flora and fauna, photo viewpoint "Throne of the Inca"
Tickets
Before starting, the most important thing is that you have to buy Machu Picchu tickets in advance (as much in advance as possible) because they will be sold out. The Peruvian government limits the number of people who can visit Machu Picchu each year and this also applies to hikes within Machu Picchu – both in Huayna Picchu and in the Machu Picchu mountain.
The limit for the Huayna Picchu hike is 400 people per day and is divided into three entry times:
Entry times to Machu Picchu and Huayna Picchu
| | | |
| --- | --- | --- |
| Group | Machu Picchu Entrance Time | Huayna Picchu Entrance Time |
| #1 | After 6:00 am | 7:00 am – 8:00 am |
| #2 | After 7:00 am | 7:00 am – 8:00 am |
| #3 | After 8:00 am | 10:00 am – 11:00 am |
Entrance tickets regulations
The Huayna Picchu ticket is a combined ticket that allows entry to both Machu Picchu (for the hike) and Huayna Picchu (for the walk).
Valid for 6 hours: This time starts when you enter Machu Picchu (If you decide to take the guided tour to Machu Picchu, it lasts about 2.5 hours and the hike to Huayna Picchu lasts about 2-3 hours).
Visitors can spend a maximum of 4 hours on the Huayna Picchu hike.
The Huayna Picchu ticket allows for an entry/exit to Machu Picchu. This is useful if you want to do the trek first and then have lunch at the café at the entrance to Machu Picchu.
The lockers and bathrooms are located outside the entrance of Machu Picchu, so make sure you use them if you need them before entering the sanctuary.
When to Go
When is the best time to go on an excursion to Huayna Picchu? The short answer is between June and September. These months are considered the dry season in Peru, so you are less likely to encounter rain and storms. However, if you want to beat the crowds, traveling between December and March will bring fewer tourists. To simplify your decision, the table below offers all the pros and cons of each season so you can decide what is best for you:
| | | |
| --- | --- | --- |
| Season | Pros | Cons |
| Rainy Season(Dec-Mar) | More misty and magicalLess tourists in Machu Picchu | Expect rainSame amount of hikers on Huayna PicchuTickets still sell out quickly, but not as fast |
| Dry Season(Jun-Sep) | Rain less likely (you are still near the rainforest)Warmer and drier | Busy with touristsTickets sell out way in advanceSame amount of hikers hike HP in both seasons |
During the intervening months, the season is in transition, so most of the time you will see both rain and sunshine during the day.
Packing List
What should you bring? As the weather in Machu Picchu can be somewhat unpredictable, we have made a list of safe things to do to make your hike in the Huayna Picchu mountain unforgettable:
Water: Bring at least 1 liter to spend the day.
Sandwiches: Food is not allowed in Machu Picchu, but you can have a snack at the entrance cafe before or after your visit.
Sunscreen, hat and sunglasses: The sun is very strong in Machu Picchu, so it is important to protect your skin and eyes.
Hiking boots/shoes: Preferably with good tread as you will be climbing many stone steps
Rain jacket: Having a rain gear will help you get through those annoying downpours
Layers: Long pants and capes are key to surviving temperature changes and biting flies.
Insect repellent: When it comes to biting flies, this is really useful
Backpack: Nothing larger than 9.8 x 8.6 x 1.9 inches (25 x 22 x 50 cm)
Passport: You cannot enter Machu Picchu without it!
Huayna Picchu Combined Ticket: This is a gift, don't lose it!
(Optional) Polish hiking: For older or disabled travelers, these can be useful with the uneven terrain. Make sure that the poles have rubber tips, as this is necessary.
(Optional) Camera: Photography and video are allowed, but keep your drones and tripods at home.
Altitude sickness
You're probably wondering how to start dealing with this. Fortunately, there are four easy ways to prepare for success when traveling to high altitude areas and the elevation of Huayna Picchu.
Don't try too hard: When you get to the elevation, try to give yourself time to rest so that your body can focus on adaptation.
Stay hydrated: The elevation makes your body dehydrate faster, so drink as much water as possible along the way. In general, it is recommended to drink an additional liter or more per day.
Take medication for elevation: This helps your body adapt more easily and can reduce symptoms of altitude sickness such as headaches, exhaustion, nausea and the general feeling of being sick. For this reason, it is recommended that you come prepared with these pills, but keep in mind that this type of medication can rarely have the opposite effect and end up making you feel worse.
Try coca tea/leaves: Use one of the ancient remedies used by the Incas – the coca leaves. Not to be confused with the cocoa plant that chocolate is made from, coca leaves are native to Peru and act as a stimulant that calms the symptoms of altitude and helps you adapt naturally. Most hotels offer free coca tea in their lobbies and you can buy coca leaves (to chew) from vendors, markets and stores in Cusco.
Hiking Huayna Picchu step by step
Now that you know about the tickets, how to get there, when to go and what to pack, you might wonder, what is the walk really like? This step-by-step guide takes you through every part of the way: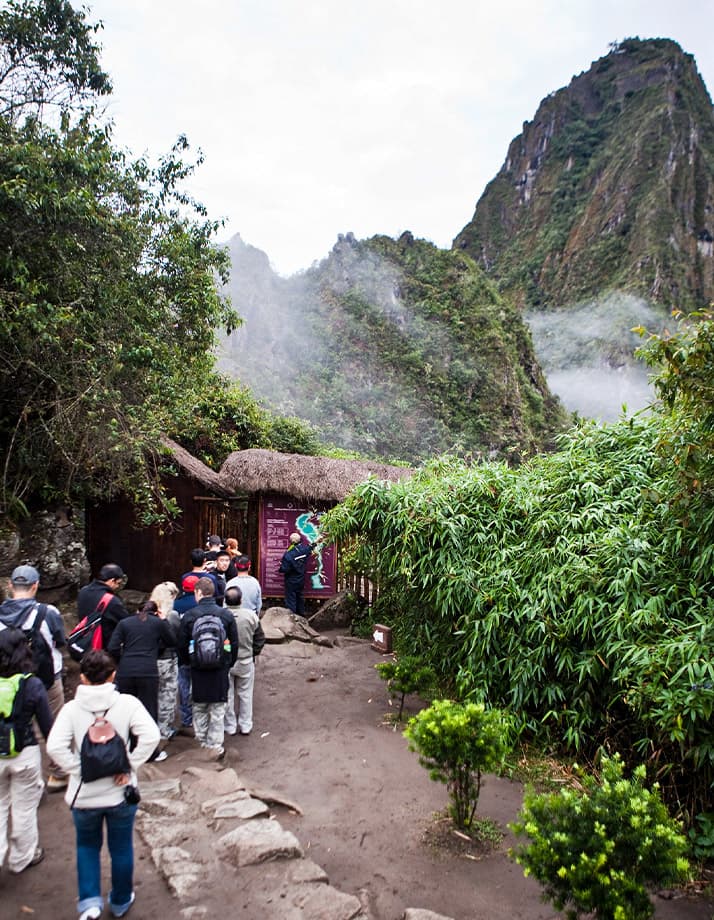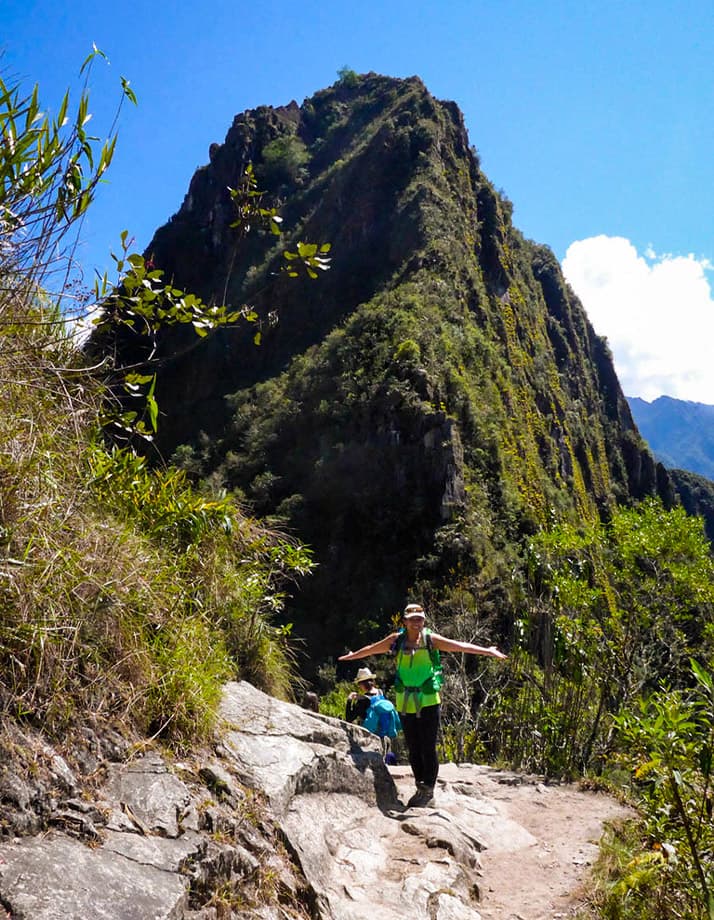 Step 1: The beginning
The walk begins at the checkpoint next to the sacred rock (Wank'a Quechua) on the far side of the citadel of Machu Picchu. At the assigned time, the ticket is presented and signed before starting the walk. It starts relatively flat, but quickly changes to windy climbs and descents through rocky terrain and beautiful green landscape.
Step 2: The ascent
As you move up the mountain, the walk becomes a steep turn. You are most likely walking with or near other groups, so be sure to be polite on the way and let people go ahead of you if you want to pass, or politely ask to pass if you are prepared to go ahead. Once you have passed through the setbacks, you will have reached the infamous stairs.
Step 3: The stairs of the death – gringo killer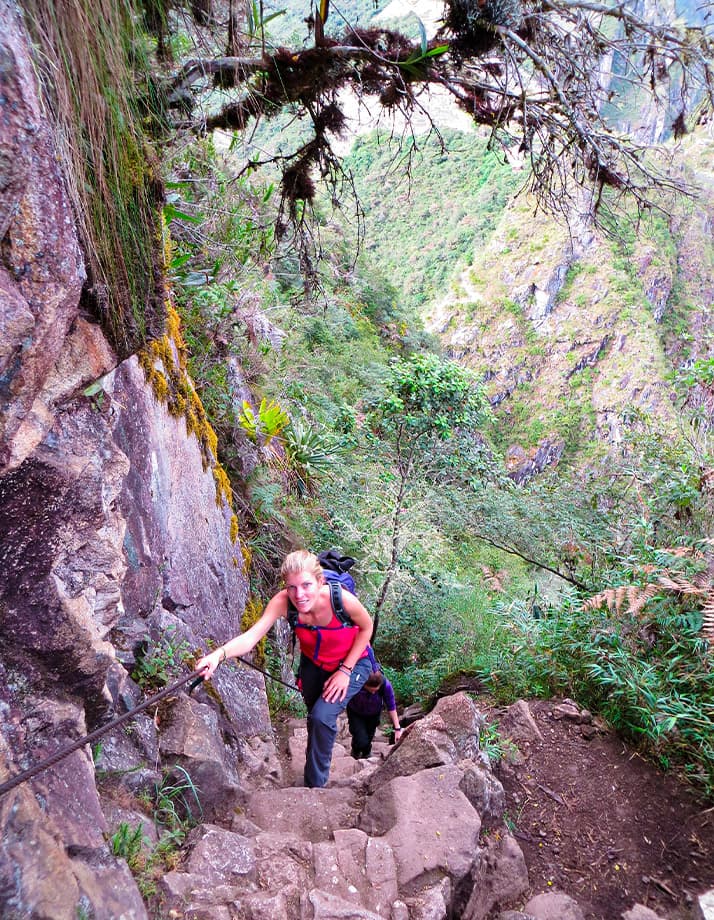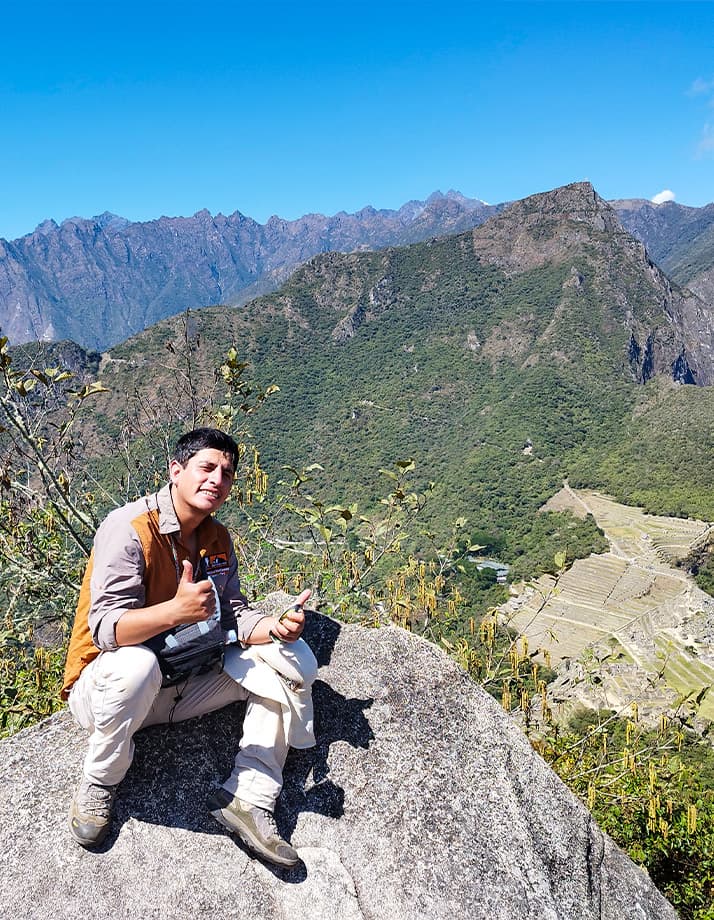 These "Stairs of Death" or "Escaleras de la Muerte" of Huayna Picchu deserve their own section because of their great architectural magnificence (and their terrifying reputation). These steep steps are original stairs built by the Incas dating back to 1400. However, don't let that deter you. The Incas were masters of their craft and created architectural wonders with better structural integrity than many modern buildings.
Looking up can be intimidating, but looking down is worse, so keep your eyes on the prize. And be sure to use the handrails and ropes to keep going. If you feel dizzy or need a quick rest, just step aside on one of the terraces where you can take a break on flat ground. If you are still wondering, is Huayna Picchu dangerous? The answer is no. Not only are guides posted on the trail to help you, but there are also rails, ropes and other people around you to keep you safe.
Step 4: The choice
At this point you have managed to cross the difficult section and land at the top where the ruins begin to appear around you. This is a great time to explore the surroundings and take your first pictures. It is also the time when you have to choose: continue on the main trail or take the side trail to the Temple of the Moon. The second option adds 45 minutes more in total, but it is worth seeing. This 1,500 year old temple built inside caves is a mystery to today's historians, but it was possibly used for rituals, sacrifices or moon worship. To reach this area, you must follow the side road that goes down and around the back of the mountain and finally goes back up the main road that leads back to the entrance.
Step 5: The view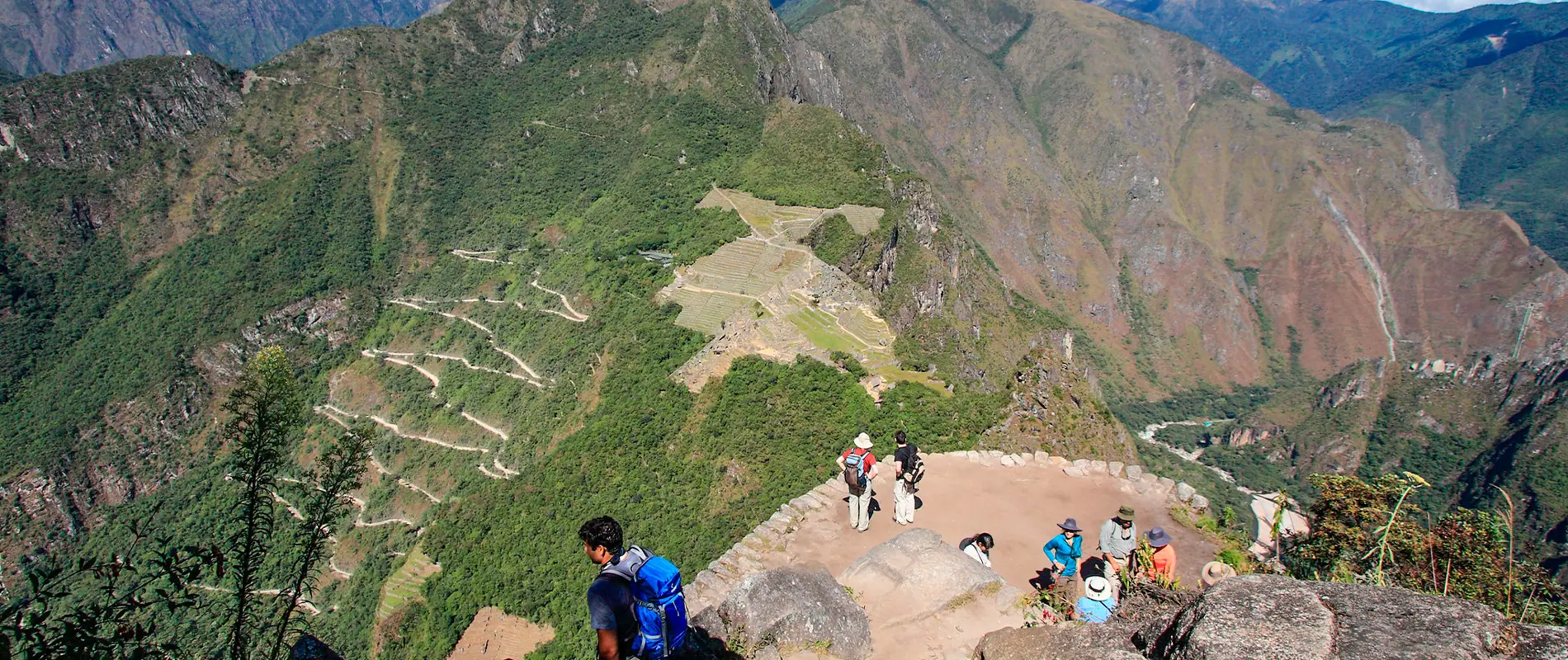 If you decide to stay on the main trail, you can enjoy the views from the "Throne of the Inca" overlooking Machu Picchu. This rocky formation is a perfect place to take pictures and contemplate the beauty of the area. You will see spectacular views of the mountain tops, the ruins and the winding river below. But don't delay too much, the rest of the hikers will arrive behind you and can only go in one direction. You have to keep moving to avoid a traffic jam. From the viewpoint, go down the stairs and under the "Throne" to start the descent.
Step 6: The descent
Similar stairs that took you up will take you down the mountain back to the checkpoint. Pass by carefully to ensure your safety and take your time, don't rush. This is also a good opportunity to see the last views before you leave the walk. When you arrive at the entrance of Huayna Picchu, signal the exit and make your way to the exit of Machu Picchu where you can rest, eat and rehydrate.
Huayna Picchu Hike vs. Machu Picchu Mountain Hike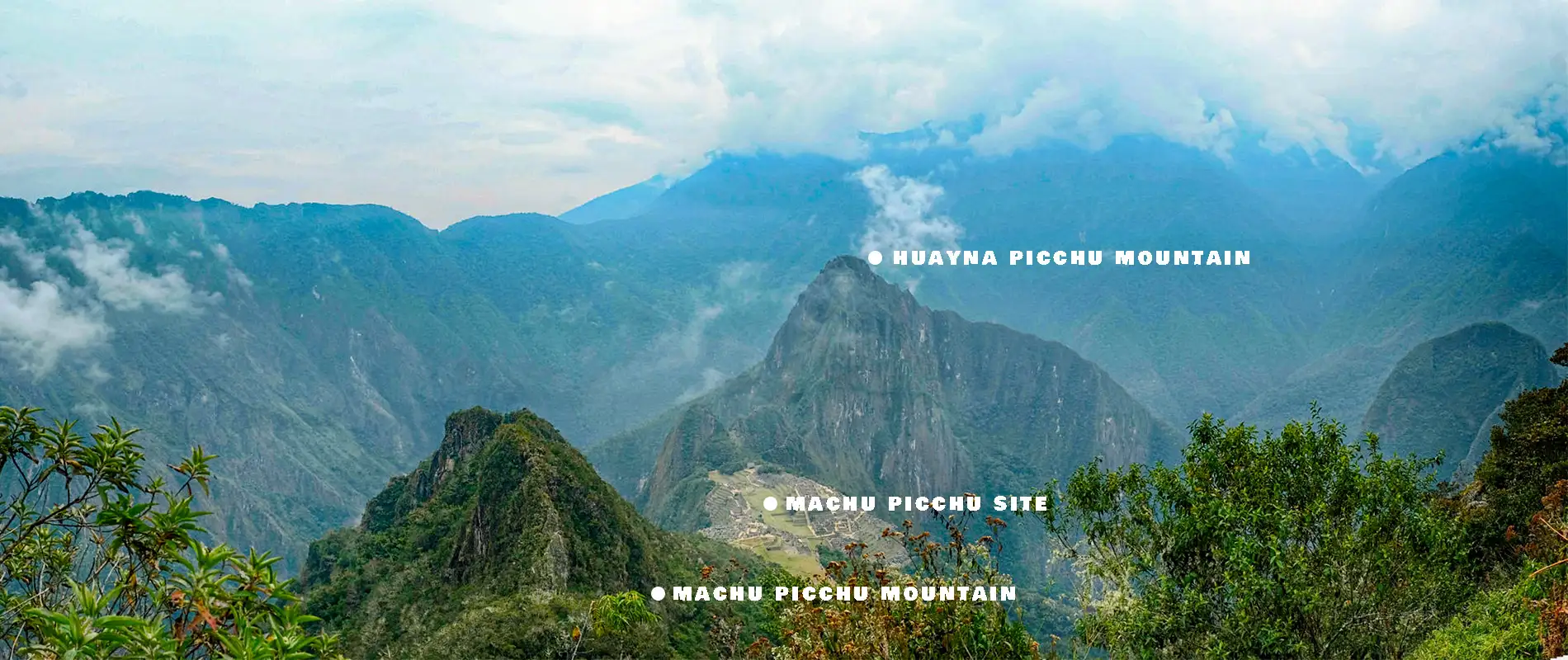 Huayna Picchu may be the most popular option, but if you are looking for a little more difficulty, then the Machu Picchu mountain hike is your best option. Located at the opposite end of the citadel of Machu Picchu, this hike takes approximately 4 hours round trip and is at 3,050 meters above sea level. In comparison, it is about 330 m higher than Huayna Picchu, so you will definitely like the exercise. Although there are no death stairs, this hike is still steep and has no ruins at the top. However, it has an almost 360º view of the mountains, Machu Picchu and the river. It is a worthy competitor to the beloved Huayna Picchu hike, so be sure to consider it before buying tickets.
Is Huayna Picchu worth it?
Yes, we couldn't recommend the Huayna Picchu trek any more. The terrain may be rugged, but the view of Huayna Picchu is unforgettable. This hike takes your visit to Machu Picchu to the next level, both figuratively and literally! Start planning your next adventure today and connect with one of our travel consultants.