Get way off the beaten path with this challenging and adventurouse trek to Machu Picchu. Have the trail to yourself as you climb 2 big mountain passes and get rewarded with unbelievable views or the beautiful landscape, glaciers, Humantay Lake, rivers, and the Ancascocha Lake and Valley.
One of the Sacred Valley's best kept secrets, this trek takes you through local communities, passes stunning waterfalls, and offers some of the most spectacular 360 degree views in all of Peru.
In Ancascocha Trek you will feel the magic of the Andes and at the same time discover the history that surrounds the great empire of the Incas. Nature, geography, flora and fauna will surprise you with its beauty and diversity.
The Ancascocha Trek
Named after a reservoir lake, this trek can be done in 4 or 5 days and is the ultimate choice for those seeking solitude from the crowded trails like the Inca Trail. Starting in the town of Soraypampa, the first day involves almost 8 hours (including the Humantay Lake) of hiking through strenuous terrain with a maximum altitude of 5,000 meters.
The second day does its best to out do the first with 10 hours of hiking at altitude. As difficult as it may be, the views are second to none and the crisp air is as fresh as it gets. You may be ready for a descent at this point but that's still one day away. We promise it will all be worth it!
The third day is another one spent at a high altitude, albeit less tiresome than the previous two. Passing through monstrous valleys and red-tinted mountains is a unique experience that many will never have the chance to see. Across the range is the famous Inca Trail surrounded by the sacred mountains of Salktantay, Humantay, Huayanay, and Huacaywilka. The day ends with a 1.5-hour descent towards the campsite of Ancascocha. Your wishes of an easy hike finally come true on the fourth day. Descending next to orchids and bromeliads you'll head towards Ollantaytambo to catch a train towards Aguas Calientes where you'll be treated to a comfy bed and celebratory dinner.
On day 5 you'll reach the pinnacle of everything you've worked for by heading to Machu Picchu! Your guide will lead you on an enchanting two hour tour through the citadel as you learn all about the rich history and fascinating culture of the Incas.
What to see in the Ancascocha trek?
Humantay Lake
Humantay Lake sits snugly between Humantay Mountain and Salkantay Mountain. In fact, it is a popular branch-off hike when trekking along the Salkantay trek to Machu Picchu, an incredibly scenic alternative to the Inca Trail. Humantay falls along the Vilcabamba mountain range
Humantay Lake is most well known for its insanely bright blue and green water and its snow-capped mountain backdrop. These fantastic colors come from the mineral filled runoff from the melting glaciers around the Humantay and Salkantay Mountains.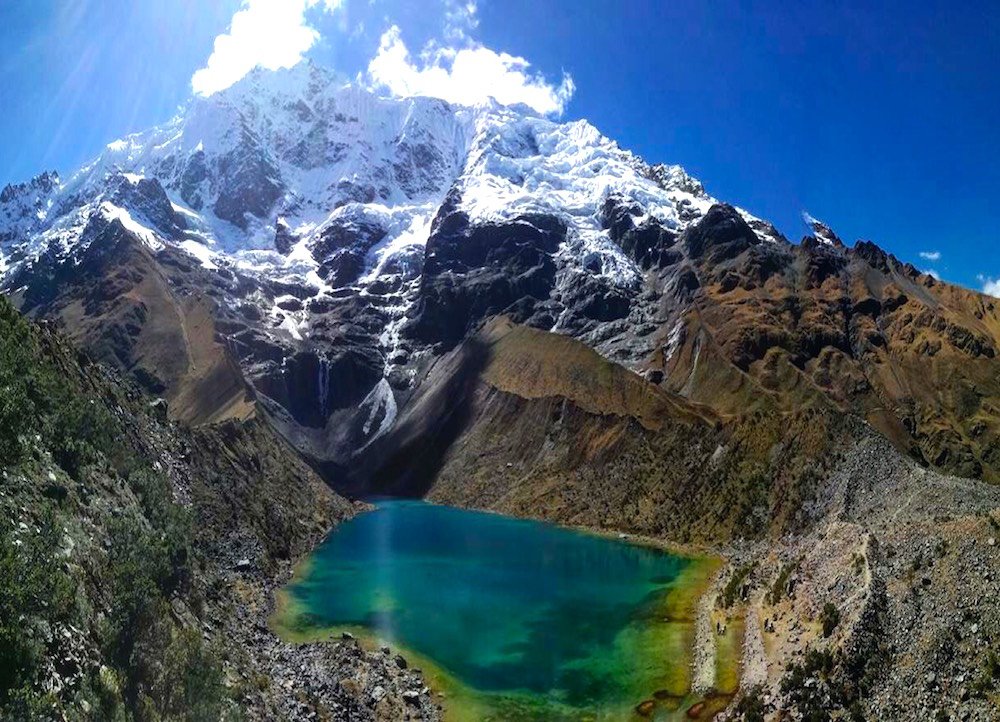 Off the Betan track!
This is very much a "off the beaten path" trek with its spectacular scenery and views of the colorful valley landscapes, with multiple high passes, rocky terrain, tuquoise lakes and snow peaks. See traditional stone houses in local farming villages where the local people are keeping their Incan culture alive and thriving. And of course no trip would be complete without a visit to the Seventh Wonder of the World: Machu Picchu!
Salkantay Mountain: The "Savage Mountain"
The massive Salkantay Mountain is the highest point of the Peruvian Andes Mountains. "Salkantay" is a Quechua word meaning "savage mountain." Though somewhat lesser known, the Salkantay Mountain trek is stunning. Travelers take a remote footpath through lush rain forests on the way to Machu Picchu. The Salkantay Mountain Trek is ranked by hikers and travel publications as one of the best treks in the world.
See the Salkantay trek details here!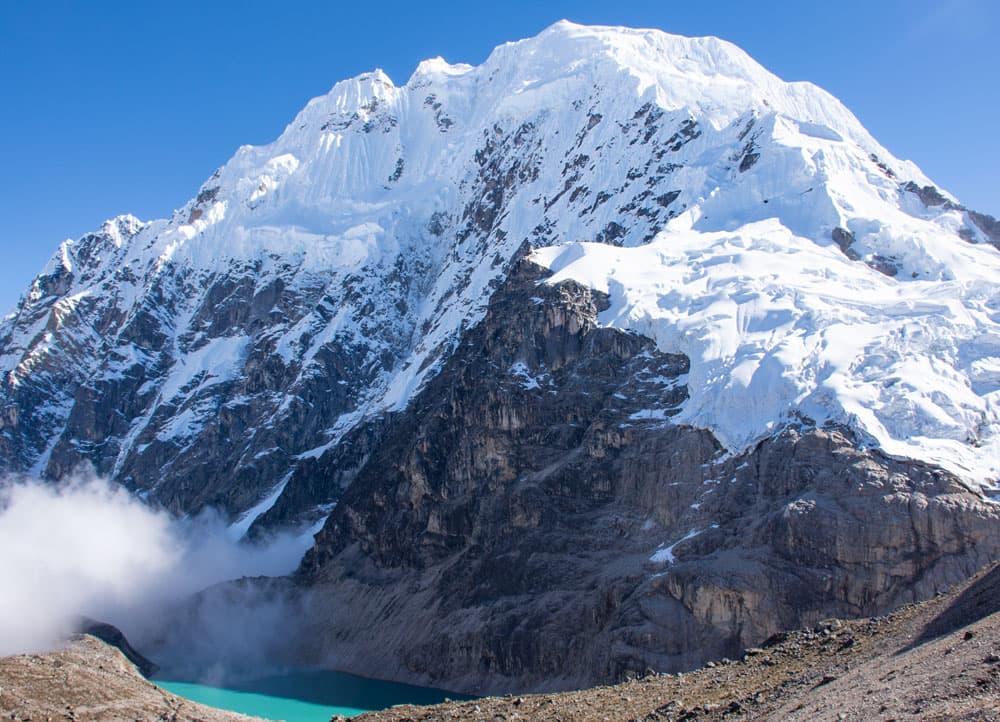 MACHU PICCHU
Have a trip to Peru coming up? Well, it's time to brush up on your Machu Picchu facts!
Machu Picchu is the most well-known historic site in all of Peru, maybe even in all of South America. It's also on many globetrotters' bucket list travel destinations. But how much do we really know about the site? We are here to shine some light on the mystery and intrigue surrounding Peru's greatest archaeological treasure.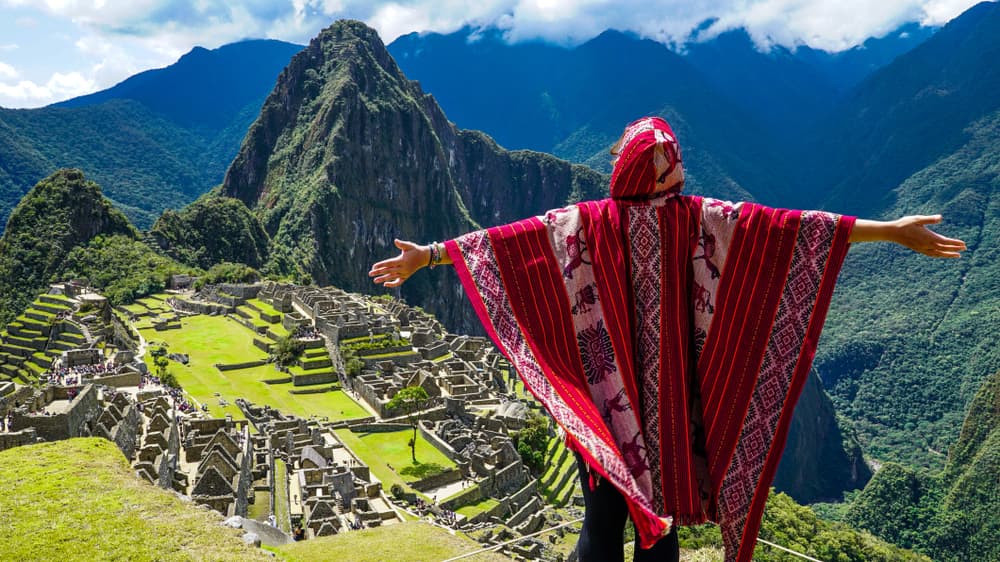 The Best Ancascocha Trek Operator Operators in 2023 – 2024
The following Ancaschocha Trek tour operators are listed in order of price — not comparative quality — from the least expensive to the most luxurious options. Rates are for the classic 5 day Ancascocha trek (group tour) unless otherwise stated. Prices can change quickly, especially at the start of the year.
Packing list for Inca Trail and other 3, 4, 5, 7, 9 day treks
During the Alternative Trek or Inca Trail Trek to Machu Picchu, your main luggage can be stored at your Cusco hotel. You will receive a small duffel bag at your briefing in which you can pack your clothes and sleeping bag for 3-4 days. Your team of porters or horses (depending on which trek you are on) will carry these bags together with the food and equipment for the trek. Please note: you will not have access to these items until the end of each day as the porters or pack horses will always be ahead of the group. Please plan to carry your day backpack containing your personal belongings such as your camera, water and sunscreen, etc. By Peruvian law, a duffel bag must not weigh more than 7 kilograms (15lbs). This limit is set to protect the health of the porters or horses. All bags will be weighed before being accepted. If you require more than 7 kilograms, it will then be your responsibility to carry the extra weight in your day pack. In this 7 kilos, please count 2 kilos (4lbs) for your sleeping bag and 1 kilo (1lb) for your sleeping pad. This leaves you about 4 kilos (8lbs) for your personal gear.
Please Note: This packing list is only for overnight treks.
PASSPORT: You MUST take your original passport, a photocopy is not acceptable. (Keep it in a plastic bag, in case of rain).
SLEEPING BAGS: You will need a good warm sleeping bag for the Inca Trail trek. We recommend you bring your own sleeping bag. However, you can rent one from SAM Travel for $20 USD per person, that is guaranteed to be warm and professionally cleaned. If you are planning to purchase a sleeping bag, it is a good idea to purchase a four season (or -10 C) sleeping bag during the winter months. For other months, you will probably be fine in a 3 season (or -9/-1 C) sleeping bag, although this depends on how much you feel the cold and is given as a guideline only.
INFLATABLE MATTRESSES: It is recommended to have an inflatable mattress for comfort but not required. SAM Travel Peru foam mattresses are included within the package price. If you would like to rent an inflatable high quality Thermarest mattress, we have them available to rent for $20 USD per person. If you rent the air mattress, you still get the foam mattress to put under it.
WALKING POLES: It is highly recommended that you have walking poles for your trek. SAM Travel Peru has professional extendable poles available to rent for $15 USD a pair, per person.
WATERPROOF, WELL WORN IN WALKING BOOTS: Good quality, comfortable footwear is essential. Whatever you wear on your feet, the most important thing is comfort. It is vital to ensure your boots are well worn in and lightweight. Ankle support and waterproofing is recommended but if you already have something comfortable with good grip, then don't go rushing out to buy new boots – you are better off with your well worn in pair!
WATERPROOF CLOTHING: A plastic poncho is recommended, which is provided by SAM during your briefing. Some trekkers also like to bring waterproof trousers, however, a poncho will be sufficient if it covers your bag, body and most of your legs.
PLASTIC BAGS: Keep your belongings and clothes dry inside the duffel. Bags are included in your duffel, which you receive during your briefing. We recommend that you wrap everything in plastic because the duffels are not waterproof.
TOILET PAPER: This is an important item to bring during the trek! Bring small plastic bags for rubbish, which can be thrown in the main rubbish bag provided by the porters at camp.
SMALL TOWEL AND BASIC PERSONAL TOILETRIES: There are showers available at the campsite on the third night. If you plan to shower bring travel size shampoo and shower gel. It might be wise to also bring wet wipes/hand sanitizer for the rest of the trek.
WATER BOTTLE: Bring one large (1.5 liter) or two or three small REUSABLE water bottles that can be refilled on the trail with boiled water, which will be supplied when possible, usually after meal times. Please do not bring disposable bottles!
WARM CLOTHING FOR THE NIGHT TIME: Fleece, long pants, woolen hat, gloves.
THERMAL UNDERWEAR: If trekking in winter or if you tend to get cold easily.
WALKING CLOTHING – YOU NEED TO LAYER UP: e.g. zip off trousers, fleece, T-shirts.
PERSONAL MEDICATION AND BASIC FIRST AID KIT: Band aids, blister kit, Imodium, Panadol, rehydration salts, and any other medication prescribed by your doctor.
CAMERA AND EXTRA BATTERIES, MEMORY CARDS: Please note: there are no electrical outlets on any trail so make sure you fully charge up/or have spare batteries!
SNACKS: Chocolates, chips, crackers, granola bars, or energy bars etc. Additional snacks are provided during the trek, but you may like to bring some extras, just in case.
FLASHLIGHT: This is very important! (and extra batteries)
FOR THE SUN: Sunscreen, sunglasses and sunhat
INSECT REPELLENT: Tropical strength
ANTISEPTIC HAND GEL
SWIMWEAR FOR AGUAS CALIENTES HOT SPRINGS: Towels can be rented for 5 soles.
FLIP FLOPS / SANDALS: If you wish to have a shower on the third night.
EXTRA MONEY: For tips, extra drinks and souvenirs.
Please visit the Inca Trail Trek or Alternative trek to Machu Picchu page for more information about each trek and if you are looking for the Classic Inca Trail to Machu Picchu, visit this page for information on securing Inca Trail Permits.
Best Time of the Year for the Ancascocha Trek
There are two main seasons in the Peruvian Andes:
The dry season runs from late April through to early October.
The wet season starts mid to late October and ends in April.
"But, when is the best time of the year to do Salkantay Trek?"
The Ancascocha trek can technically be completed all year round, the peak trekking season to Machu Picchu occurs during the dry season and is busiest between May and September. So, the best time of year to do the Ancascocha Trek are from the shoulder of wet months March/April all the way through to the shoulder of dry months October/November.
Overall, the Ancascocha Trek is a memorable, challenging, and jaw-dropping hike that any outdoor or adventure enthusiast would love. If you're looking for wilderness experience you'll never forget and landscapes like none other, the Ancascocha Trek definitely won't disappoint you.