Salkantay Trail Treks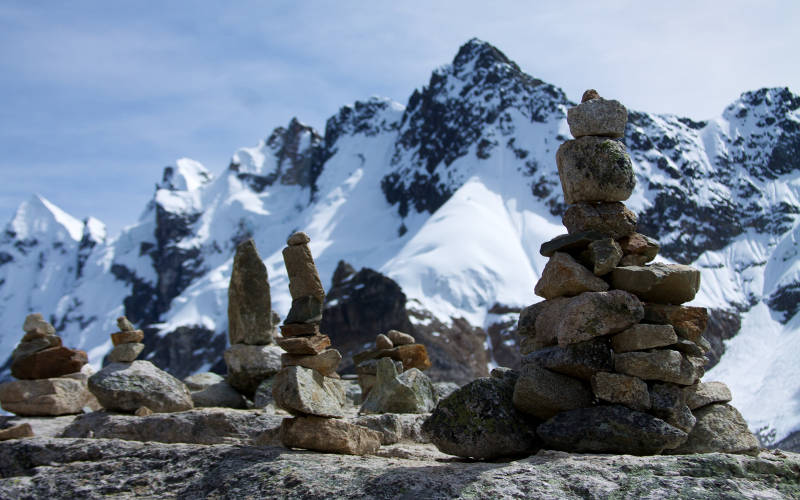 The Salkantay Trail is perfect for mountain-lovers who want an adventure in the Andes Mountains. It is one of the most popular alternative treks to Machu Picchu.
The route provides unparalleled views of the snow-capped Mount Salkantay, which stands at just over 6,200 meters or 20,341 feet. The whole trail provides an incredibly diverse range of scenic views, including crystal clear mountain lakes.
The route reaches a maximum altitude of just over 4,600 meters (15,091 feet) and typically takes 5 days to complete, with two additional days spent acclimatizing in Cuzco. The highest point on this trek is higher than the highest pass on the the Inca Trail.
Note: The Salkantay route is the only alternative route to Machu Picchu that can be combined with the Classic Inca Trail, if you book early.
Lares Trail Treks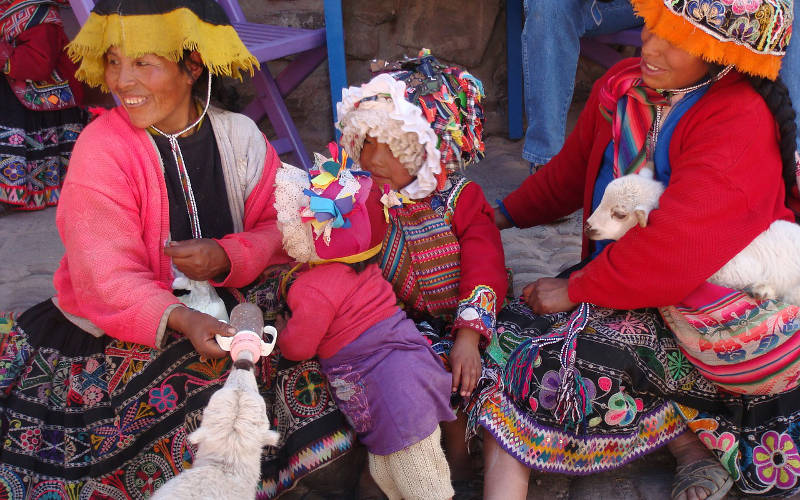 The Lares trek is the perfect trail for anyone looking to experience authentic Andean culture.
This trek is easier than the Salkantay or Inca Trail treks to Machu Picchu. Its unique route takes the trekker through a number of very traditional and unique local villages. It also offers spectacular views of mountain passes, waterfalls, and herds of llamas and alpacas. Its trekkers will scale a few 4,000-meter (13,000ft) passes.
Along the route, trekkers will undoubtedly meet and interact with local farmers and weavers wearing their traditional Andean clothes. Some of these remote villages you pass through have remained unchanged for hundreds of years. The Quechua people here continue to keep their traditions alive, they preserve the ancient Inca culture and life style.
It is worthwhile to take some extra soles (Peruvian Money) in case you would like to buy some locally made textiles. They are a lot cheaper in these villages than in Cusco City. Also, you have the satisfaction of knowing that 100% of your money goes directly to the person who cared for the alpacas, sheared the wool, made the yarn and wove the product.
At the end of your adventure you get to soak your tired muscles in the Lares Hot Springs. Some companies will take you to a hotel swimming pool, which is cleaner than the heavily mineralized waters in the hot springs, however you miss out on the benefits of the minerals.
Inca Jungle Trek
The Inca Jungle Trail is for adventure seekers who want to experience a variety of adrenaline filled activities like a rushing zip-line ride, challenging mountain biking, and jungle trekking. At the end of all these adrenaline filled activities you still get to see Machu Picchu!
It starts with a 4-hour drive to the 4,300-meter (14,101ft) Abra Malaga pass. From here, you get to mountain bike down the winding road to Santa Maria, a 60km ride downhill!
A night in Santa Maria is followed by a trek due south to Santa Teresa, where you spend an adrenaline-filled afternoon soaring over canyons on South America's highest zip-line!
From Santa Teresa, you will make your way to Aguas Calientes, the town that sits just below Machu Picchu. Three days of biking, trekking and zip lining is followed by a tour of the famous Inca city.
The perfect alternative trail to Machu Picchu for the adventurous, or for anyone who wants more than just hiking.
Choquequirao Trek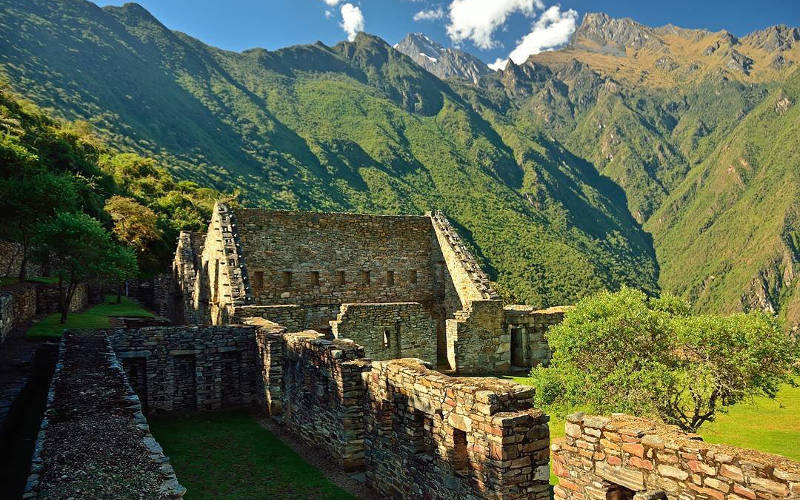 The Choquequirao trail is one of the most remote and most quiet treks in the region. You can do this trail as a suitable alternative, taking a total of 4 to 5 days. For a thorough hike, look for a reputable trekking agency that will take you on a 7 or 9 day trek. The 7 day trek is usually combined with a visit to Machu Picchu at the end of the trip.
The route begins with a 2-day journey to Choquequirao, one of the largest and best preserved Inca sites outside of Machu Picchu. However, unlike Machu Picchu, there is usually only a hand full of people at this impressive site. Look out for condors flying overhead – they are quite common in this region!
From here trekkers follow a beautiful 3 or 4 day trail towards Machu Picchu.
The trek is relatively tough, so a good level of fitness is required. It is best to do this during the dry season months (March/April or October/November), as the sun is very intense in the peak season (May-September).
Vilcabamba Trek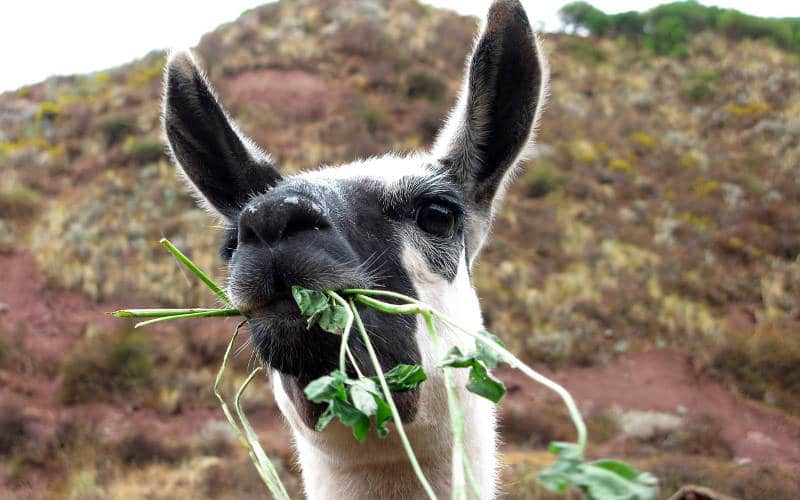 The Vilcabamba trail is by far the most peaceful route to Machu Picchu. In fact, it is possible to do this trek and not see any other trekking group!
The route is also arguably the most scenic in the region, taking trekkers from wonderous highlands that feature a number of impressive snow-capped peaks, through to lush rainforests.
The five-day trek is however very tough and trekkers need to be prepared for three 10-12 hour trekking days.
This trek is ideal for the rugged and experienced trekker. We love this alternative Inca trail trek!
Huchuy Qosqo Trek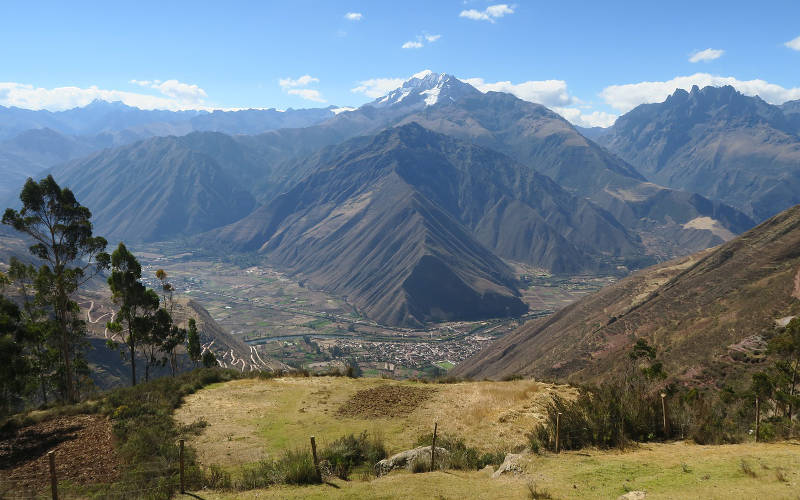 The Huchuy Qosqo trek is perfect for people with limited time, as it is the shortest – only 17km.
It is also the easiest. So, if you are looking for a trekking experience that won't give you sore feet, this alternative Inca trail is for you! You get to experience various Inca ruins and villages plus enjoy the Andes.
The Huchuy Qosqo Trek takes you to fascinating Inca ruins, picturesque rural villages, magnificent snow-capped mountains, exotic vegetation and extraordinary ecological variety. The route begins at Tauqaq, a small village that sits on the edge of Piuray Lagoon. The trail includes a visit to Huchuy Qosqo, an impressive Inca complex. On day 2 you get to visit the magnificent Citadel of Machu Picchu with a two hour guided tour!