The Huchuy Qosqo archaelogical site, is named in Quechua (little Cusco). It has an elevation of (3,600 m/ 11,800 ft),  looking down on the town of Lamay and the Sacred Valley. it offers you this remote and unspoilt paradise, it has a a large number of buildings, some constructed from stone, some adobe and a striking great hall, 40m/131ft long.  An Inca built irrigation channel, lined with stones for about (800m/2,624ft) provides water to sustain this site.
With ruins everywhere in Peru, you don't have to dig deep to strike gold. Back in the 1500's, after the Manco Inca Revolution, the Quechuas constructed several small reservoirs for irrigation. Unfortunately, the Spanish demolished some other Inca structures to build the larger reservoir ,which are evidently visible.
The most recent restoration in Huchuy Quosqo, is the store house for dried meat and crops such as corn, potatoes, quinoa, and beans. The two story structure, carries evidence of the historic cooling storage system known as conjeras.
Huchuy Qosqo Trek information, a much shorter and easier trek for those of you, who are just happy to go with the flow. Accessiblity is via a dirt road leaving Lamay and runs a long a set of switch backs which arrives at a viewpoint of the ruins. The walk from this viewpoint to the north entrance of the ruins is about (150m/492ft) and runs past a few typical houses inhabited by local farmers.
These awesome non official ruins are almost run-of-the-mill here in the Peruvian Andes, yet it will constantly marvel you. Follow the pass to the highest point and embrace a grand vista of lakes, communities and glacier-covered mountains located directly east of the belly button to the Inca empire (Coricancha) in Cusco.
Please check out our itinerary for 3DAYS /2NIGHTS TREK : Huchuy Qosqo, Sacred Valley to Machu Picchu using this link:  Huchuy Qosqo 3D2N. or we also have Huchuy Qosqo 2D1N
The Huchuy Qosqo Trek information was provided by SAM Travel Peru team
A Quick Overview of the Huchuy Qosqo Trek
Difficulty: Moderately Challenging – Hard due to the brutally steep ascent and descent of the trail
Ascent: over 4,000 feet

Tip: Huchuy Qosqo sits at just shy of 12,000 feet, making it higher than Machu Picchu and Cusco, so proper acclimation is essential. For altitude sickness, try chewing coca leaves or drinking coca tea.

Trail Markers: There are no official trail markers, but there are a few blue and white signs that direct you to the trailhead. Along the path, there are white arrows spray-painted on the mountain rocks.
This trail has little to no shade coverage. It's best to start early in the morning to avoid the intense sun.
This hiking trail can be steep and a long day, it's best to hike to Huchuy Qosqo with a buddy
Places to explor: Huchuy Qosqo Trek, Moray, the Salt mines, Ollantaytambo and Machu Picchu
Huchuy Qosqo Trek Itinerary.
Day 1: Cusco – Patabamba – Huchuy Qosqo
Your guide will pick you up from your hotel at 6am and you will drive in our private transport to the village of Patabamba (3,800m/12,467ft), only 1 hour from Cusco. Once we arrive, we start our first hike uphill for the next 3 hours to get to the highest point of the trek (4,200m/13,779ft). From there, we have amazing views of the surrounding snow-capped mountains and valleys. We head down to the village of Pucamarca and spend time at the Inca ruins there. Then, we follow the original Inca trail into the Inca city of Huchuy Qosqo where we have time to explore before hiking to our guesthouse. Our guide will introduce you to your host family who will show us your room for the night, where you will have incredible views of the surrounding areas and the Inca city. In the afternoon, we will enjoy afternoon tea, and later have dinner with our host family! This evening, we will enjoy the endless stars, uninterrupted by city lights, and our guide will teach us about the Inca constellations.
Meals: Picnic Lunch – Afternoon Tea Time – Dinner
Accommodation: Homestay at a local family's home with a proper toilet
Distance: 13kms/8 miles approximately
Difficulty: Moderate
Day 2: Huchuy Qosqo – Ollantaytambo – Aguas Calientes
We have a nice breakfast before our guided tour of the Huchuy Qosqo Inca City where you will explore incredible Inca buildings, sacred temples, farming terraces, storehouses and water system. After you have had time to see everything, we walk downhill for 2 hours to Lamay. Our private van will take us to Urubamba, where we will have lunch.
Next, we head to the ancient site of MORAY, which is a unique site, built prior to the Incas for experimental farming. It has different levels of terraces carved into a huge bowl, much like an amphitheater below ground. Each terrace has a different temperature, depending on how deep it is in the basin. Archeologists theorize that here the Inca researched the optimal growing conditions for their crops. After you have time to explore the site, we continue driving towards the colonial town of Maras and to the Pre-Inca Salt Mines (Salineras). Thousands of saltpans have been used for salt extraction since before Inca times. A hot spring at the top of the valley discharges a small stream of heavily salt laden water, which flows into over 3,000 ponds and evaporates to produce salt. This is one of the few places in the world where you can find naturally pink salt! It is a quite beautiful the array of salt ponds carved into the mountainside.
Then, we continue to Ollantaytambo, where we will explore the quaint and authentic Inca City of Ollantaytambo. In the afternoon, we will take the train to Aguas Calientes and spend the night in our hotel.
Meals: Breakfast, Lunch & Dinner
2* Accommodation: Inti Punku Tambo or Wiracocha Inn Hotel
Distance: 7kms/4.3 miles approximately
Difficulty: Easy
Day 3: Aguas Calientes – Machu Picchu – Cusco
After an early breakfast at your hotel, we are ready to get an early bus at 5:30am up to Machu Picchu just in time to witness the sunrise. It is a truly mystical site out of history and not something you'll want to miss! After enjoying the sunrise your guide will provide a guided tour of Machu Picchu, which takes around two hours. You will see many of the most important parts of Machu Picchu Citadel during your tour.
After the tour, those people that have booked in advance for the extra hike up Huayna Picchu will have time to hike it on their own. When they have had their fill of the incredible views of Machu Picchu, a bus back down to Aguas Calientes will be waiting. Upon arriving at Aguas Calientes lunch is waiting with numerous restaurants to choose from (lunch not included). Depending on your train departure time, there may be some time for shopping, or sightseeing.
The Expedition train will take you back to Ollantaytambo at 2:55pm or 3:20pm, following the spectacular Urubamba River. Close to Aguas Calientes, the canyon is narrow and the river has many beautiful sections of whitewater. Back at Ollantaytambo, your driver will meet you at the exit from the train station to take you back to your hotel in Cusco in our private van. You can expect to arrive at your hotel about 7:00pm.
Meals: Breakfast
Difficulty: Easy
Important:
You can upgrade to the Vistadome Train for the same times, 2:55pm or 3:20pm, 4:22pm, or 4:43pm. The cost is $57 USD.
Early trains can be organized by requested and it has to be done by booking time.
The Huayna Picchu Mountain Hike depends on availability and let us know about it at booking time.
*** The itinerary was provided by Orange Nation Peru!
WHAT USUALLY INCLUDES FOR THE HUCHUY QOSQO TREK TO MACHU PICCHU?
Transfer from the airport to your hotel
Briefing at our office the night before the trek
Transfer to and from your hotel for the trek
All transfers in our van only for Orange Nation Peru clients
Entry ticket to Machu Picchu
Entrance tickets to Moray, Salt Mines and Ollantaytambo
Entry to Huchuy Qosqo
Guided tour of Machu Picchu
Homestay with local family
English-speaking professional tour guide
Meals as indicated in the itinerary (optional vegetarian food with prior request)
2 Bus tickets from Aguas Calientes to Machu Picchu and return to Aguas Calientes
First Aid kit including emergency oxygen bottle
Round trip train ticket (expedition service) from Ollantaytambo to Aguas Calientes
Private transport from Ollantaytambo to your hotel in Cusco
Celebration dinner in Ollantaytambo
Hotel in Aguas Calientes with private bathroom and room, hot shower, phone, storage, wifi and breakfast included
WHAT IS NOT USUALLY INCLUDES IN THE HUCHUY QOSQO TREK TO MACHU PICCHU?
Entrance to Huayna Picchu –$75 USD
Walking Poles –$7 USD
First breakfast and last lunch
Upgrade to Vista Dome Train –$57 USD (For the return to Cusco (Poroy) at 4:43pm).
Optional upgrade – Hotel in Aguas Calientes
Tips for the crew, and guide of Sam Travel Peru
What to expect?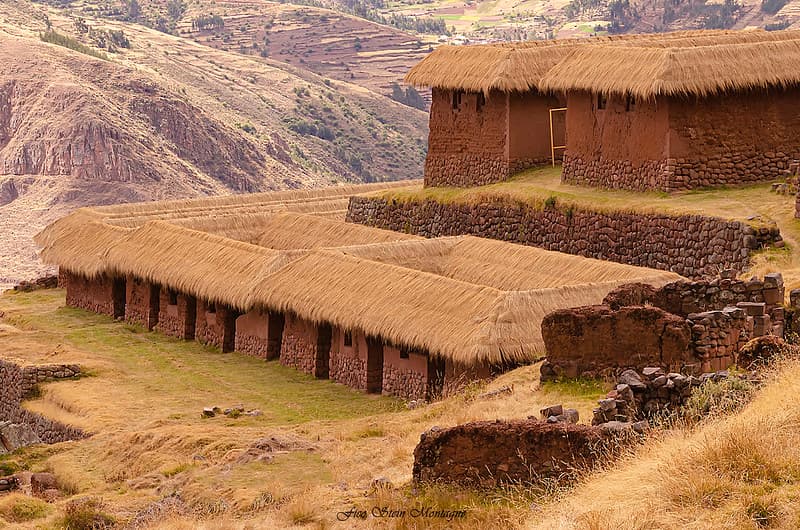 This soft trek is ideal for those passengers who really want to be far in the middle of nowhere with only nature surrounding them as they camp in an area that is scarcely seen by tourists. Huchuy Qosqo (The small Cusco) is situated above the Valley of Urubamba and offers very spectacular views over the mountain range Cordillera de Vilcanota. This trek is also a great way for you to enjoy a shorter trek that still includes Machu Picchu, Inca trails, ruins and valleys (with Inca stairs that are better than the Inca Trail). You will have one night camping in the wilderness and then the very next night will be spent in our Hotel Viajeros in the beautiful town, Aguas Calientes"
History & Highlight
The Archaeological Park of Huchuy Qosqo is an incredibly sacred site. It is believed to be the former palace of the Inca Emperor Viracocha. Upon entrance, there is a beautiful open space which looks out to the Sacred Valley below. Find plenty of terraces that line the surprisingly tall remains of the buildings.
One of the most impressive areas is the ceremonial fountain. There's even an ancient chair placed strategically in front of it. Scattered among the ruins are some interesting water canals. The stone work almost reminds me of Cusco's beloved Saqsaywaman, but in a much smaller scale. Don't forget, Huchuy Qosqo literally translates to "Little Cusco."
There are small, but beautiful waterfalls that run through this Archaeological Park. Make sure to cross the small footbridge to get some beautiful shots of Huchuy Qosqo and its picture-perfect terraces.
Head up to the "main entrance gate" perched on the hillside. There's a worthwhile add-on hike that shouldn't be missed! More on that here.
An hour or two is a sufficient amount of time to explore these ruins.
There is a chance to camp overnight here. The campsite can be found right near the main entrance sign. The facilities include basic toilets with running water.
Packing List for the Inca Trail Tours
Documentation.
Bring your original passport. You will need it both to start the Inca Trail Tour and to enter Machu Picchu through the Sun Gate.
Day Pack (30L)
Bring a comfortable daypack with snug straps to wear while you hike. SAM Travel Peru and most of the companies offer extra porter to carry you things too
Reusable water bottle.
Carry a reusable water bottle in your daypack. Another option is a hydration pack, like a CamelBak, which is a super convenient way to stay hydrated.
Clothing.
Layers, layers, layers. You'll pass through many different climates along the trail and dressing in layers is important. Pack lightweight pants, short- and long-sleeve shirts, a warm fleece jacket, underwear, and socks. Temperatures really drop at altitude when the sun goes down. To stay warm, thermal undergarments, a warm hat, and gloves are recommended.
Footwear.
Comfortable hiking boots or walking shoes are a must. Also pack shower sandals.
Rain gear.
Be prepared with a rain jacket and pants or poncho. Rainy conditions aren't to be expected during the dry season, but it's better to be prepared.
Sun protection.
Pack a hat, strong sunblock, and glasses for protection against the sun.
Flashlight.
Headlamp (with extra batteries) or small flashlight to use at night while camping.
Comfort.
Light-weight travel towel to shower with and a small travel pillow for your sleeping comfort. Some trekkers may prefer to bring walking sticks, they are especially helpful in downhill sections.
Toiletries.
Toothbrush, toothpaste, travel shampoo, tissues, toilet paper, wet wipes, insect repellent with deet, and any personal medications.
Snacks.
You may want to bring extra (or diet specific) high energy snacks, such as some cookies, protein bars, chocolates, or nuts.
Money.
Bring local Peruvian currency (Soles) in your wallet so that you can tip your trekking team.
Camera.
Of course, don't forget your camera, with extra battery packs and memory cards – No Electricity along the trek.
Nearby Hikes in the Sacred Valley
Have a few more days in the incredible Sacred Valley? You may enjoy these other nearby day hikes and little known Inca ruins.
Pisac
Calca
Urubamba

Saywa
Laguna Juchuycocha
Maras Salt Mines & Moray Archaeological Park – Already included in the tour programe.

Pachar
Ollantaytambo
*** On TOP of the Huchuy Qosqo trek you can add the 2 days Inca Trail and make it the best itinerary in which you enjoy the culture and history.